Integrating NOVA in your studio | Part I
---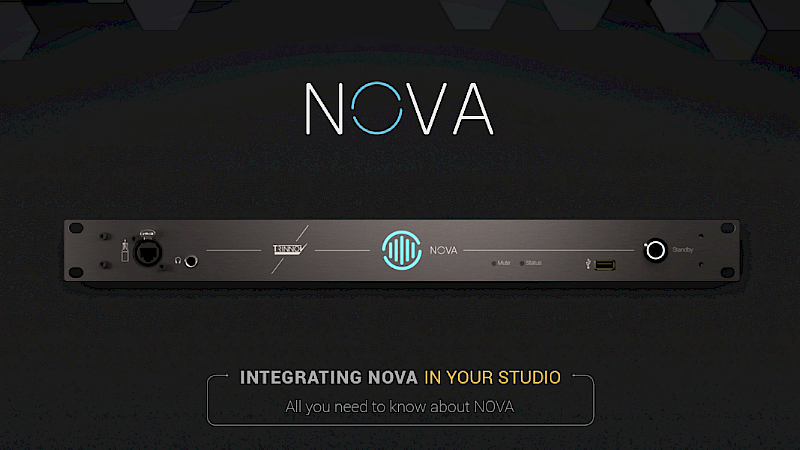 Introduction
In line with our three-article series on the main functions of NOVA, we will now focus on the various ways you can seamlessly integrate NOVA into your studio.
Learn how to integrate NOVA with loudspeakers, monitor controllers and audio interfaces and get set up in no time!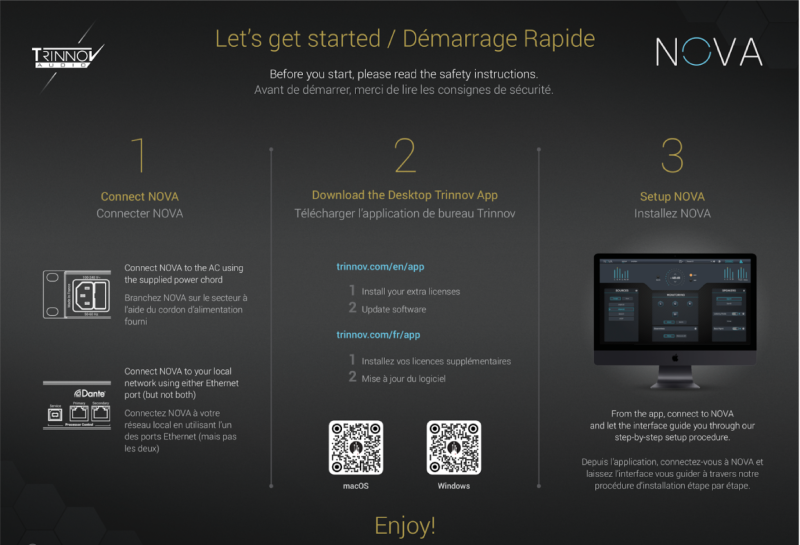 As you receive your NOVA and open the box, one of the first things you will be asked to do is to connect NOVA to your network and install the Trinnov desktop application. 
Let's start with these first two steps, and go over a few basics: what is Dante Virtual Soundcard ? What is the difference between a speaker output and an optimizer license ? 

 
Connect NOVA to your local Network

For the initial setup, you will need to connect NOVA to your local network.
Indeed, accessing the user interface is only possible via the network.

NOVA's rear panel Ethernet ports
Next to the power socket, on the left hand side of the rear panel, you will see a group of connectors labeled "Processor Control", including two network ports with a Dante logo on top. Connect only one port. 
By default, a single network port will be used both for Dante and controlling the processor.
In terms of connection, you have several options to connect NOVA to your workstation.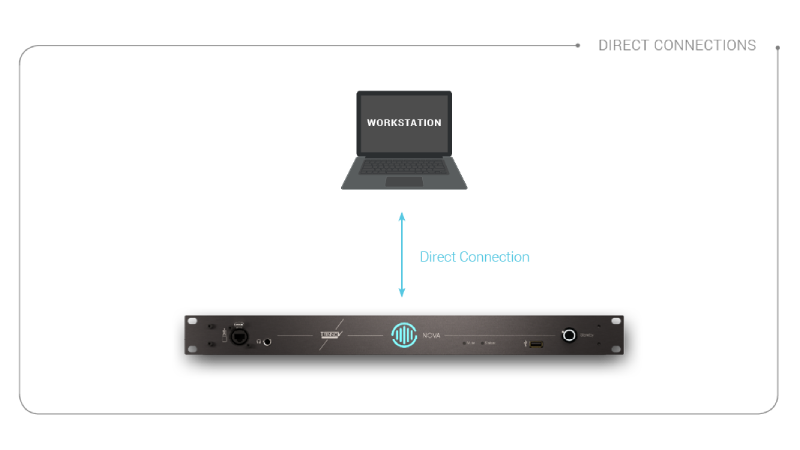 In case you do not run any device on a wired network but over the wifi, you can connect your NOVA to your workstation via an RJ45 cable. Provided that the operating system on your computer is compatible with the AutoIP protocole, both machines should be able to communicate right away.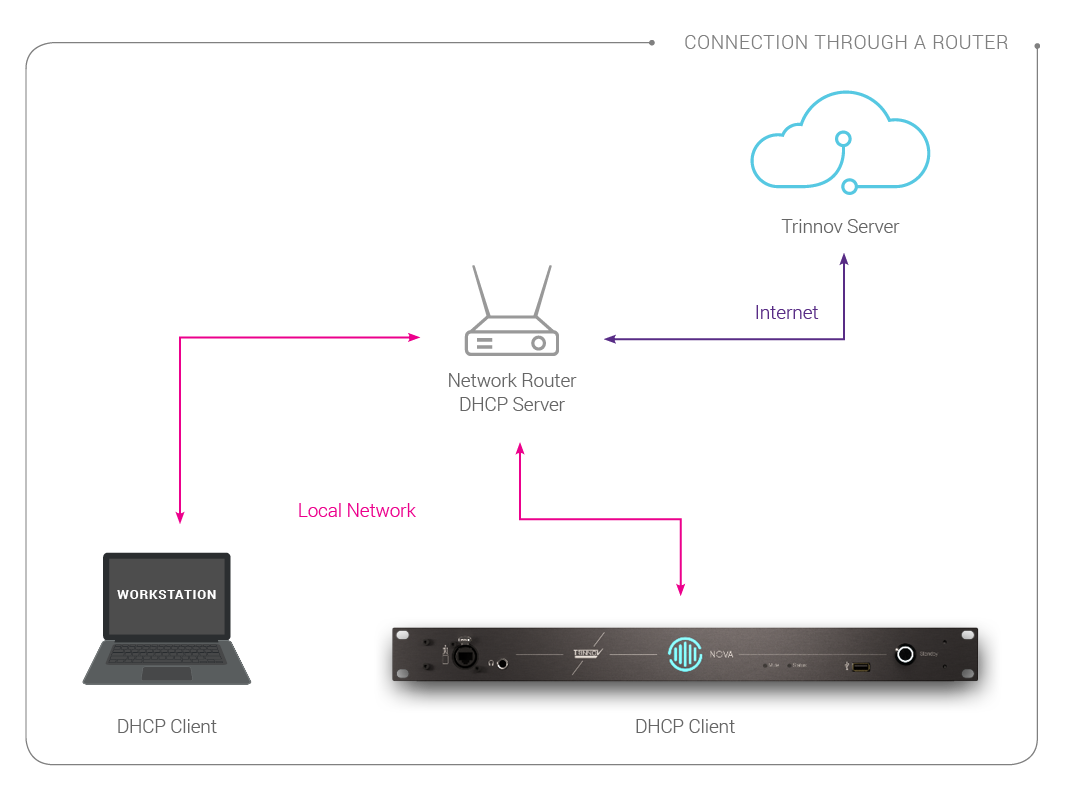 In this very common configuration, the connection is not direct between the workstation and NOVA. Instead, you connect each of them to a router, typically your internet box.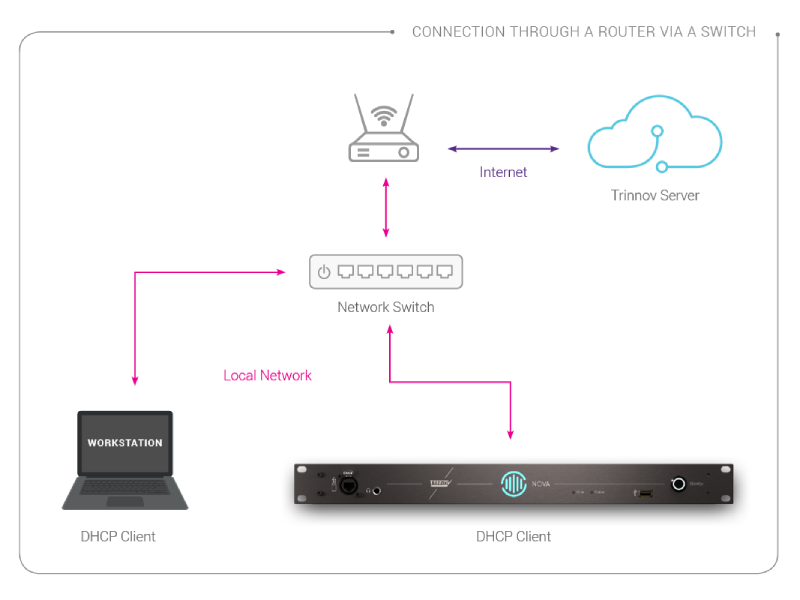 In case you already have a network cable running to your studio but you only have one for your workstation, you will need to install a Network Switch to be able to connect NOVA too.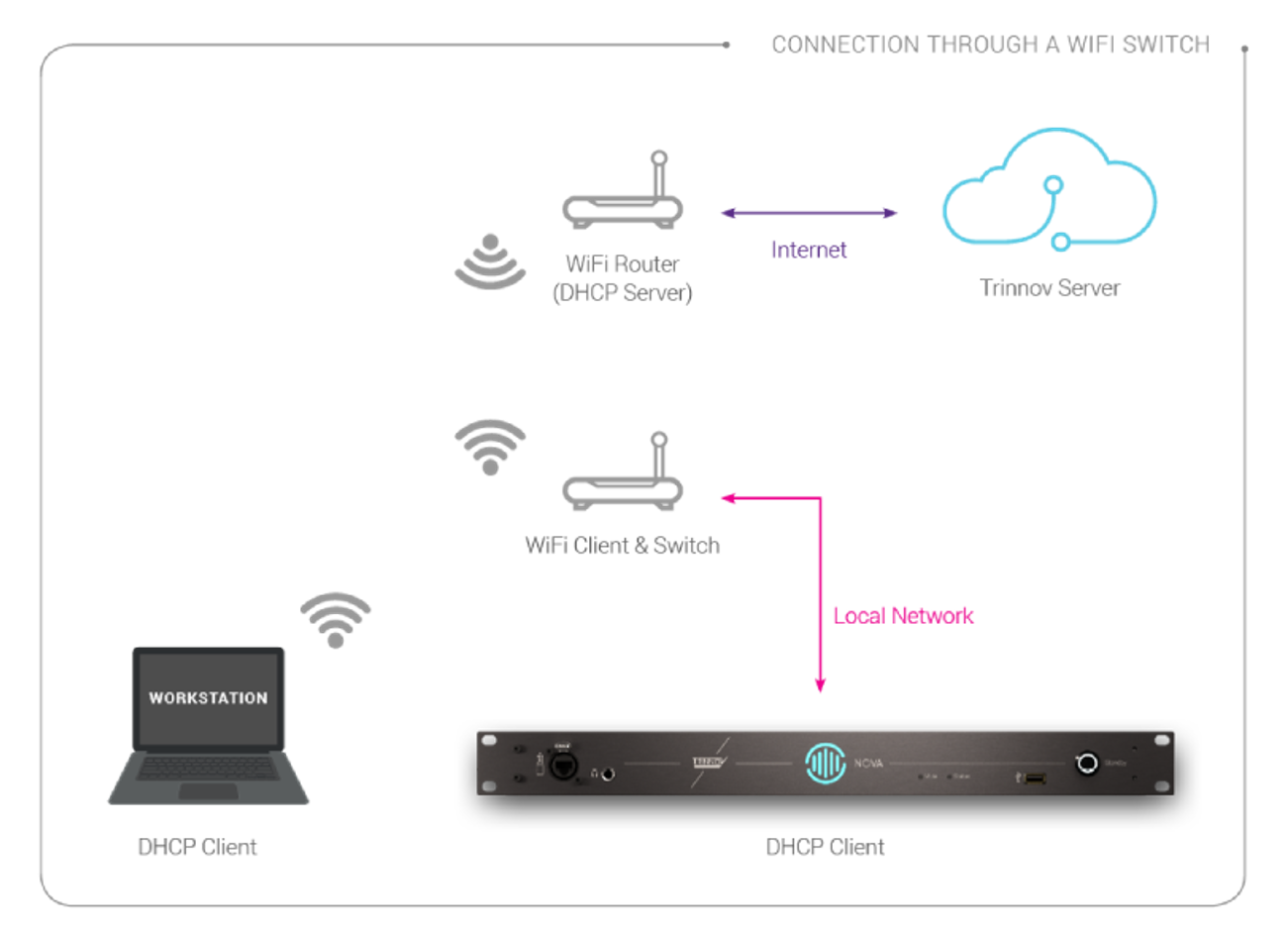 In this last exemple, you only run WiFi in your studio but still need a wired network connection to NOVA. The box you need is a WiFi satellite, which acts both as a WiFi client to extend your wifi connection and as a network switch.
 
Install the Desktop Trinnov App

Next you need to install the Trinnov desktop application.
You can find a macOS version on our website. Windows version will be available in the coming weeks.
The application is essential in many respects:
It allows you to install the extra Optimizer licenses if you have ordered a NOVA 4 or NOVA 6. By default, NOVA is delivered as a 2-channel version and extra licenses are pre-loaded to your unit by your reseller before shipping.
It allows you to install software updates
It allows you to access the user interface very easily
It will make NOVA a EUCON compatible devices
It will remove the need to run an extension USB cable in case you cannot plug La Remote directly into NOVA
 
Dante Virtual Soundcard

To fully appreciate the various integration options, we need to talk about Dante Virtual Soundcard (DVS). DVS is a piece of software sold by Audinate, the Australian company behind the audio over IP protocol Dante.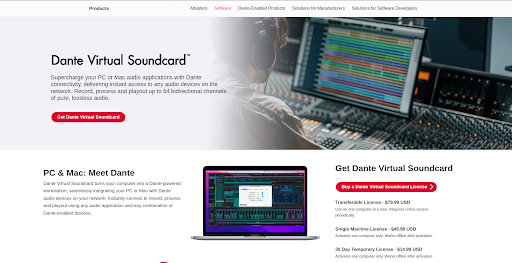 Given what it does, it's really inexpensive and we can only recommend it.
Consider DVS as a virtual audio interface on your workstation, which connects to an audio network hub and gives you access to every Dante device on the network.
In other words, NOVA (or any other Dante device) connects to DVS via the hub, called Dante controller, which is another piece of software and is free. From there DVS gives you access to NOVA I/Os (or any other Dante device) from your DAW as a virtual sound interface.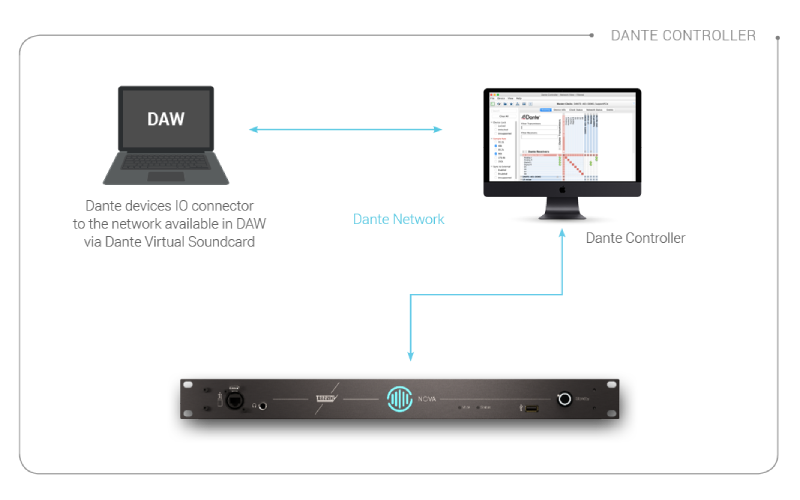 This is a game changer in terms of flexibility.
Speaker Outputs vs Optimizer Licenses

Next, let's elaborate on Optimizer licenses, which are different from speaker outputs.
In a nutshell, NOVA comes with a total of 24 available outputs that you can use to feed a studio monitor or a subwoofer.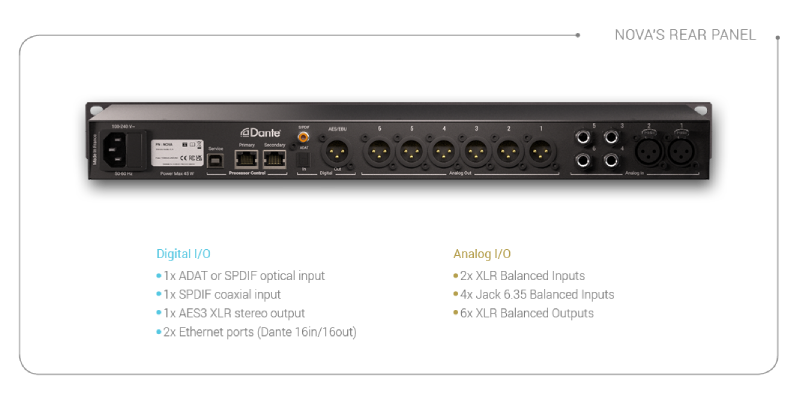 However, our sophisticated acoustic optimization system requires a lot of CPU, which is why NOVA is limited to a maximum of 6 optimization channels simultaneously, running at 192kHz, which explains the presence of 6 XLR outputs on the rear panel.
By default, NOVA is delivered as a 2-channel Optimizer but can be upgraded to 6 channels with the purchase of 4 additional licenses. Licenses are purchased by multiple of 2 so that you can buy only what you need.