The Trinnov Campus will include 4500m2 to invent the Future of Acoustics
Paris, France and East Hampton, Connecticut, USA – August 1st, 2023 – Trinnov Audio, designer, and manufacturer of reference audio processors for home theaters, high-end hi-fi, professional audio and commercial cinemas, is pleased to announce the construction of its new global Headquarters in France.
Trinnov is celebrating its 20 year anniversary by releasing a series of very ambitious projects such as:
WaveformingTM technology, which redefines low frequency reproduction and for the first time allows to eliminate room resonance completely.
NOVA, the first product using a new hardware platform designed by Trinnov.
In order to continue exploring at a larger scale uncharted territories of acoustics, signal processing, immersive sound and computer-based audio among others, Trinnov Audio has conceived and designed an extraordinary facility. 
The new headquarters is designed to stimulate creativity, teamwork and provide well-being for the Trinnov staff. We aim at encouraging scientific discoveries and the creation of innovative technologies and products by bringing together significant, cutting-edge resources.
A New Acoustic Innovation Center near Paris
The facility will be built on one of the very last available land plots of the "Grand Paris" metro expansion project. After long and methodical research, Arnaud Laborie, CEO and co-founder of Trinnov Audio, found a pure gem, consisting of 5100m2 of unspoiled nature adjacent to a future mega metro train station directly that directly connects to the very center of Paris (21 min), CDG Airport (27 min) and 400m away from the highway.
Out of a total area of 4500m2, the facility will feature no less than 1000m2 of acoustic and listening spaces, including 450m2 of laboratories and 500m2 of showroom and training space.
450m2 of world-class laboratories
 
A full-size anechoic chamber of 8 m x 8 m x 8 m.
A passive variable acoustic room and critical listening room.
An immersive sound and active acoustics lab.
Several small acoustic and functional test rooms.
Electronic labs and a prototyping workshop.
In addition, the R&D team will enjoy 550m2 of office space. The quality of the environment will benefit both the team and the work it accomplishes.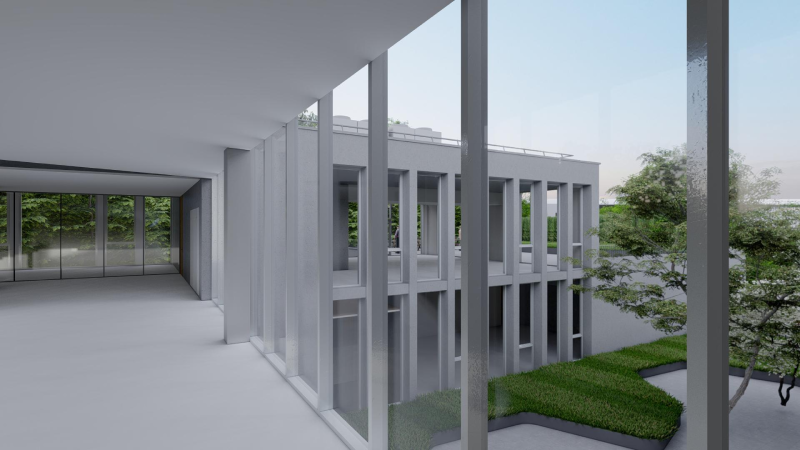 Over 500m2 of showroom, training center and studios.
At Trinnov we believe that education is key and we are continuously developing ambitious training programs. The Trinnov complex will enable exemplary training with an opportunity for students to use our products in real and complete environments. By creating the entire facility from a blank page, we were able to design each room with the ideal size, proportion, and materials.
The facility will include:
A 180m2, 120 seat multipurpose room that can be used as a Cinema, a Dubbing Stage, or a large-scale Conference room. Its full-blown immersive sound system can transform the space into a small concert hall.
A 70m2 VIP room aimed at demonstrating the best performance achievable in a private cinema.
Three studios: an immersive studio (home Atmos), a small music studio and a photo/web recording studio.
A functional immersive space with variable acoustic and movable speakers
A classroom and reception space, complemented by several gardens and rooftops.
This facility will not only be used for our internal needs but will also be available for Trinnov partners to host distributor and dealer events, conferences and organize joint product launches with other manufacturers.
It also gives us an opportunity to produce our own content, host artists, launch albums and host premieres.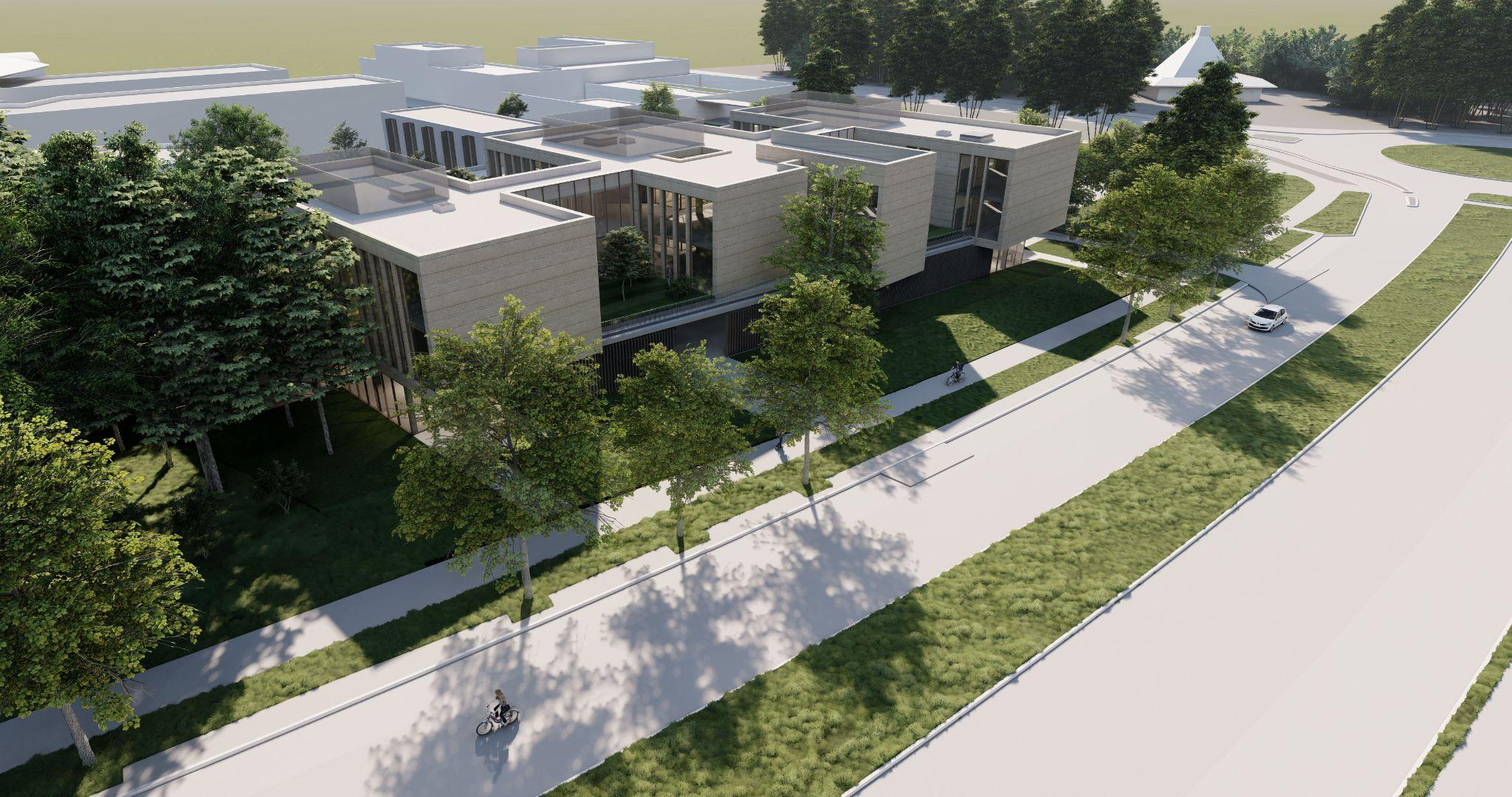 A reflection of Trinnov's identity
This building was conceived and co-designed by Trinnov and French architect firm GBL.
To a great extent, the project benefited from an extraordinary level of involvement from our company co-founder and CEO Arnaud Laborie throughout the project and over a period of 24 months.
The result is a building that profoundly reflects the innovative nature of Trinnov as a company, its ambition and its dedication to continuous research surrounding acoustic performance:
Inspiration: this is probably the first building entirely designed by acoustic and audio/video people. The general shape, structure, materials and a lot of details are driven by acoustic considerations while the interior staging and the windows framing are inspired by cinematographic methods.
Integration: the building is fully integrated into nature thanks to its four suspended gardens, its green roof and, of course, the surrounding natural vegetation.
Sustainability & energy efficiency: the building is optimized using the latest software programs such as IES EV, Pleiades, and STD Comfie. Additional strategies are implemented for energy efficiency so that the building can be energy positive once solar panels are added.
Optimized cost: through Trinnov's direct involvement, hard work and control over the entire project, the ultimate cost for Trinnov is reduced to half the cost of renting a standard office in the same area. In addition, one third of the building will be rented over the first decade, generating significant revenues and making the entire project very affordable for Trinnov.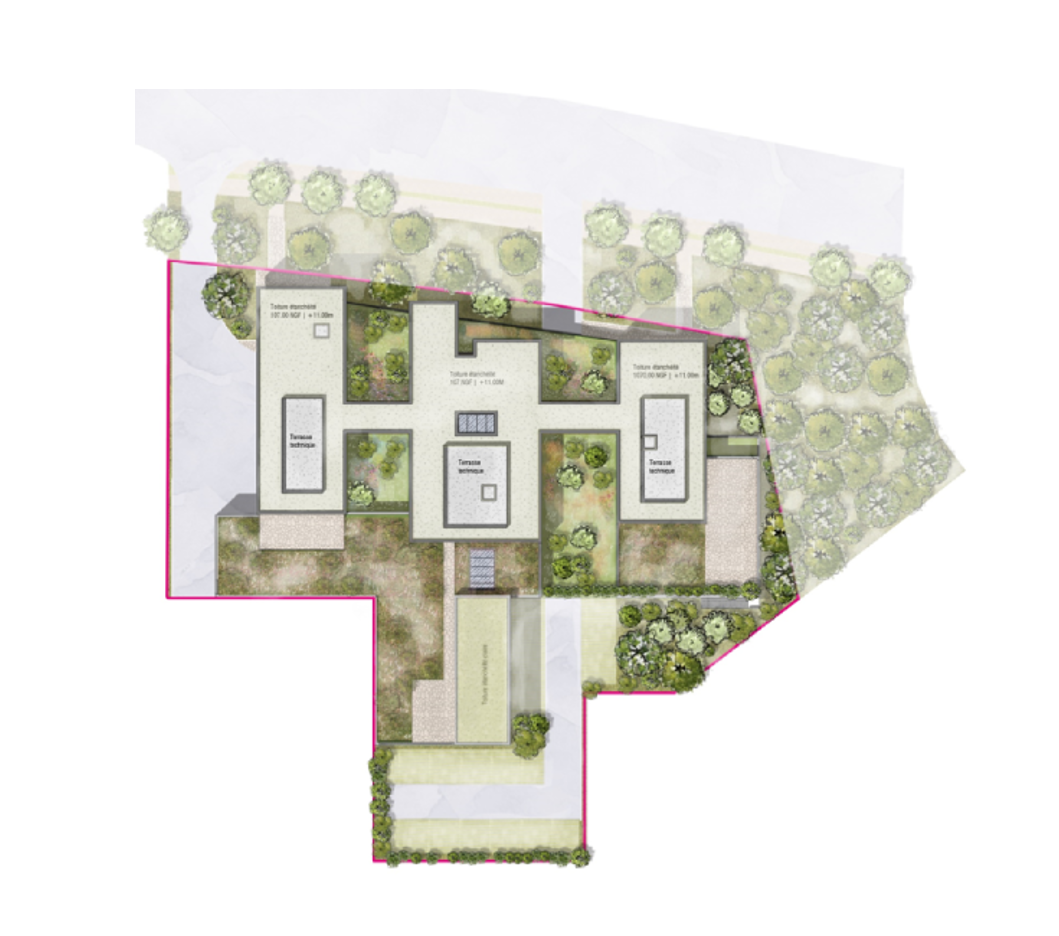 At the project progresses, we will release additional information about this incredible journey and explain the design process, inspirations for the building and how its architecture resonates with sound in future blog articles. 
The first stone will be turned in October 2023 with the opening planned in 2025.