In this interview, our partner Veit Wegmann from Medialantic interviews Andreas Riemann from ARLED Solutions in their reference-level showroom.

Based in North Germany near Hamburg, Andreas from ARLED tells us about the behind the scenes of this amazing room equipped with two speaker layouts, LED panels and an 80" infrasonic subwoofer. 

To be able to showcase their two 32-channel speaker systems, they chose the Trinnov Altitude32, offering optimal flexibility and performance in 3D sound.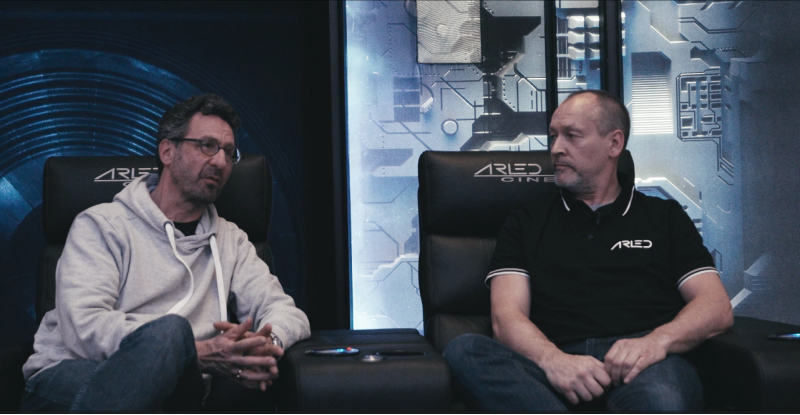 Veit Wegmann (left) and Andreas Riemann (right)
Veit: 
So, we are here today at ARLED Cinema. Here, an unparalleled, "all-in" home theater was realized. Everything that is technically possible is realized here in a really very, very impressive space.
Andreas:
The basic idea was to actually create a space that has a certain size. We decided to create a room which is formed in the same way as an auditorium. You get in at the bottom and you can just go up on the steps and always have the same room height. With most installations it basically becomes smaller in height at the back.

Veit:
But that means the concept only works in such large spaces, right? 
Andreas:
No, no, of course not. We have made an all-in system so to speak of what is technically possible in terms of technology. We just combine the most advanced LED technology with the latest projection technology together. Not only that, but we perform this via a very modern loudspeaker system, which was installed here for the first time in the world due to the fact that we have LED screens here. The projector is a three-chip DLP, RGB Barco laser projector with the highest color gamut.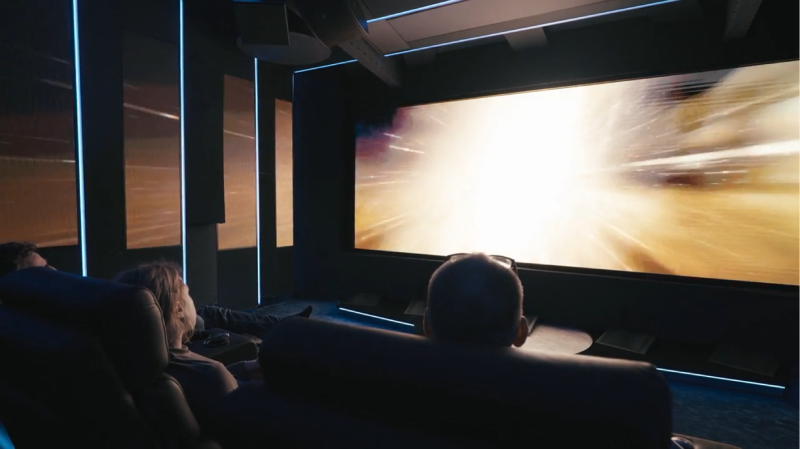 Then, we have the MAG Cinema system, a real cinema theater system, which is actually built for large space cinemas from 500 square meters on. The room we have built in here is just under 90 square meters of space, which is already huge for a home cinema.
And the other system is a system from Ascendo. This is the new Pro system with the new world's first installed 80" infrasonic subwoofer. Of course, we need a processor to manage the whole thing in the first place because there are 92 channels to manage, so it needs a processor that is capable of doing so. 
Veit:
So you can practically have a full Atmos Home System demonstrated here with 32 channels, I believe.
Andreas:
Yes, there are now 32 channels per system, which we can then switch directly. 
Veit:
And Trinnov is just one of the processors, that can render this amount of channels at all.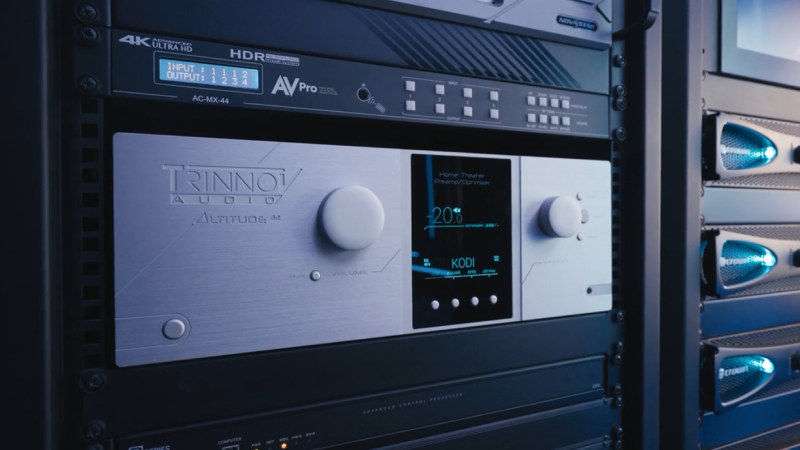 Andreas:
Exactly right. The first reason we chose it is that we can map the rendering of all the channels. The second is because we have two speaker systems in here, they have to be tuned completely differently. Therefore, we need presets and Trinnov offers that possibility. So we can map all kinds of things that way. Then, if we like, we can make the target curves a little more fun and we can basically also tune it differently because that's a system which is tuned to full range, the other is separated at 80 hertz. With the Ascendo system, we have this two-bass system, where one subwoofer, the large one, plays up to 80 hertz, depending on what we have set for targeting.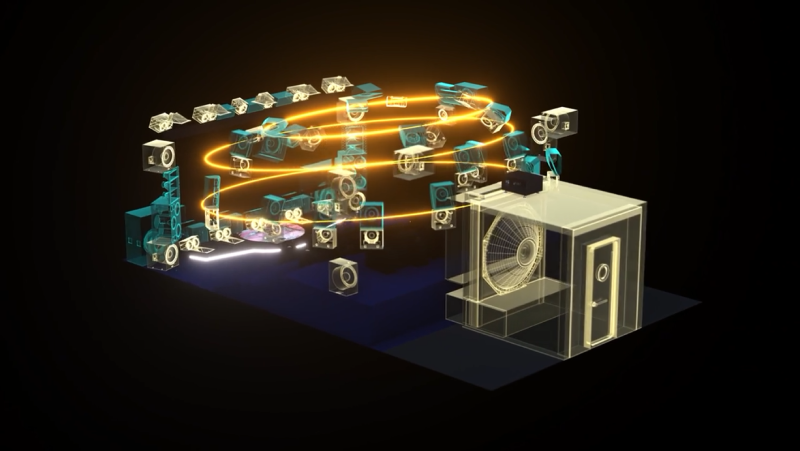 3D render of the ARLED showroom
Veit :
This means that you have installed two systems, which can also be switched. That is, first a MAG audio system.
Andreas:
This is, of course now also possible with the new Bass Management system from Trinnov. This means that you could also map the entire setup there, which would, of course, make an installation easier. Of course, such things are always complex, but it simplifies the whole situation. With the Trinnov, we can tune the entire place phase neutral, so that the bass from the 80" subwoofer with the 21" also enters into a quasi marriage. The impulse with regard to the timeline also fits. And that is simply the tool you need to tune something like this perfectly. And Trinnov offers exactly those possibilities.
We have set up the system from the Trinnov Loudspeaker Positioning Guide, of course. It is a Dolby Atmos setup additionally with Auro, which was the big challenge here.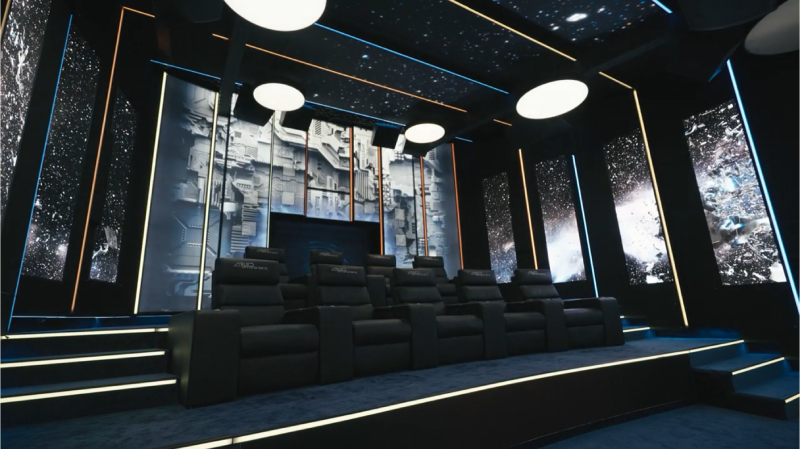 Veit:
The room sounds very good in itself and then the Trinnov Optimizer calibration is added on top.

Andreas:
This whole calibration procedure at Trinnov helps to achieve a 3D sound that simply sounds even more natural. The feedback that we get from spectators or also from people who were here is that the 3D sound is much more pronounced. Of course, I can bring 3D sound into movie theaters with two-meter ceilings. But then to say that the 3D sound is the same is false.

After all, we respected the angles precisely because we have the height. It's not just about all these power scenes or about making rumbles and fumbles but also about the little things. There are scenes from movies where, for example in Passengers, he is there in the auditorium and just speaks to that phone booth and says something. You can notice this huge room of reverb that we had never heard before, or I, personally, didn't hear that anywhere else like that. And this is simply due to the size of the room. This is simply the big plus point, that the room acoustics can be improved, especially in the three-dimensional area which can spread perfectly. Through this precise control with the Trinnov and the 3D Remapping, it looks absolutely cohesive.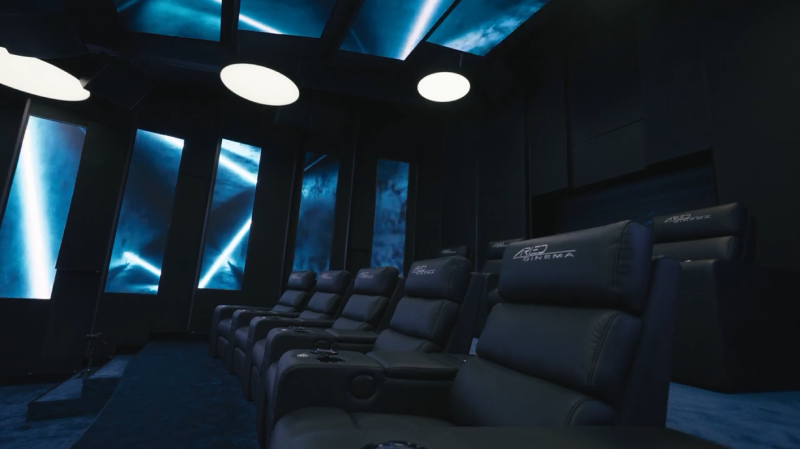 We're having fun and that's just the thing that drives us, just to wow customers. After all, it's all about delighting customers. It's not about saying we have something here with tens of thousands of euros. Of course, all this is expensive and must be refinanced somehow. That is why, of course, we are happy to visit. But you can experience new things here.
That is what I find is missing a bit in the home cinema scene, not always doing the same thing. I see many installations that are like two peas in a pod. Why not go different ways and show new paths? That's also what we get in terms of feedback. "Wow, I didn't know it could sound like that." or "wow, height can't be replaced by more height after all", or "infrasound, ok yeah, that's a good thing after all." or just the LED wall, "Wow, what else is going on?" and stories like that.

That's what it's all about. That is what we embody here and also put our heart and soul into it, to show just that.