Using NOVA as a speaker calibration system
---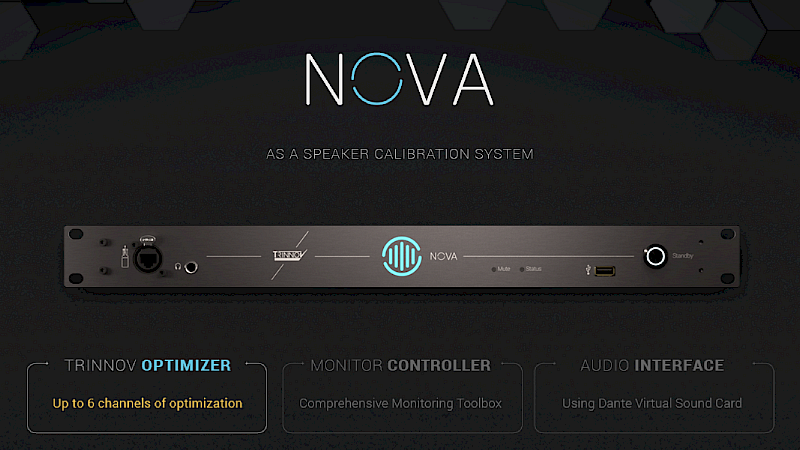 In this series of articles, we will answer all questions you may have about NOVA and its three main functions:
Let's start with the most essential function and what makes NOVA a Trinnov product: the mind blowing Optimizer technology.
What is the Optimizer?
The Optimizer is the market leading loudspeaker/room optimization technology, which Trinnov has been developing since 2005. It is our field of expertise and what we have built our reputation on.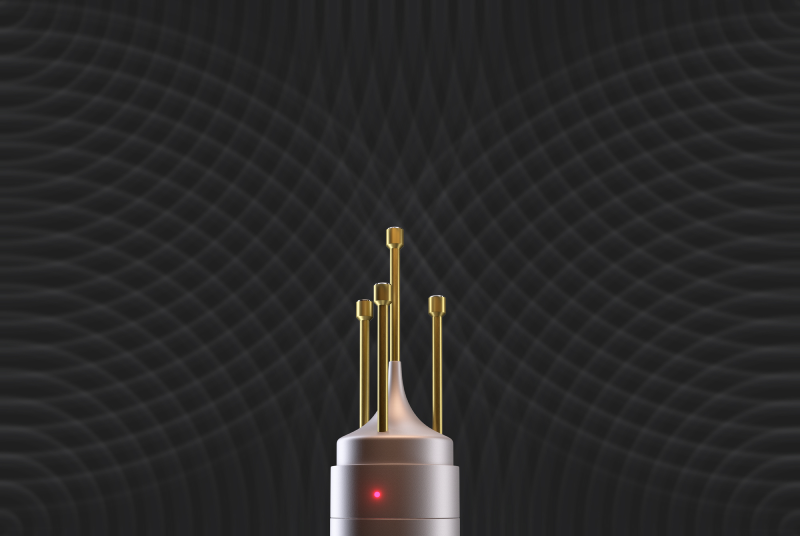 The Optimizer has been adopted by some of the most demanding producers, mixers and mastering engineers across the industry. But it does not only help with music production, our solutions are also used in TV, film and broadcasting environments, as well as thousands of commercial and private cinemas around the world.
Pete Lyman - Mastering Engineer

(The Who, Weezer, Tom Waits, Phish)
You can check our Youtube channel, where you will find lots of testimonials, explaining how the Optimizer helps our customers be more efficient, increasing confidence in their mixes.
By now, you probably understand that all our products include our Optimizer technology.
But what can NOVA do precisely?
Let's start with the basics

Optimization licenses
First, let's get something essential out of the way and differentiate speaker outputs from optimization licenses.
On one hand, NOVA comes with physical outputs:
6x balanced analog out on XLR 
1x AES/EBU out on XLR 
16x Dante outputs via the network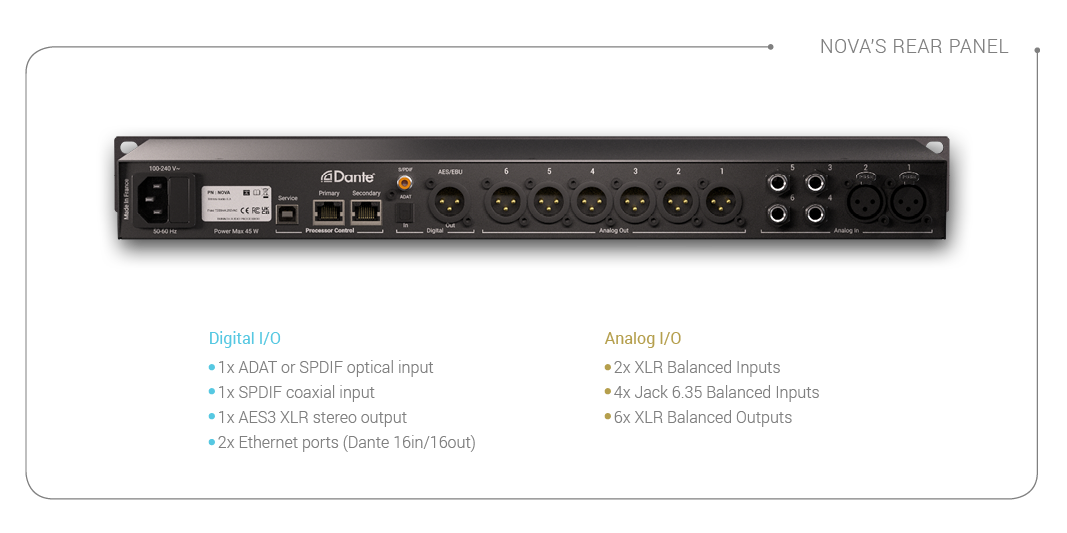 This accounts for a total of 24 individual output channels, which you can use to feed your speakers.
However, it requires a lot of CPU, which is why NOVA is limited to a maximum of 6 optimization channels at the same time, running at 192kHz, which explains the presence of 6 XLR outputs on the rear panel.
Upgrade path
By default, NOVA is delivered as a 2-channel Optimizer, but can be upgraded to 6 channels with the purchase of 4 additional licenses. Licenses are purchased by multiple of 2 so that you can buy only what you need.
Licenses must be purchased from an authorized reseller, which you can find on our website. Once purchased, the licenses will be unlocked on your unit and you will be able to install them from the macOS or Windows application.
What speaker system(s) can NOVA optimize?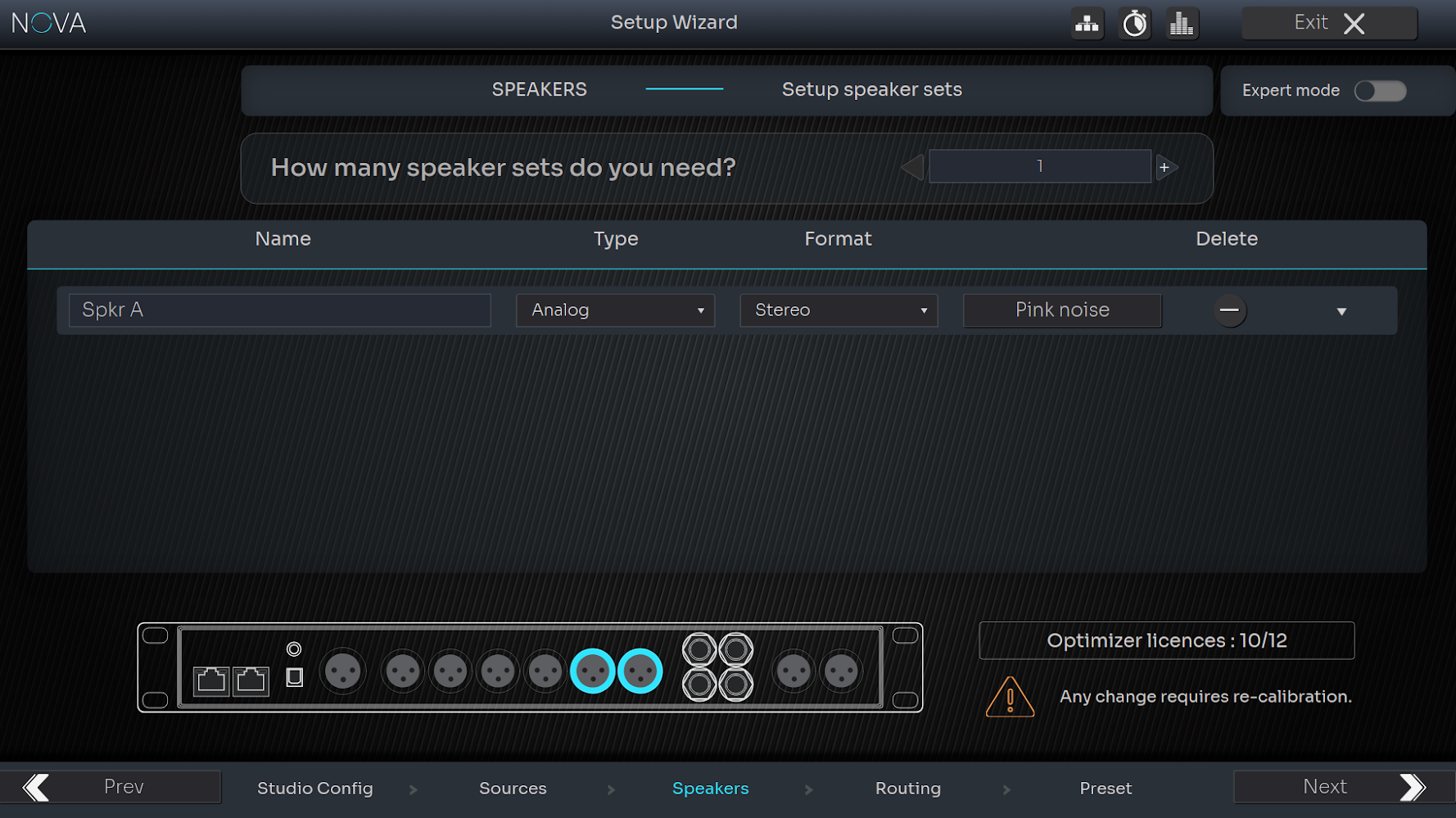 Speaker configuration page
Speaker type and format
NOVA differentiates a loudspeaker from a subwoofer during the configuration and calibration process. However, it does not support active crossover yet, a feature that will be added in a future software release.
The formats available (stereo, stereo + sub, 5.1) depend on the number of licenses on your NOVA. One with 2 licenses will show you only mono and stereo. One with 4 licenses will show you stereo + sub and a NOVA with 6 licenses will offer 5.1.
Speaker sets
Now, the great thing with NOVA is that it supports multiple speaker sets in a very flexible way, including the possibility to share a subwoofer across multiple speaker sets.
For our example, let's assume the following:
You have a NOVA 6 and only work in stereo
You have the following speakers:

One set of monitors with a subwoofer as your main system on your analog output 1-3 (subwoofer being on 3)
One set of near field monitors as your alternative set using AES
And let's also consider you have a pair of small monitors on analog output 4-5
In this instance, you could declare 4 different speaker sets as follows: (do it as you run it)
Mains 2.1 
Alternate 2.0
Alternate 2.1 (sharing the subwoofer from your mains)
Non-Optimized (here we introduce another cool concept, which is the non-optimized speaker set. It does not require any extra licenses, but it will still be measured, level and time aligned as you switch from a speaker set to another)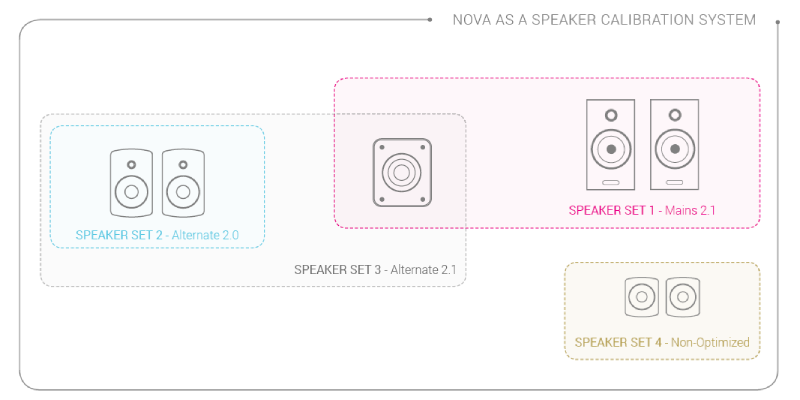 Example of 4 speaker sets being declared at the same time
What else should I know?

You need the 3D measurement microphone from Trinnov
Our optimization solution is based on in-room measurement. Acoustic is complex and relying on assumption or simulation, ultimately leading to approximation.
The Optimizer performs the way it does because we control the entire signal path and process from the measurement microphone to the DAC. Nothing is left to chance to maximize the performance and reliability of our system.
Therefore, to run a calibration with NOVA, you will need a Trinnov microphone of the latest generation: a v10 with Ethercon connectivity. Previous generation microphones will not work.
Latency
Unlike more basic acoustic correction solutions available on the market, we developed an expertise in time/frequency analysis. Sound is essentially a phenomenon that you can explain if you look at the time domain, and operating in the time domain necessarily impliesd latency to correct for phase issues.
As such, you can expect an average latency of 20ms with the Optimizer engaged, although this may vary based on the buffer size, sampling rate and some optimization parameters.
We hope this article was helpful, thanks for reading.