Using NOVA as a digital audio interface
---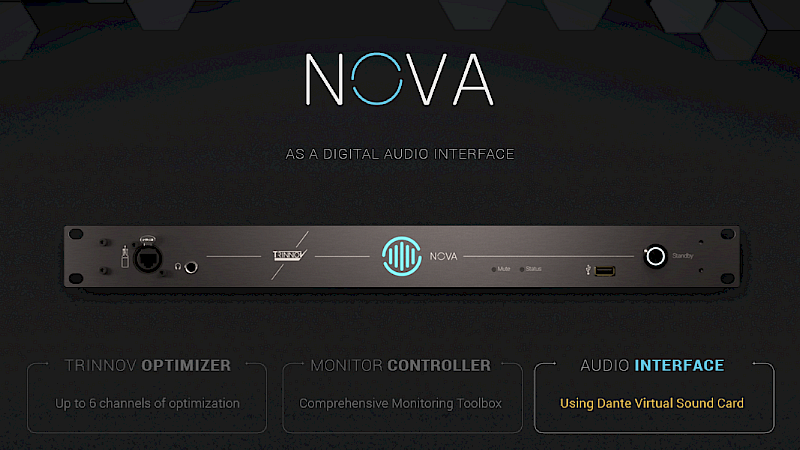 Introduction
In this series of articles, we will answer all the questions you may have about NOVA and its three main functions:
Acoustic optimization
Monitoring control
Audio interface
In this third article, we will explore what makes NOVA different from any other previous Trinnov processors: its capabilities as an audio interface. 
Let's start from the most basic use case and build on top of that.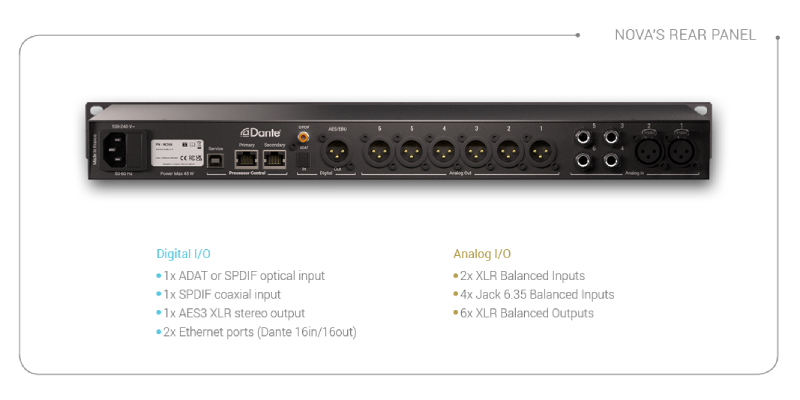 Although primarily a speaker calibration system and a monitor controller, NOVA comes packed with a rather wide variety of I/Os.
Starting from the right, you see six balanced analog inputs, 2 of which are on XLR and the other on Jack TRS. Then, six balanced analog outputs on XLR, primarily intended for speakers, can feed anything, as we will see later. The 7th XLR male connector from the right is an AES/EBU output.
Next to it are two SPDIF inputs, one coaxial and one optical SPDIF ADAT combo. These two are mainly used to connect the output of an existing sound card.
Then the two RJ45 ports that are used for two purposes:
Audio over IP with Dante or AES67, given Dante provides AES67 compatibility at 48kHz only.

Control of the processor over the network
Currently, these two ports are configured as a network switch, and you should connect only one of the two ports until we implement different network modes.
The last port is a USB type B port used for service - let's say you should not need it unless you run into an issue with your NOVA.
What is Dante Virtual Soundcard
Back to the two RJ45 ports that are used for both control and Audio over IP, we need to talk about Dante Virtual Soundcard.
DVS is a piece of software sold by Audinate, the Australian company behind Dante.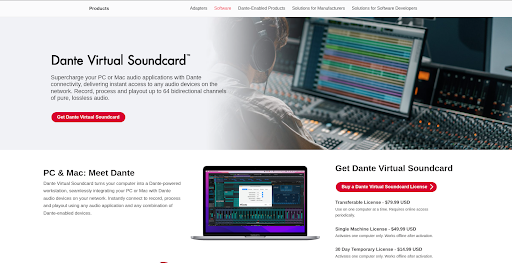 Given what it does, it's really inexpensive and we can only recommend it.
Consider DVS as a virtual audio interface on your workstation, which connects to a network audio hub and gives you access to every Dante device on the network.
In other words, NOVA (or any other Dante device) connects to DVS via the hub, called Dante controller, which is another piece of software, but free, and from there DVS gives you access to NOVA I/Os from your DAW as a virtual sound interface.
This is a game changer in terms of flexibility.
Use cases with NOVA's direct outs
Using NOVA to feed mastering, recording, and metering devices
NOVA features direct out in its monitoring section.
Direct outs are used to send unprocessed signals to the output of your choices.
That output is unprocessed and unaffected by the volume control, making it perfect for feeding an analog outboard for mastering (compressor, limiter…), a tape recorder, or a metering device.
Note that you can choose a fixed source among the sources you have configured in NOVA, or select "Follow monitoring" to send the same signal as what you listen through your speakers or headphones.
Using NOVA to feed headphone amps
Direct outs can also be used to feed a headphone amp.
From your DAW you could create a specific bus for a musician, send it to a dedicated inputs/source of NOVA that would then be sent to the direct output.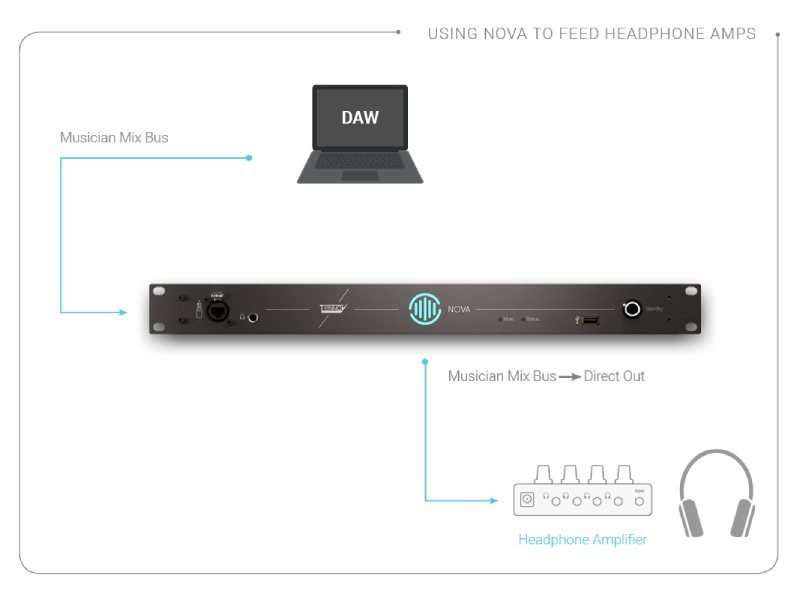 Use case with NOVA line inputs and Dante Virtual Sound Card
Connect mic preamps to NOVA
As explained in the Dante Virtual Soundcard section, DVS presents whatever signals is routed to it from the Dante Controller.
In that example, all we have to do is to route the analog input of NOVA through which we get the mic pre-out to a Dante output and route that Dante output to DVS in the Dante Controller.
The NOVA input is then visible and virtually available in the DAW as an audio interface input.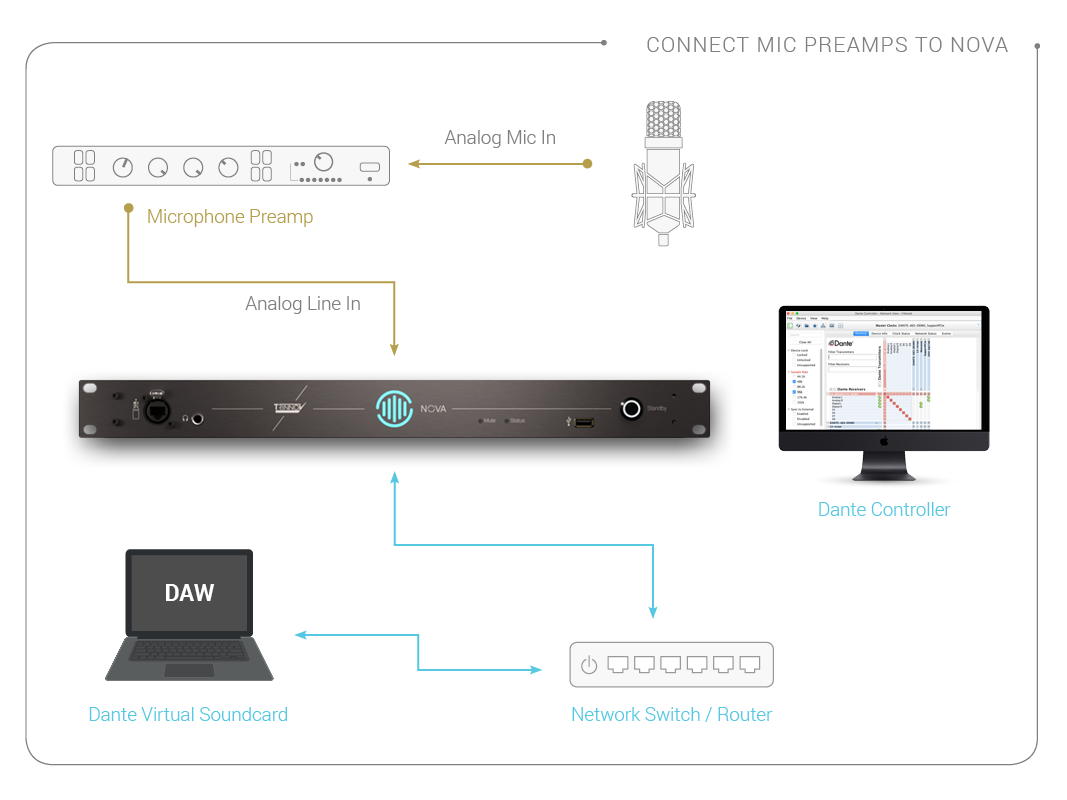 Use Dante to connect mic preamps to DAW via NOVA
To retrieve your signal, the same principle applies to your master bus output, which you have to route to a DVS output and to a Dante input of NOVA via the Dante Controller.
Connect synths or other instruments to NOVA
To connect a synthesizer, sampler, or any other instrument to NOVA, the same principle applies; all you need is to make sure NOVA is fed with a line-level signal (or a digital signal if it's a digital instrument)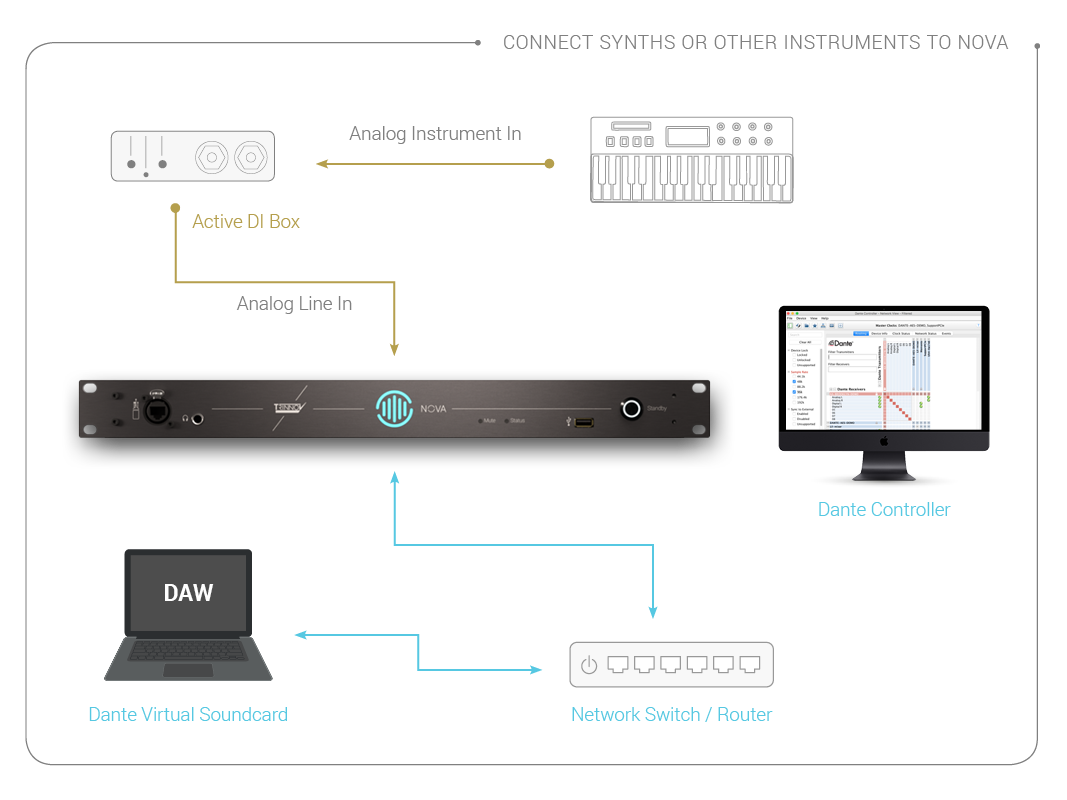 Use Dante to connect instruments to DAW via NOVA
Note that direct outputs bypass the processing section of NOVA. 
But your feedback through the monitor is processed.
Therefore, the latency is just a couple of milliseconds from the synth to your workstation and back to NOVA, but about 20 ms due to the acoustic Optimization.
We are working hard to bring this to something suitable for playback and tracking.
Conclusion: should I keep my audio interface?
Thanks to the Dante Virtual Soundcard, NOVA can be used as your main audio interface if you do not need to record anything or if you own microphone preamps that you can use instead of an integrated sound card with built-in mic preamps.
However, you must know the latency our optimization adds to the monitoring signal path.