2020 was supposed to be a year of celebration for us. That year marked two anniversaries we were proud to celebrate.
20 Years of Innovation in Audio
Our co-founders had met exactly 20 years earlier. They started fundamental research on Immersive Audio and made a leap forward in the field with their pioneering research and high-order ambisonics techniques.
3 years later, Trinnov Audio was founded in Paris
The experimental 24 capsule microphone used during our initial research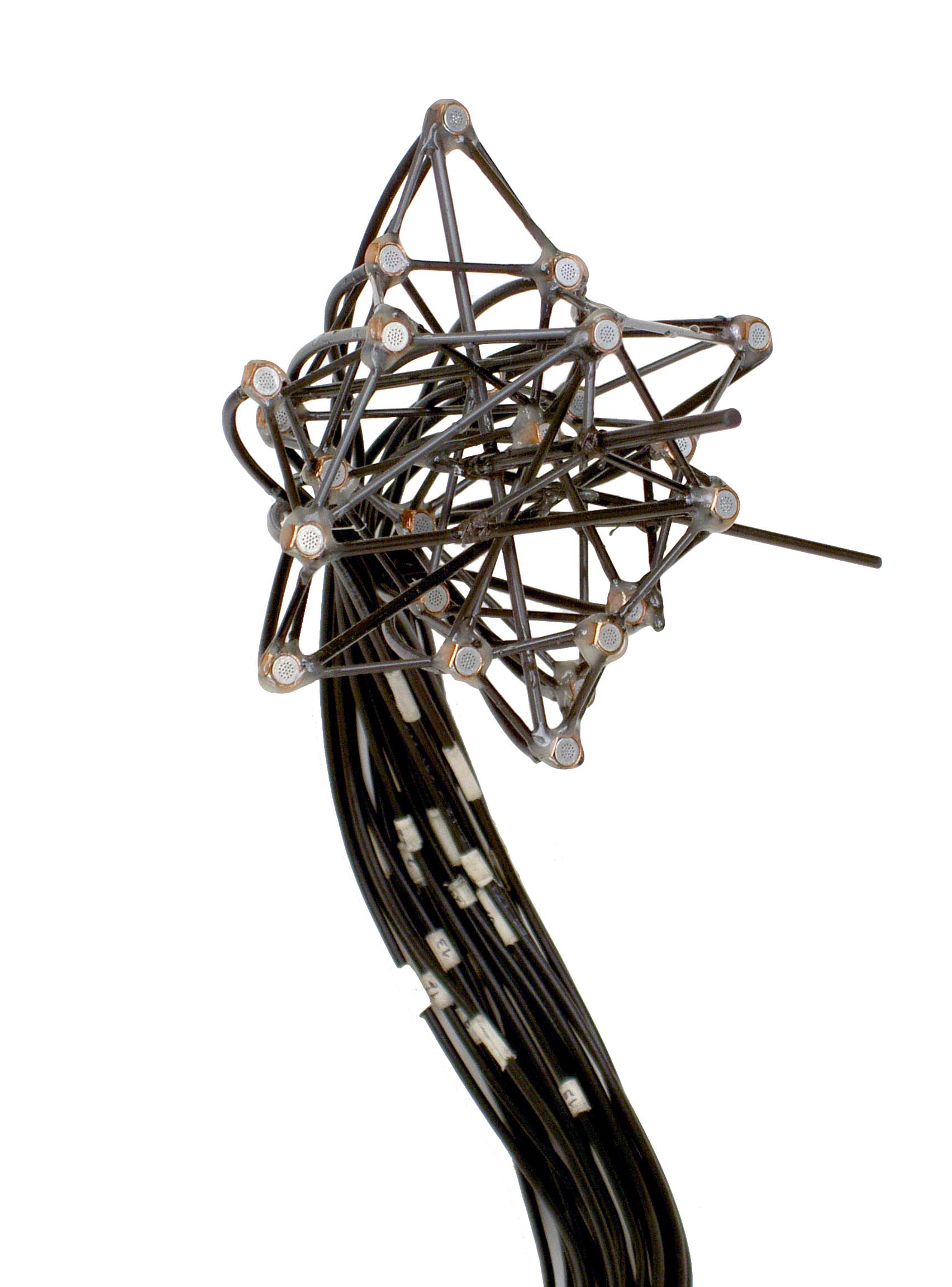 5 years of Leadership in High-End Home Cinema
2020 was also the year when we should have celebrated the 5-year anniversary of the Altitude32.
Even though it was launched in 2014 at CEDIA Expo, sales actually started in 2015 with the production version.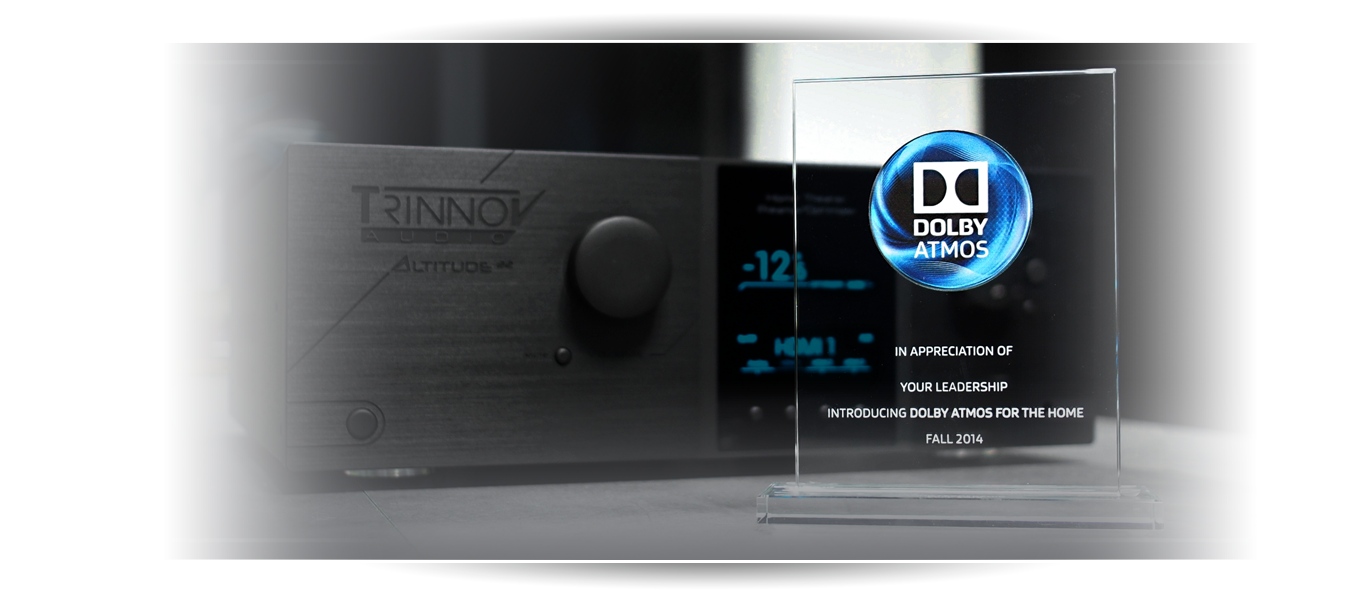 Dolby's recognition for our work introducing Dolby Atmos for the Home
The Altitude32 reshaped the industry with a unique platform and remains the Industry Reference for High-End Home Cinema and Immersive Audio. 
Throughout the next five years, we kept improving this product, proving its unique sustainability. To date, its capabilities are regularly imitated but remain unequaled. 
Evidence of our platform's reference standard, it continues to receive prestigious awards from around the world.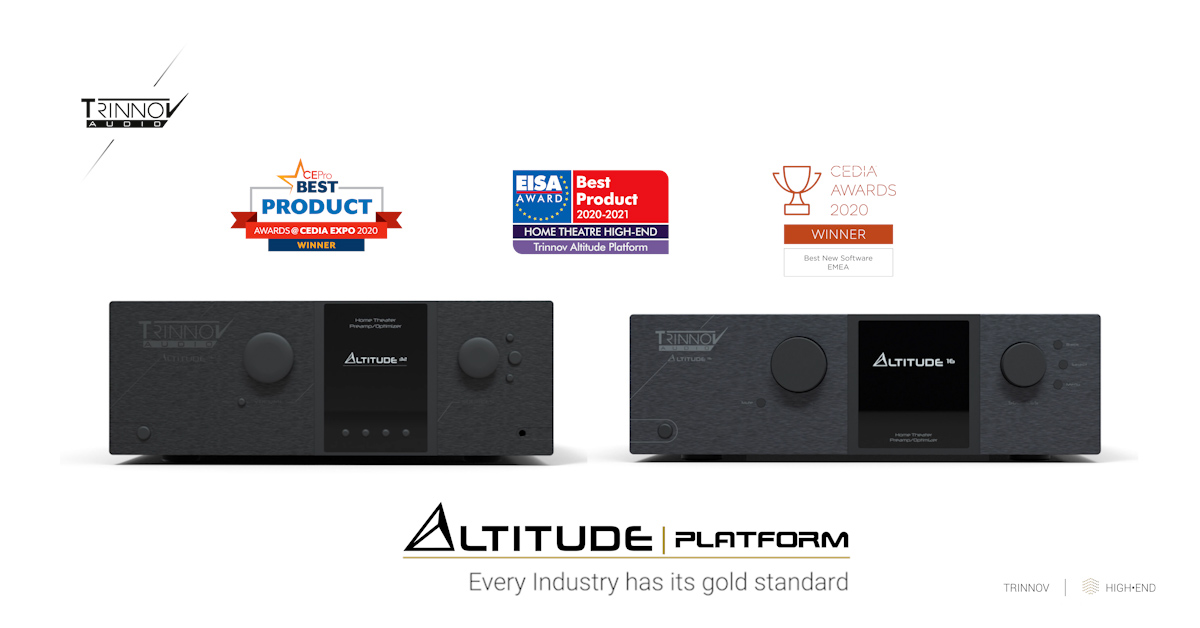 A Second EISA Award for the Altitude - Another World's first
By way of celebration, we announced a warranty extension program for the first customers who invested in the Altitude32. In doing so, we again confirmed our commitment to keep this product the absolute reference for many more years to come.
But then, Covid-19 changed everything. Instead of celebration, we were all hit with uncertainty and turmoil. Here is what happened throughout the year and how we dealt with this unique situation.
High-End Home Cinema: a very successful year
2020 started almost normally all the way to the Integrated Systems Europe exhibition in Amsterdam in early February.
We had innumerable successful meetings and proudly demonstrated a 15.3.10 system in partnership with Procella, Kaleidescape, and DTS. 
This was after a year of hard work and fruitful collaboration with the engineering team at DTS to release another industry-defining feature: DTS:X Pro. We showcased its capabilities at ISE, a full year before our competitors could release it.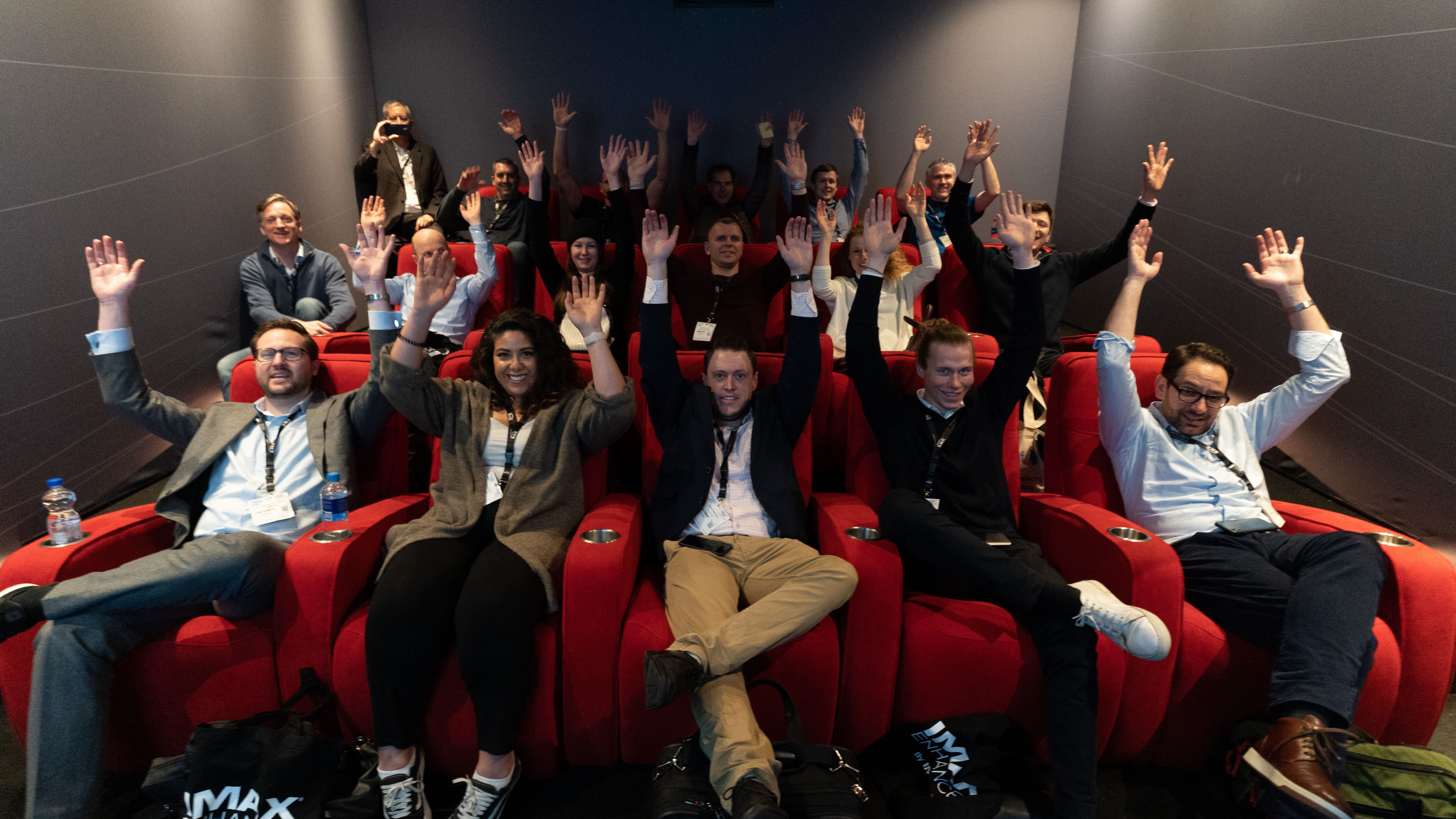 ISE 2020 - Happy crows after the exclusive DTS:X Pro demonstration
Later in the year, we released more software updates and moved to a new HDMI board designed by CYP Technology. Our new relationship with CYP will facilitate the introduction of HDMI 2.1, currently scheduled for the end of 2021. 
The new HDMI board restored the 8th HDMI input to our Altitude processor range. It also brought eARC capability and enables faster switching and decoding but, mostly, it provided better interoperability. 
Finally, we introduced an exclusive Dolby Atmos Object viewer which you can see in action below with one of Trinnov trailers.
Trinnov's exclusive Dolby Atmos Object Viewer
Covid-19 required lockdown measures worldwide throughout 2020. While a terrible experience for everyone, these lockdowns significantly increased the interest and demand for high-quality home entertainment systems. 
Despite the uncertainty and lack of visibility, it was a good year as we look back with our sales growing at a double-digit rate.
Pro Audio: a year of recognition
In 2020, movie and TV production were significantly disrupted. Yet, thanks to the virus, demand for music and TV content – especially streamed content – was never higher. Content creators had their hands full in 2020 trying to be even more productive while not being able to go into their usual studios and facilities.
Some engineers chose to relocate and to mix at home. This was already a trend before Covid-19, one that has accelerated greatly due to what amounts to a work-from-home mandate.
However, mixing in a non-ideal acoustic environment is a major challenge. That's where Trinnov offers effective solutions to make a non-ideal monitoring system perfectly suitable for professional production.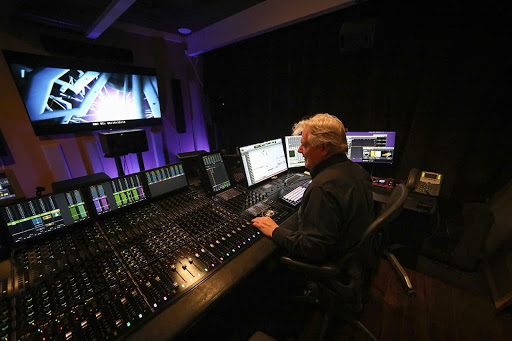 Jonathan Wales (13 Reasons Why, Lady Gaga...) mixing at home through a Trinnov
As Digital Room Correction continues to spread in professional environments, we are pleased that Trinnov is recognized as the best solution by an ever-growing number of engineers. These professionals include highly respected engineers working on premium, chart-topping work that is among the most viewed or listened-to content.
We have seen a spike of new interest for both stereo and multichannel Digital Room Correction processors. This increased demand has driven our pro sales with double-digit year-to-year growth.
Cinema: redefining the cinematic experience
Unfortunately, Covid-19 had a devastating effect on the Commercial Cinema business.
Lockdown measures and the lack of major releases impacted this industry severely. Moreover, decisions by big studios to dismiss the historical release window raised questions about the future of commercial cinemas.

Trinnov Cinema Processor Ovation2
Our thoughts go to cinema exhibitors during this difficult time. However, we remain optimistic about the cinema world and keep thinking, especially as a French company, that the cinematic experience is unique and can't be replaced.
This being said, we must agree that the commercial cinema industry will need to reinvent itself, with quality becoming a primary concern and priority for exhibitors. VIP cinema initiatives are also growing with a clear crossover to High-End Luxury cinemas.
At Trinnov, we are more committed than ever to the commercial cinema world. Despite Covid-19's impact on sales, we actually increased our commitment and R&D effort to offer the best solution to cinema exhibitors.
We developed new features to support this shift in the industry. Our upcoming Matrix Bass Management and Fingerprint features are in beta testing. These are designed to enhance 5.1 and 7.1 presentations which still represent the large majority of screens worldwide.
Systems such as the Quake System developed by Krix make for a more compelling and extraordinary, impactful experience that motivates the audience to enjoy a night out. We expect to see such screens becoming standard as cinema reinvents itself.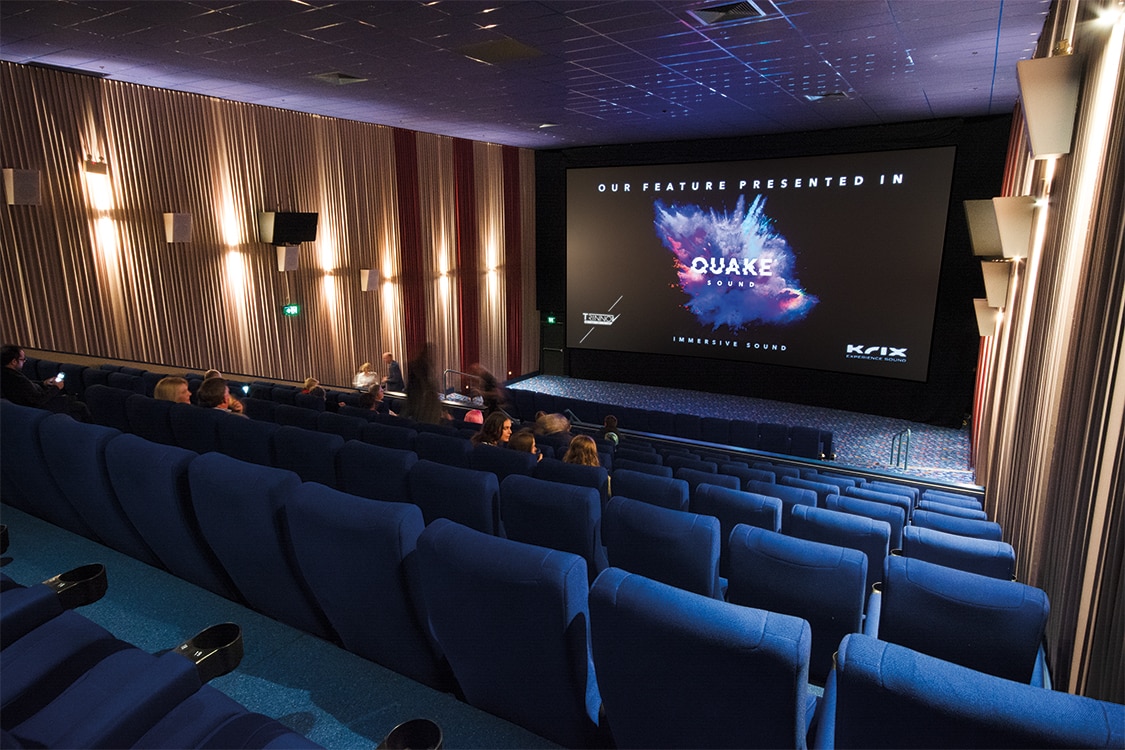 Quake Sound featuring Trinnov Ovation2 and Krix Speakers
Overall, the Ovation2 and Trinnov technology raised a lot of interest amongst cinema engineers. We were able to open new markets and to sign 17 new commercial dealers worldwide. 
Despite the challenges, we have a few reasons to remain optimistic and to look back at 2020 with a smile.
How we dealt with uncertainty and lessons learned
More than anything, our immediate reaction as the crisis started was to focus on people. This started with our own team, which is by far our strongest asset.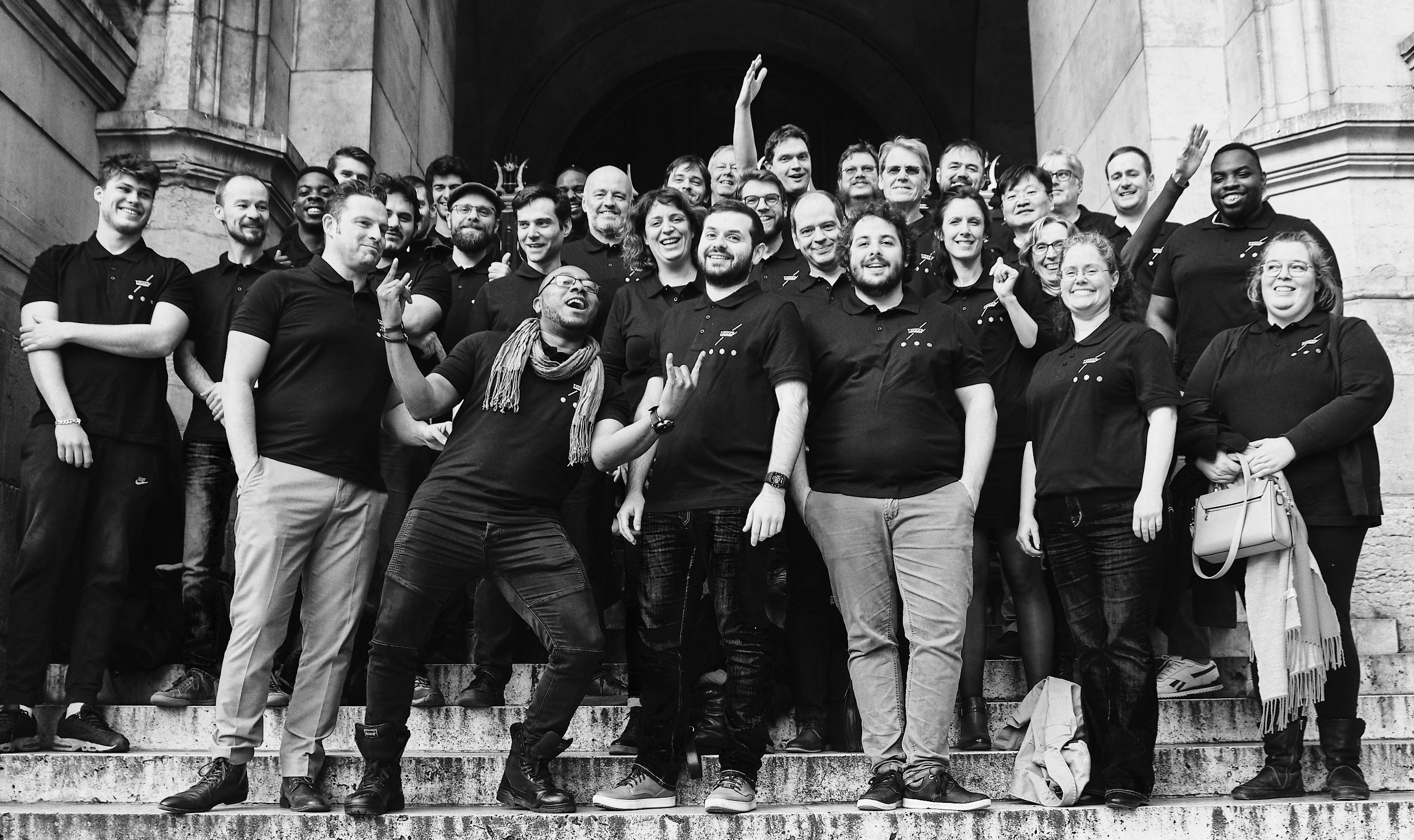 Our team near the Paris Opera House, February 2020
We looked after people
Moving to a home office operation was easy, as for most technological companies. Despite the uncertainty, we made it clear to our team that panicking and freezing everything was not an option. We maintained all positions and followed our original recruitment plan to prepare for the future.
We also did our best to give our customers all the attention they deserve. Our sales team teamed up with our support team to provide even better customer service and personalized assistance throughout the year.
Beyond the products, there are people, there is a notion of respect and service that matters more for us than anything else. 
We hope we proved ourselves in 2020 and will strive to improve continuously.
Investing in our Future
Investing in people and looking after our family of coworkers is an investment in the future. 
Trade shows and traveling no longer being an option, we also reallocated that budget to R&D and engaged in major long-term projects, in research, IT, and manufacturing.
To all our existing and future customers, please be patient and expect important announcements from Trinnov in the years to come. Your experience with Trinnov and your product will evolve for the better.
Education - Knowledge is Power
Being an engineering company with strong technical integrity, we believe knowledge is power.
We invested a huge amount of time producing webinars to share our expertise. Over 10 000 people subscribed, and we will forever be grateful to these who took the time to listen and learn from us. 
Since face-to-face training was no longer possible, we spent more time training our partners online than ever. This turned out to be very productive and created more occasions to do one-to-one training and dive deeper into the technique. With an international customer base, delivering training online proved to be effective and very convenient. 
Although we look forward to spending more high-quality face-to-face time with our customers, online training will likely continue in 2021. Going forward, it is really only a matter of determining the future mix of online vs. face-to-face interactions. 
Our CEO also invested a great deal of time working on new CEDIA Standards as part of the CEDIA CEB22 working group, and one more sales team member from Trinnov went through CEDIA training to become an outreach instructor.
Looking Towards 2021 and Beyond
2020 was a challenging year, and we want to thank our team, partners, and customers for making the best out of it.
Overall, 2020 confirmed and reassured us about the foundations of our business. More than ever, this reminded us that we should stick to what defines us as a company. We will continue to create our own path with innovation, diversification, and integrity.
We will continue to develop the relationship with our partners, built on trust with long-term perspectives, hard work, yet enjoying what we do as we are lucky enough to mix our work with our passion.
2021 looks a lot like 2020 so far, but we remain cautiously confident the best is in front of us.
Let's chin up, be thankful for our families, friends, and partners as we look ahead to a better 2021. 
Happy 2021 to everyone !