Over the last few years, the Ovation and now Ovation 2 have developed an excellent reputation in 5.1 and 7.1 cinemas all over the world. Our new guided calibration process yielding amazing results in a short amount of time. We also found a growing number of customers looking for something "extra", So here we unleash the 24 channel version of the Ovation 2 processor.
Wallis Cinemas Adelaide worked with Krix Loudspeakers to create the "Quake" system. Using the extra channels, they have 4-way speakers at the screen, four dual subwoofers at the screen, and 6 subwoofers on the side and back walls, matching 6 zones of surrounds. The subwoofers are specially tuned boxes which go down to 16hz. The end result is 7.1 playback with 360 degrees of 16-18000hz, and a system which has both clarity and impact. The lobby signage alerts customers they are in for something special, and the system delivers.
"Our new cinema concept "Quake", featuring a range of Krix speakers and Trinnov processing, has been an incredibly successful project. We are extremely pleased with the result and have noticed increased patronage after release to the public. As a matter of fact, we have patrons asking for it"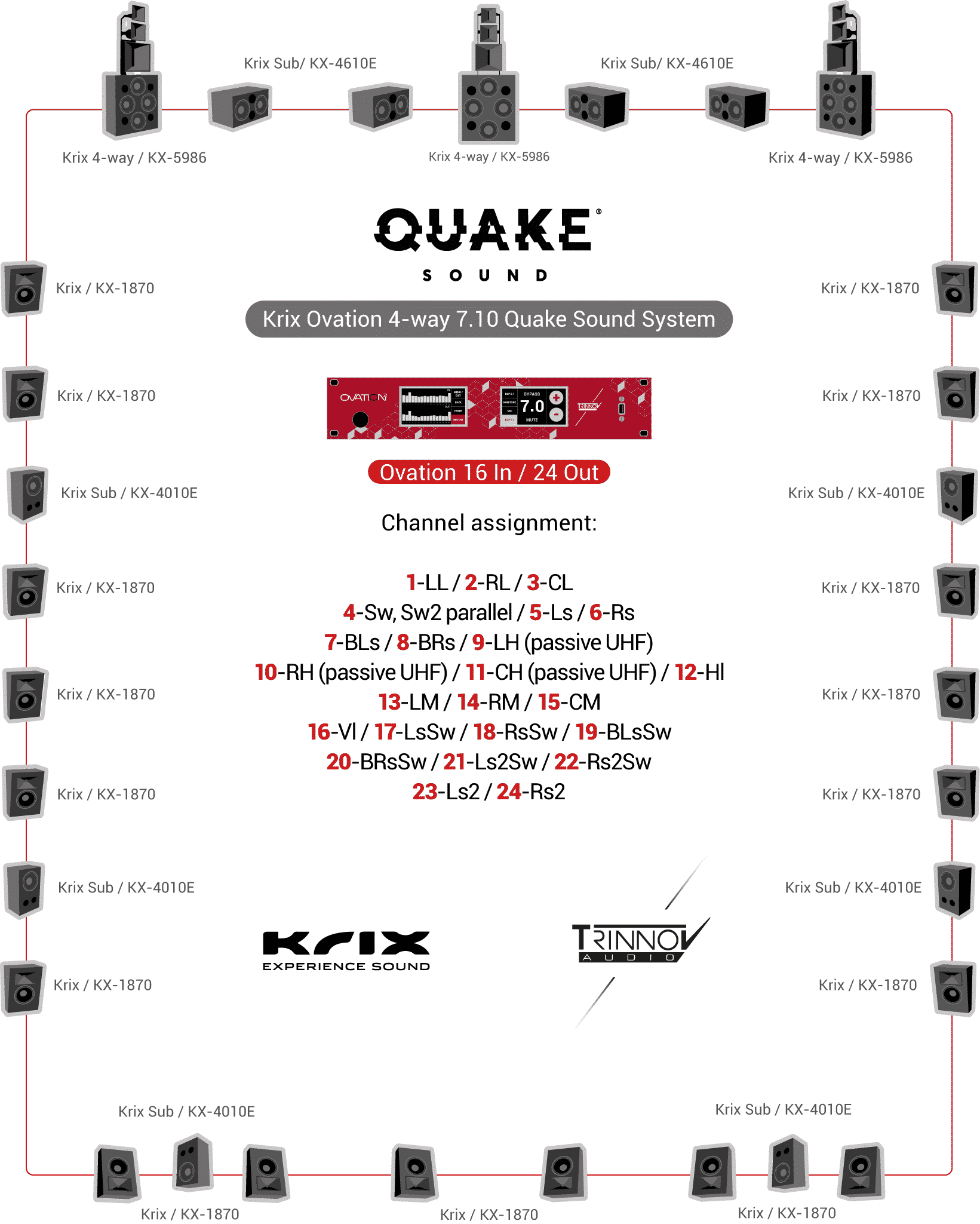 What makes the Quake System unique is.
1. There are 4 sub-woofer speakers behind the screen and 6 sub-woofer speakers distributed around the auditorium with the surrounds speakers.
2. Each speaker in the cinema including the front screen channels low, mid and high is driven by its own separate amplifier.
3. The Trinnov sound processor precisely controls the timing of all sound frequencies to arrive at the listener's ear simultaneously resulting in a much crisper, clearer sound
"We're very pleased with the support from Krix and Trinnov, with both the installation and ongoing support and training. We feel that we have a lifetime partnership with both these companies and with the success that Quake has seen, we now hope to look at expanding"
Glyn Berry. Manager / Wallis Mitcham Cinemas