In 2018, Trinnov updated its warranty policy for its entire High-End Product line by extending the Warranty period from 3 to 5 years, retroactively. 
Now, with the first Altitude32 processors leaving their warranty period, we are pleased to announce a Warranty Extension Program, available to all Altitude32 owners that have owned their processor for more than 5 years. 
Through this program, Trinnov further reaffirms its commitment to its customers and the future in terms of the ongoing, proactive development of the Altitude platform.
The program consists of an additional 5-year warranty that begins on the date the owner purchases the program. At a Trinnov facility, the Altitude receives a complete check up and refresh, including full inspection and thorough testing. If necessary, internal hardware is replaced to restore the unit to new condition.
Customers will be able to enter the program from 04/01/2021.
Further details about the program, including pricing and return procedure, will be made available through the local Trinnov distributor.
THE PROGRAM REAFFIRMS TRINNOV'S LONG-TERM COMMITMENT TO THE ALTITUDE PLATFORM AND ITS USER BASE
The Altitude32 was introduced at the end of 2014 as the new Reference for High-End Home Theater Processors, powered by a revolutionary software-based platform and driven by ongoing innovation. 
Over the last five years, Trinnov Audio has regularly introduced unique and industry-changing features made available to its entire user base – free of charge – thereby staying true to its early promise.  
Such features include the world's first support of multiple, new immersive audio codecs; early adoption of Roon; revolutionary bass management capabilities; ongoing enhancements to its Loudspeaker/Room Optimization; and more recently, the introduction of DTS:X Pro after an entire year of close collaboration with the engineering team at DTS. This long-term vision and value continues to drive the company forward. 

"Our vision with the Altitude platform from day one extended beyond a simple fight against obsolescence. It was always about creating a product that can remain at the top of its category from both a performance and feature perspective over a long period of time. Manufacturers should be doing all they technically can to extend their products' life spans to the maximum and make them upgradable by design. We believe this is what the industry needs and also what our customers expect and deserve. We will always prioritize quality over quantity and the Warranty Extension program is yet another example of that vision and commitment. Our customers make a major investment when purchasing an Altitude, and we are determined to keep every Altitude owner's system performing at the highest level, regardless of when it was purchased. We intend to keep the Altitude platform at the forefront of High-End Home Theater with the same strategy and vision for many years to come and will continue with ongoing innovation, bringing more high-value features to our customers."

Trinnov's CEO and cofounder Arnaud Laborie.   
AN ACKNOWLEDGED AND REWARDED VISION
Earlier this year and for the first time, the Expert Imaging and Sound Association, a group of specialised AV Magazines, decided to reward a platform rather than a product to acknowledge Trinnov's achievement delivering ongoing innovation with the Altitude series of AV Processors. This follows a first EISA Award for the Altitude32 in 2017.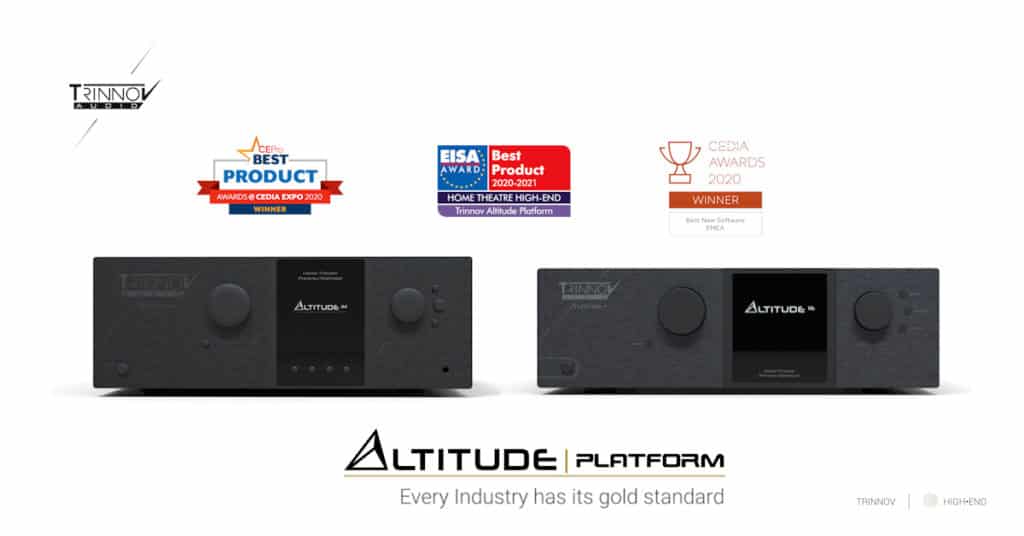 CEPro also rewarded the Altitude32 with a BEST Product Award in 2020 despite the platform having been introduced almost six years ago, further confirming the Altitude is a technological vehicle for ongoing innovation rather than a simple product.
Last but not least, Trinnov won a CEDIA Award for Best New Software with the introduction of DTS:X Pro earlier in 2020.