Trinnov announces WaveForming roll-out through its early access program
---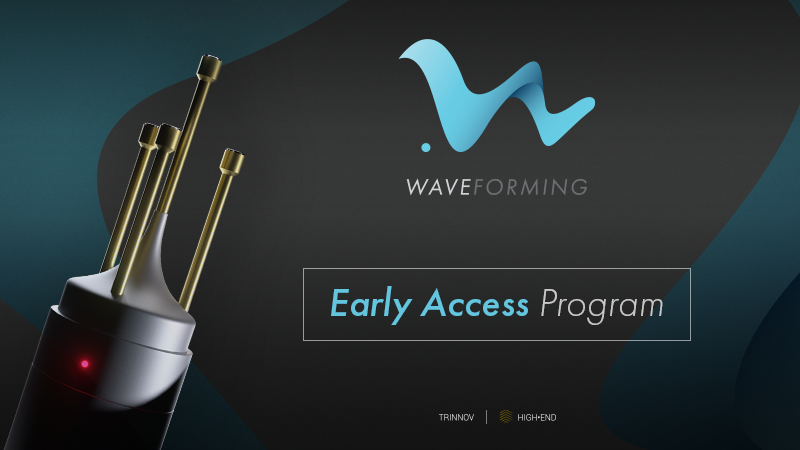 Following on from a hugely successful CEDIA Expo, where WaveForming picked up no fewer than 4 industry awards, Trinnov Audio are very happy to announce the plans to accelerate the roll-out of its groundbreaking WaveForming software into selected showrooms and projects.  
From the first installation in a dealer showroom
After Trinnov's unveiling of WaveForming at ISE in Barcelona in February, the company has been actively working with multiple partners to get pilot installations off the ground. Following several incredibly successful installations at trade shows and with speaker manufacturers, Trinnov felt it was the right time to accelerate its plans by approaching one of our most trusted dealer partners to show what WaveForming could offer in showrooms.
GrobiTV, based in Germany, have been working with Trinnov since 2018 and are the first dealer in the world to be able to offer and demonstrate WaveForming, in their facility in Kaarst, Germany.
With decades of experience in designing, installing and tuning multi subwoofer array systems, they were the obvious partner to collaborate with for this installation, which was completed in August. You can view the reaction from our visit, in English or German, on the GrobiTV YouTube channel.  
Patrick Schappert, Owner of GrobiTV explains
WaveForming has improved bass reproduction with a precision and dynamic range like we have never experienced before. The noticeable pressure and the audible details have increased significantly in every seat. The difference can be heard and experienced immediately and our DBA-equipped home cinema was the perfect cornerstone to accommodate WaveForming.

Holger Franz from our partner Heimkinobau has a unique experience with more than 450 planned and built DBA & SBA solutions.
To the Early Access Program
Following on from this very successful installation, Trinnov has decided to extend this opportunity to a wider group of qualified dealers. Although Trinnov have privately and successfully trialed WaveForming in more conventional subwoofer layouts, the focus is on delivering the highest possible performance to every seat.
This is a far greater challenge and requires a design-led approach where the location of the subwoofers is dictated by the dimensions of the room and the upper frequency of control.
For this reason, Trinnov are limiting this early access to projects that meet the current Subwoofer Placement Recommendations Guidelines.
Only Certified Trinnov dealers will be able to submit projects for approval. Interested dealers must contact their local distributor, who will provide the link to the project submission form. Once both the dealer and project have been approved, Trinnov will then invite dealers to attend online training where they will be taught how to measure and fine tune using the new WaveForming software. 
If you have any questions regarding WaveForming, we encourage you to speak to your Trinnov Audio dealer or distributor and to also join us on the webinar using the link above. Any other questions can be emailed to: waveforming@trinnov.com where one of our High End Sales Team will be in contact. 
Webinar on Subwoofer Placement Guidelines
David Meyerowitz Technical Sales Manager from Trinnov Audio comments:
We know a lot of Trinnov Altitude owners will want to try out this new software on their own systems. Whilst this will be possible when we get to public release in 2024, this early phase release is focused on qualifying projects that fully comply with our subwoofer placement guidelines. This way we can ensure that our performance objectives for this software can be met and demonstrated to customers successfully.
Trinnov invites everyone to join us for a webinar taking place on the 19th October at 6pm CET, where these recommendations will be explained fully.
Please register using the button below.