We are very proud to announce our collaboration with K-array and Vismara Design on the new project by Samsung dedicated to "Luxury Living".
Trinnov partnered with Samsung Italy, K-array and Vismara Designs for the new "Luxury LED for Home" project, a collaboration dedicated to high-end home cinema that leverages the innovation and technological expertise of the Korean electronics powerhouse, the impeccable Italian design of luxury furniture producers, Vismara and Trinnov Audio's exclusive home cinema processors, together with K-array's unique audio solutions.
Luxury LED for Home is a pre-packaged home cinema that targets consumers who are looking for a unique and memorable entertainment experience, designed with top quality materials, with Samsung contributing its latest IF Series screens that are available in FHD (109"-130") & UHD format (219"-260"), Vismara will be adding its elegant, theater-style seating and custom-made soundproofing panels.
The Luxury LED for Home offers a new visual and audio experience by addressing the audience at the very center of an immersive sound field. The incredibly discreet and elegantly designed K-array loudspeakers are positioned all around the room, including the ceiling. Combined with the Trinnov processor which optimizes the music track, movie dialog, and sound effects to provide spectacular sound, this immersive 3D audio installation not only provides high-quality sound performance but renders watching any kind of A/V content a truly sensorial experience.
"We are very excited to work with Samsung on such an exclusive project. LED display is a growing trend in commercial cinemas and high-end home theaters. This new technology brings many visual benefits but also audio challenges, especially for dialog reproduction, which is usually delivered by a dedicated center speaker behind an acoustically transparent screen. We are pleased to leverage our technologies and unique expertise in sound field reproduction together with K-Array to help Samsung achieve the best possible sonic performance in this truly unique space" says Arnaud Laborie, co-founder, and CEO of Trinnov Audio.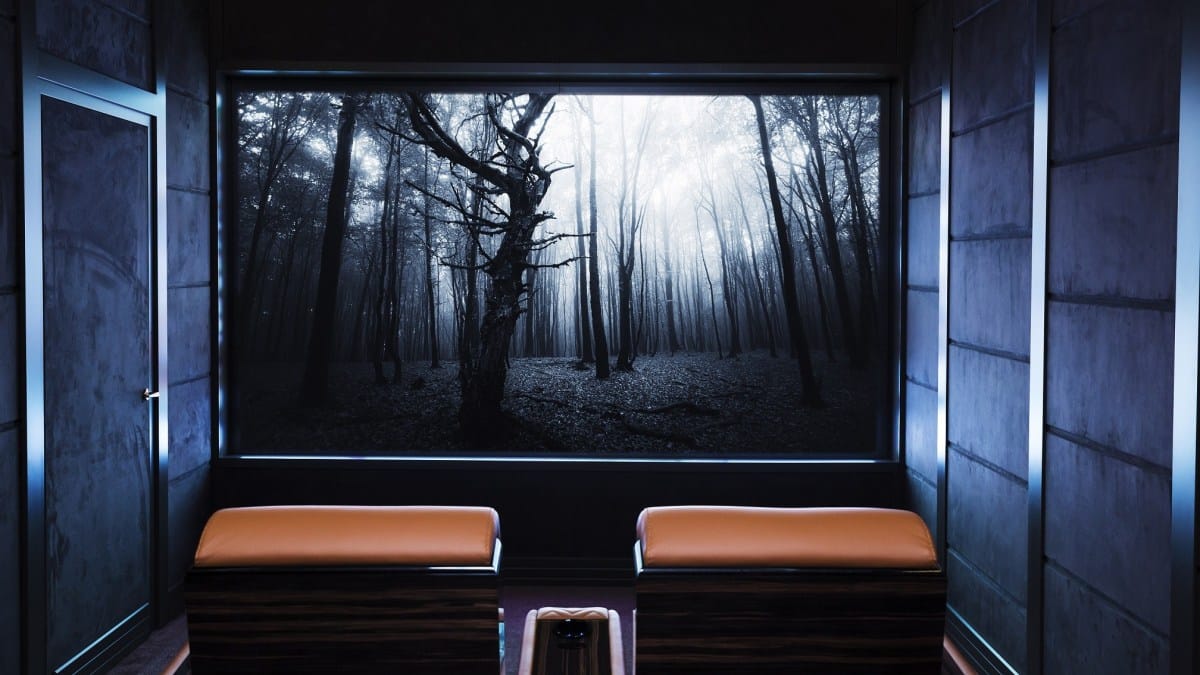 To meet the project's design challenges of limited real estate for loudspeakers, K-array employed their ultra-flat, 1,5 m–deep line array Vyper-KV52 loudspeakers on both sides of the massive display as Left and Right main sources.
Together with Trinnov acoustic optimization technologies, the Vyper-KV52 also makes it possible to reconstruct the Central audio channel with just a pair of horizontal Vyper-KV52 loudspeakers placed at the top and the bottom of the display. The loudspeakers are optimized to enable the audience to perceive the sound coming from the very center of the scene, rendering it the perfect companion to technologically advanced SAMSUNG cinema display.
The 3D immersivity of the sound field is guaranteed by Trinnov Altitude16's unique decoding and rendering  capabilities, across an additional eight full-range Domino-KF26 loudspeakers with four dedicated to managing the sound field on the horizontal plane in a 360° around the audience while the other four loudspeakers are installed on the ceiling, providing elevation and spatiality to the sound.
The cinema designed for the home has been reproduced inside the Smart Home of the Samsung District and will be available for consumers who wish to have a premium experience thanks to Samsung Technology, Vismara's Italian Design, K-array Sound Systems, Trinnov Altitude platform, and the partners providing contents: Sky Q, Netflix, Amazon Prime Video and Kaleidescape.