Trinnov Awarded Best Demo at CEDIA Expo 2022
---
Best Demo at CEDIA Expo 2022: A Collab Between Trinnov, McIntosh, Sonus Faber, Kaleidescape and madVR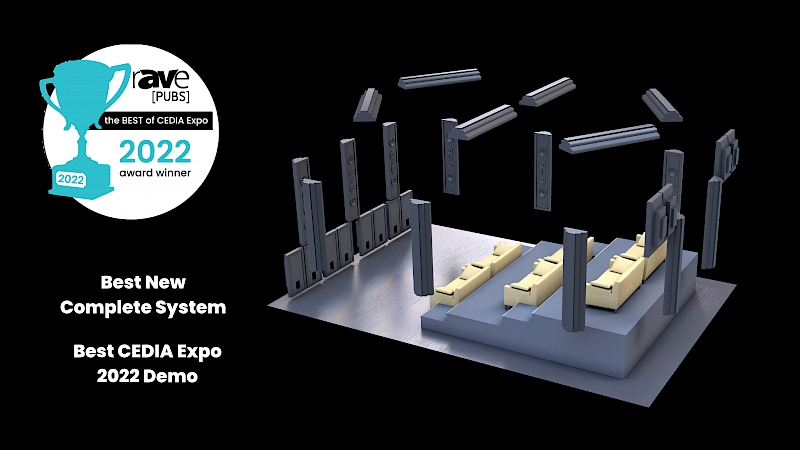 We are proud to announce that our demo at CEDIA Expo 2022 won 2 awards :
- Best New Complete System
- Best CEDIA Expo 2022 Demo 
Talking about his experience attending demos, Gary Kayye, founder of rAVe Publications said: 
"I've probably sat through 75 of these during my tenure in AV. They're always stunning. Think about it; they're always filled with the newest tech perfectly tuned by industry insiders for industry insiders. They are nearly always awe-inspiring. But, none have ever left me awestruck like the one I attended at CEDIA last week. In fact, I've never seen a theater with a line the entire length of the show — all three days. Literally." 
Further talking about his experience, Gary Kayye considers it to be the best CEDIA Expo demo ever:
I love seeing movies in IMAX — mostly because IMAX requires theaters to keep their projectors up to date and calibrated more often than the average exhibition house does. But, I am not sure I will ever see (or hear), again, what I did last week at CEDIA Expo. I am bummed to lose that experience but blessed to have had it in the first place. This was, by far, the best demo, ever, at a CEDIA Expo.
This demo was a great team effort and would not have been possible without our partners. A huge thanks to McIntosh, Sonus Faber, Kaleidescape and madVR for their collaboration.