From Harman
HARMAN's JBL Synthesis announced a new strategic global partnership with Trinnov Audio. The deal immediately provides JBL Synthesis with access to Trinnov's industry leading technology portfolio for decoding immersive audio formats including Dolby Atmos, DTS-X and Auro3D.
Our partnership with Trinnov expands the capability of JBL Synthesis to provide complete custom-installation solutions that are created to deliver an unrivaled home entertainment experience. Trinnov is the market leader in 3D audio processing and provides us with the ability to bring a new generation of luxury home theater that achieves ultimate performance and sustainability where changes in technology are constant,

stated Jim Garrett, Director of Marketing and Product Management, HARMAN.
Joining HARMAN provides Trinnov with powerful industry recognition and visibility," stated Arnaud Laborie, President and CEO, Trinnov Audio. "The 3D audio revolution in the luxury home theater market has presented a fantastic opportunity to demonstrate our expertise and technology leadership in the field. We know that HARMAN will help us in educating the market about 3D audio and provide high quality demonstrations of the technology at shows and industry events worldwide.
The first result of the partnership is the JBL Synthesis SDP-75 Processor. Based on the Trinnov Altitude32 platform, the SDP-75 is designed to be the heart of a JBL Synthesis custom-installation home entertainment system. Deploying Trinnov's powerful processing capabilities and exclusive technologies, JBL Synthesis is now able to bring ultimate performance to the home cinema market driven by 3D Audio, 4k Ultra High Definition video and HDMI 2.0.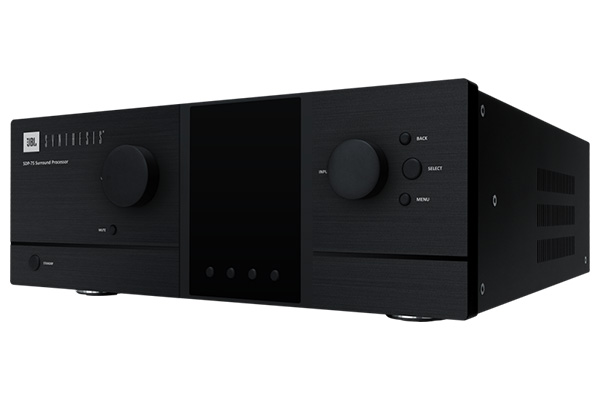 The SDP-75 will be available in 16- and 32-channel versions and is configurable surround processor/preamplifier compatible with Dolby Digital Plus, Dolby TrueHD and DTS-HD Audio formats. The SDP-75 also provides full support for all major 3D audio codecs and upmixers including Dolby Atmos, Dolby Surround, Auro 3D and DTS-X. A companion SDEC-5500 digital equalizer will also become available providing JBL Synthesis advanced Adaptive Room Correction and Optimization System (ARCOS) calibration technology and HARMAN's BLU link connectivity for the SDP-75 platform.
In conjunction with JBL's industry-leading loudspeaker technology, award-winning JBL Synthesis SDA amplifiers and new companion SDEC-5500 processor for ARCOS, the addition of the SDP-75 positions JBL Synthesis for ultimate performance for high-end residential home theater systems.
The JBL Synthesis SDP-75 will be available in first half 2016 with distribution details and pricing to be announced at a later date.