Last edit: November 5th 2021
Introduction
Dolby Atmos was originally introduced in 2012, targeting the theatrical world, dubbing stages and commercial cinemas. In 2014, Dolby Atmos made its debut in the consumer space and appeared in many AVRs and Home Cinema Processors like the Trinnov Altitude32.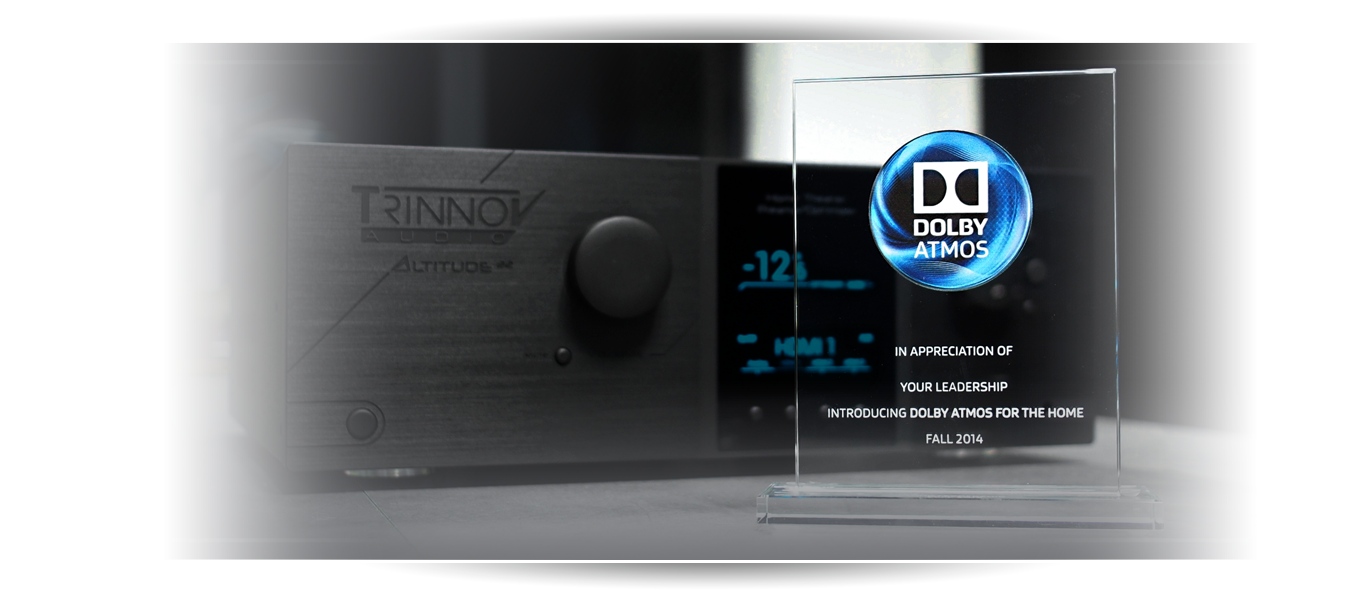 Dolby acknowledged Trinnov's leadership introducing Atmos in the Home Theater industry
To this date, Trinnov remains the only manufacturer able to decode and render the maximum number of discrete channels allowed by the home version of Dolby Atmos (24.x.10).
In the last couple of years, Dolby increased their efforts to push Atmos in the music industry. They first remixed a number of famous tracks to Atmos at Capitol Studios to later demonstrate the benefits of their technology in music at multiple international trade shows.
It is only recently with the Apple announcement that the music industry seems to durably shift towards Atmos. We could see the same kind of general adoption that we have seen in the AV Entertainment industry after Netflix embraced the technology.
Here is a guide to all music producers, mixers and mastering engineers who wonder how to use and integrate a Trinnov in a Dolby Atmos studio.
Why use Trinnov in your Atmos setup?
The Optimizer Technology
Digital Room Correction is now being widely adopted in music production environments. 
Why? Simply because the benefits of such technologies are obvious to many sound engineers.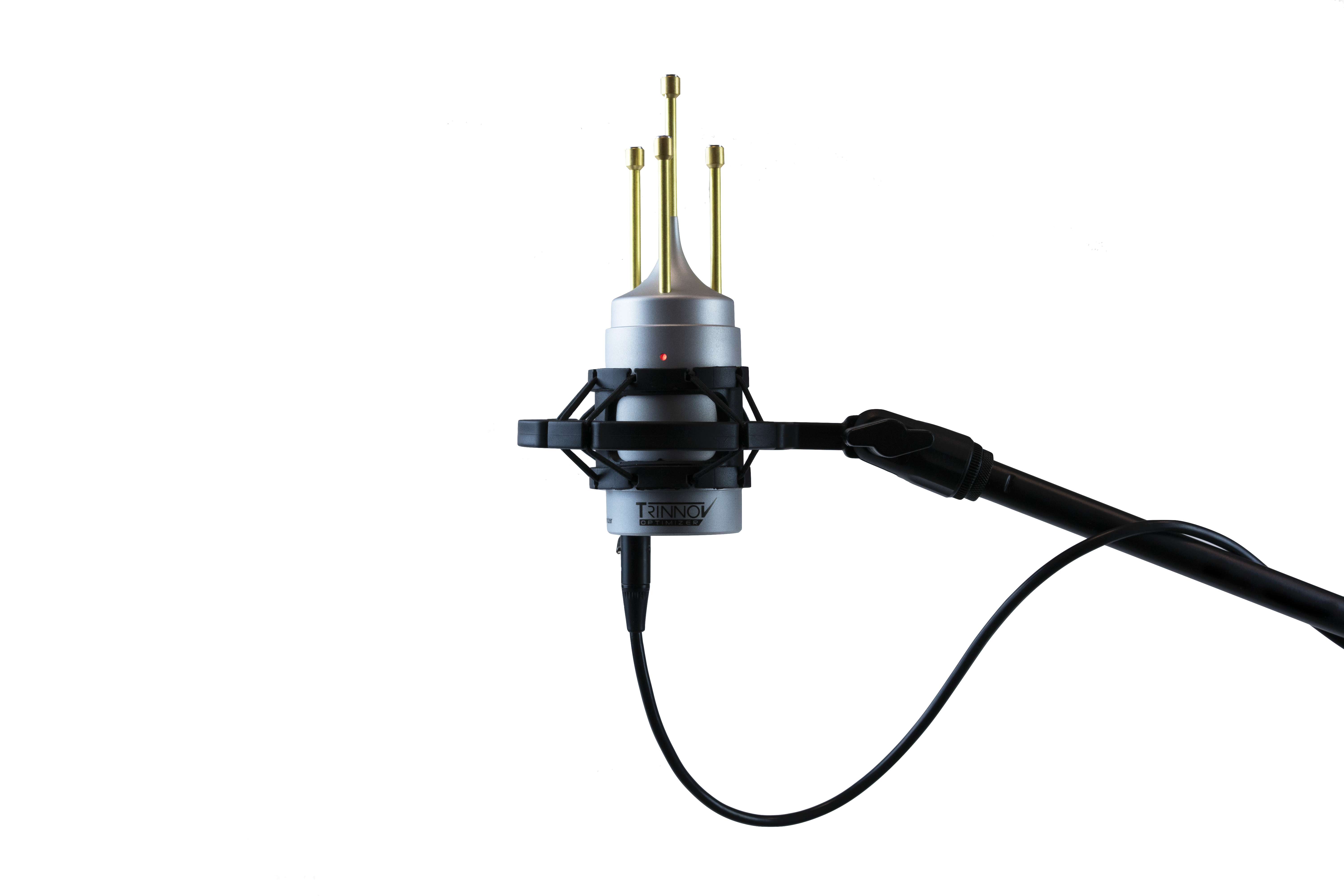 Trinnov proprietary 3D Microphone used to perform Acoustic Optimization
Up until now, traditional acoustics paired with a good set of monitors were supposed to do the trick and ensure the reliability of a monitoring system but the reality was always different. 
Traditional acoustic is and will always be a must but more and more people start to understand that digital room correction is in fact complementary to a good room and required to reach the best possible results.
Most importantly, a reliable monitoring system reduces the guesswork and lets you focus on the creative process rather than trying to fix problems that are not in your mix but coming from your room. 
Steve Kaplan (God of War, Star Wars, The Walking Dead) on the benefits of the Optimizer
As a result, you work more efficiently, you get less hearing fatigue and more consistent mix translation. As a professional, the discussion about Digital Room Correction is not a gear discussion, but rather a business discussion as it effectively affects your operation and makes it more profitable.
Well, it's no different with Atmos and we have solutions to address the requirement of immersive sound mixing and mastering. 
Arguably, using such a technology in Dolby Atmos room is even more relevant than it is for stereo production:
As you increase the number of speakers in your room, you increase the amount of acoustic interactions and therefore problems. This makes Loudspeaker/Room Optimization even more critical to create a realistic and precise tridimensional sound bubble.

In case of an upgrade, the room may be suitable for stereo but not necessarily designed for Atmos in the first place. Acoustic adjustments would be great but not always possible. Using such technology reduces the headache and helps you get there faster.

Calibrating an audio system with more traditional methods will yield great results if performed by an experienced audio calibrator. Nonetheless, performing such calibration manually across a larger number of speakers is not exactly straightforward. Using a semi automatic and more advanced system helps you get there faster, with greater results and accuracy.
Monitor Controller
With Dolby Atmos, the most popular monitor controllers used in traditional stereo systems are no longer an option but you will need the same ease of use and access to monitoring functions regardless of what format you mix for.
Here comes our range of Processors which offer various options for you to control your Atmos monitoring system.
La Remote is the most flexible option, especially used in combination with the D-MON as you can customize multiple layers of buttons.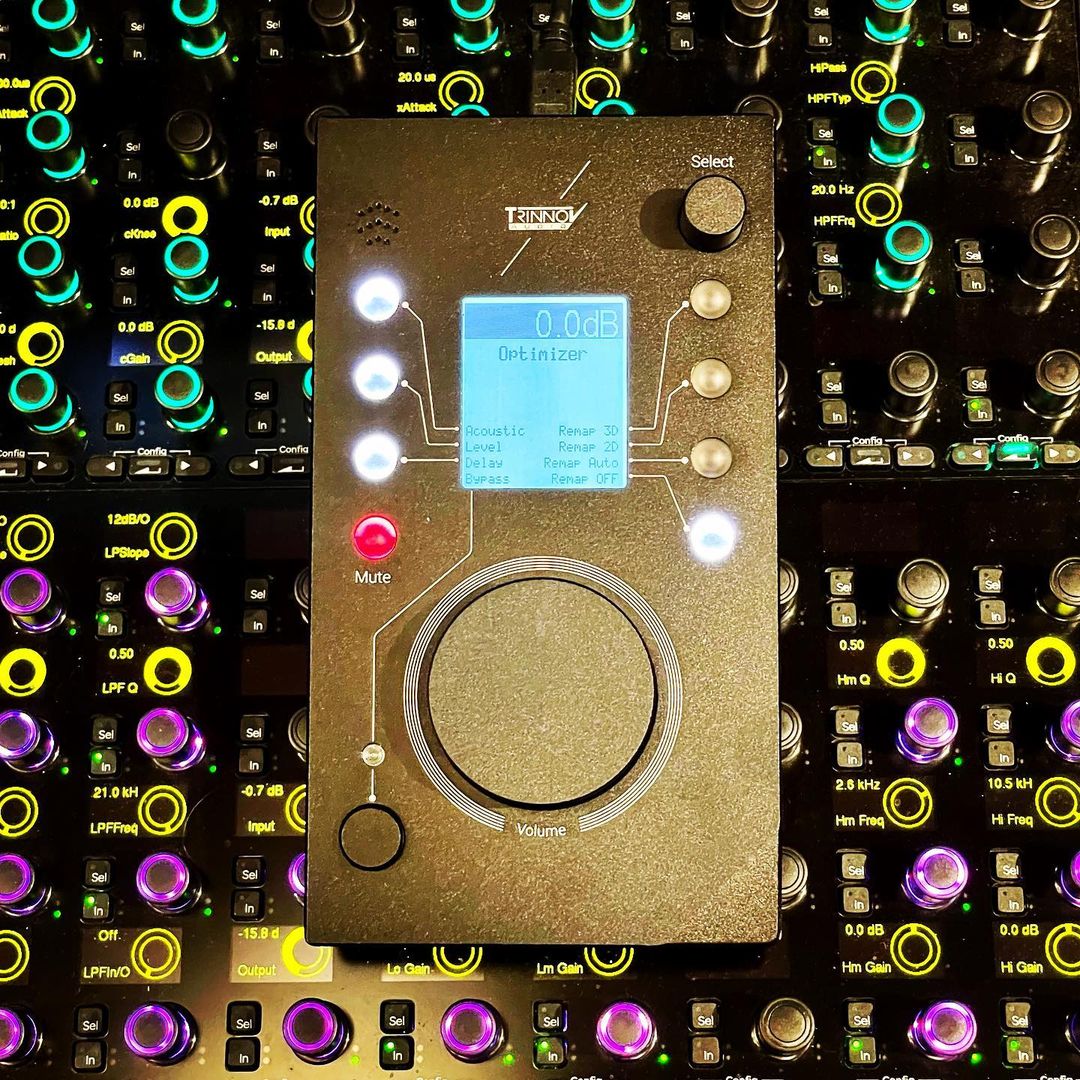 La Remote and AVID's control surfaces
Note that all the processors in this article provide compatibility with the EUCON Protocol as long as you use an apple computer.
Indeed, the Trinnov app, which effectively acts as a gateway to enable EUCON communication is only available for macOS as we speak.
Therefore, if you use an Avid control surface, you will therefore get all the commands you need at your fingertips from your S1, S2, S3 or S6. 
The communication is seamless and you control the Trinnov processor without realizing it.
What are the options?
We have three options for your Dolby Atmos music studio.
Which one is for you will depend on different factors:
Your speaker layout (number of speaker sets, speaker layout, channel count)

Your subwoofer implementation (and bass management requirements)

You integration requirement (connectivity and control)
Note that all the processors in this article include the Optimizer technology.
Also, whether you use the Dolby Atmos Mastering or Production Suite, we explain how to integrate each processor below.
D-MON: the ultimate Dolby Atmos monitoring controller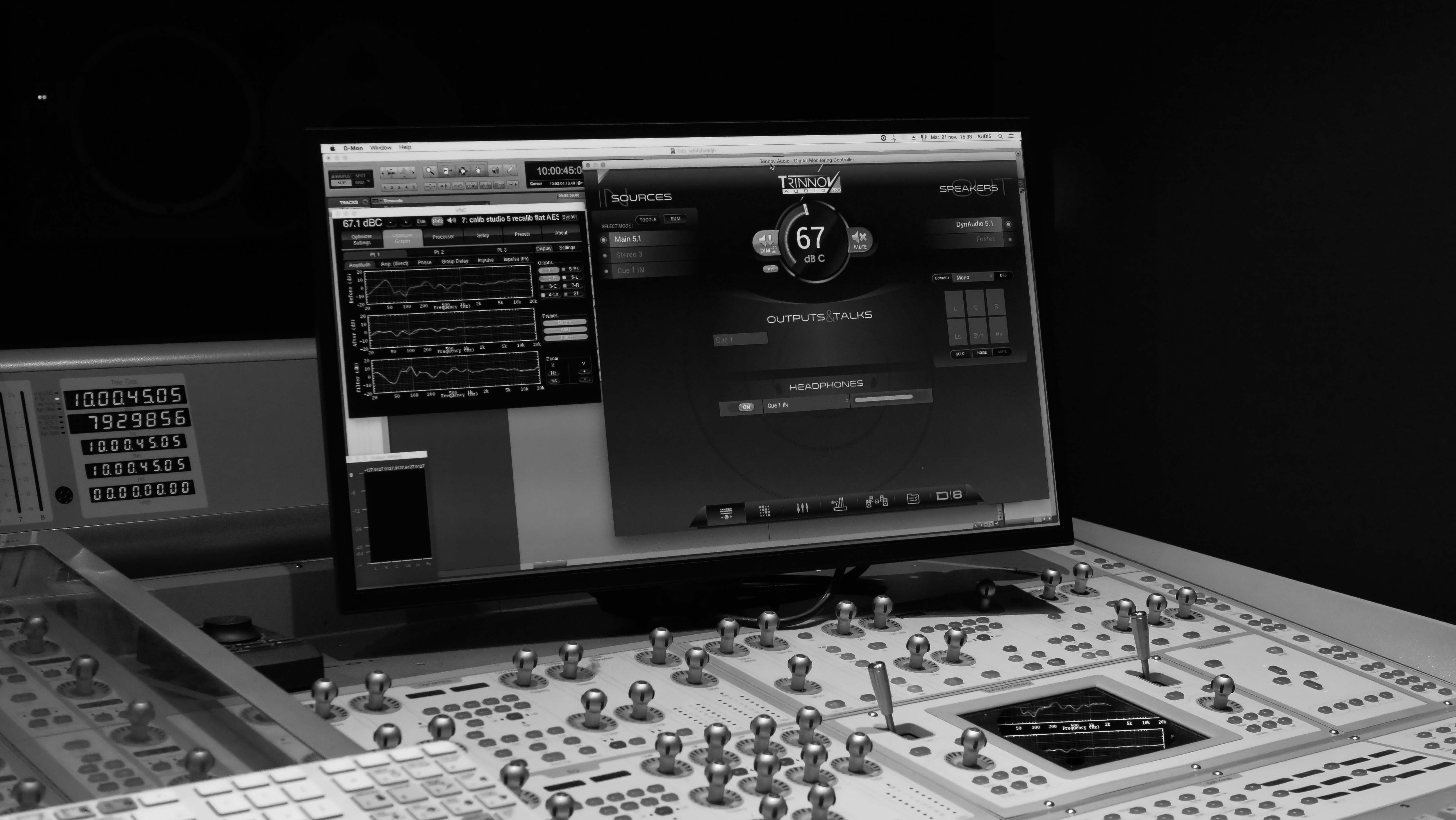 D-MON Interface through the macOS app
The D-MON was originally designed as a replacement for the Digidesign / AVID X-MON. Therefore, if you are still using a D-Control or a D-Command, the D-MON is made for you.
Besides the Acoustic Optimization, the D-MON comes with a very extensive set of features to enhance your monitoring system.
Most importantly, the D-MON allows you to declare multiple sources, toggle or sum them, and multiple speaker sets. Although you will likely drive only a main Dolby Atmos monitoring system (up to 9.3.6), you can also declare and manage extra speaker sets within a limit of up to 18 acoustic optimisation channels (ex: 7.1.4 main + 2x stereo). Above that limit of 18 acoustic optimisation channels, you can also declare non-optimized speaker sets that will still be aligned in level and delay for additional flexibility. The only limit is the numbre of audio outputs. From there, you can instantly switch between your speaker sets and listen to a stereo downmix on a different set of speakers.
But mostly, the D-MON is deeply integrated with La Remote and EUCON, allowing you to optimize your workflow by mapping any of its functions to our monitoring controller or an AVID control surface with great flexibility.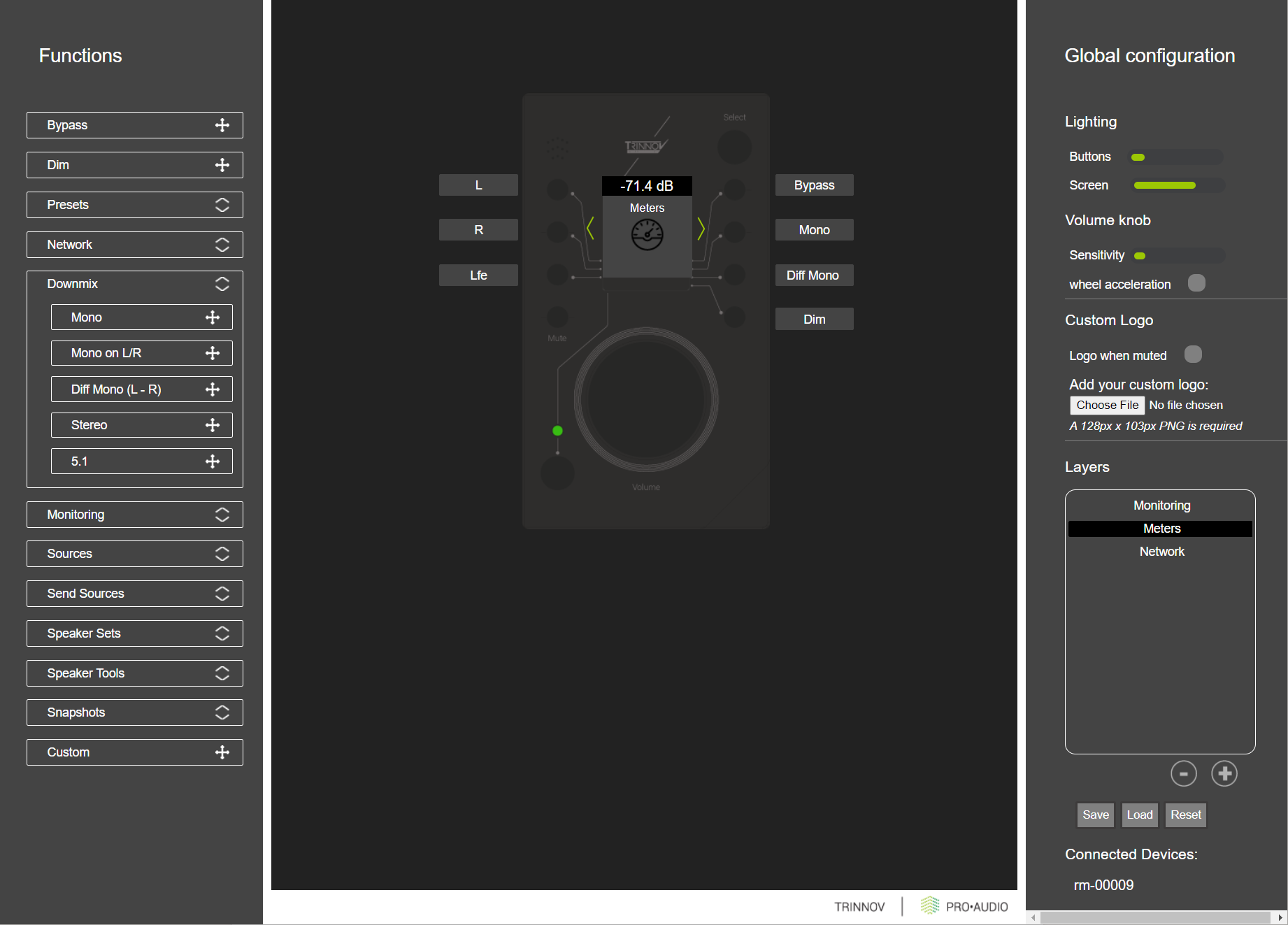 La Remote configuration page when used with D-MON
The D-MON lets you set up your own cues and mix buses if needed with a zero latency internal routing matrix.
In terms of connectivity, the D-MON comes with 16 AES/EBU I/O, 8 Analog In and 16 Analog Out and 16 I/O via Audio over IP using Ravenna/AES67, which is Dante compatible up to 48kHz.

D-MON Rear Panel
One of the great and unique feature of the D-MON is that whether your sources and speakers are analog or digital won't make a difference. The D-MON lets you switch between them seamlessly. In the latest release (expected December 2021), D-MON will also offer an extra 16 inputs via Ravenna/AES67, with Dante compatibility mode up to 48kHZ.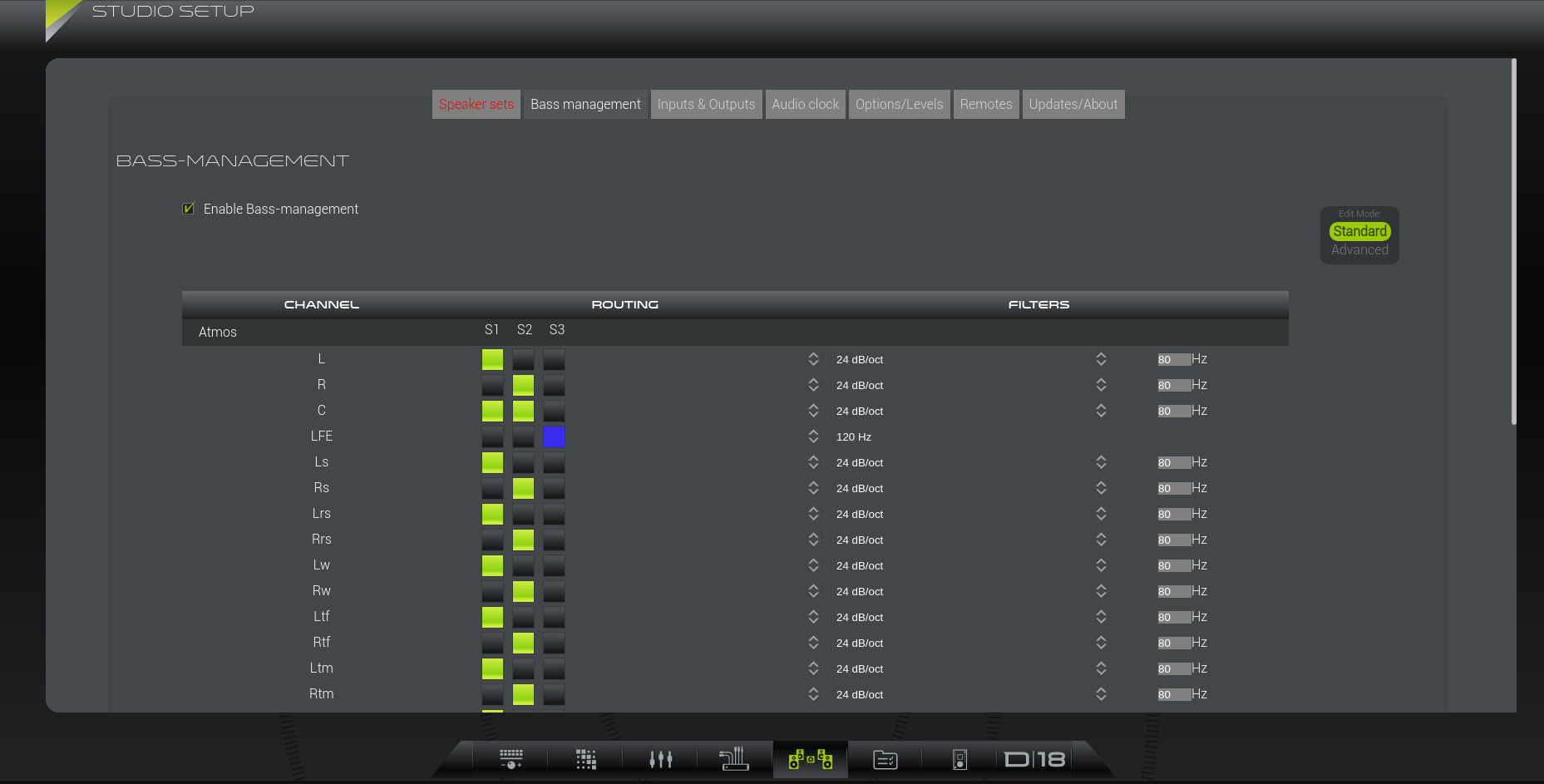 Matrix Bass Management on the D-MON
Last but not least, D-MON handles multiple subwoofers.
For Dolby Atmos, it is sometimes required to implement subwoofers to bass manage surround and top channels.
D-MON lets you declare as many subwoofers as needed and bass manage any channels to any combination of subwoofers for maximum flexibility.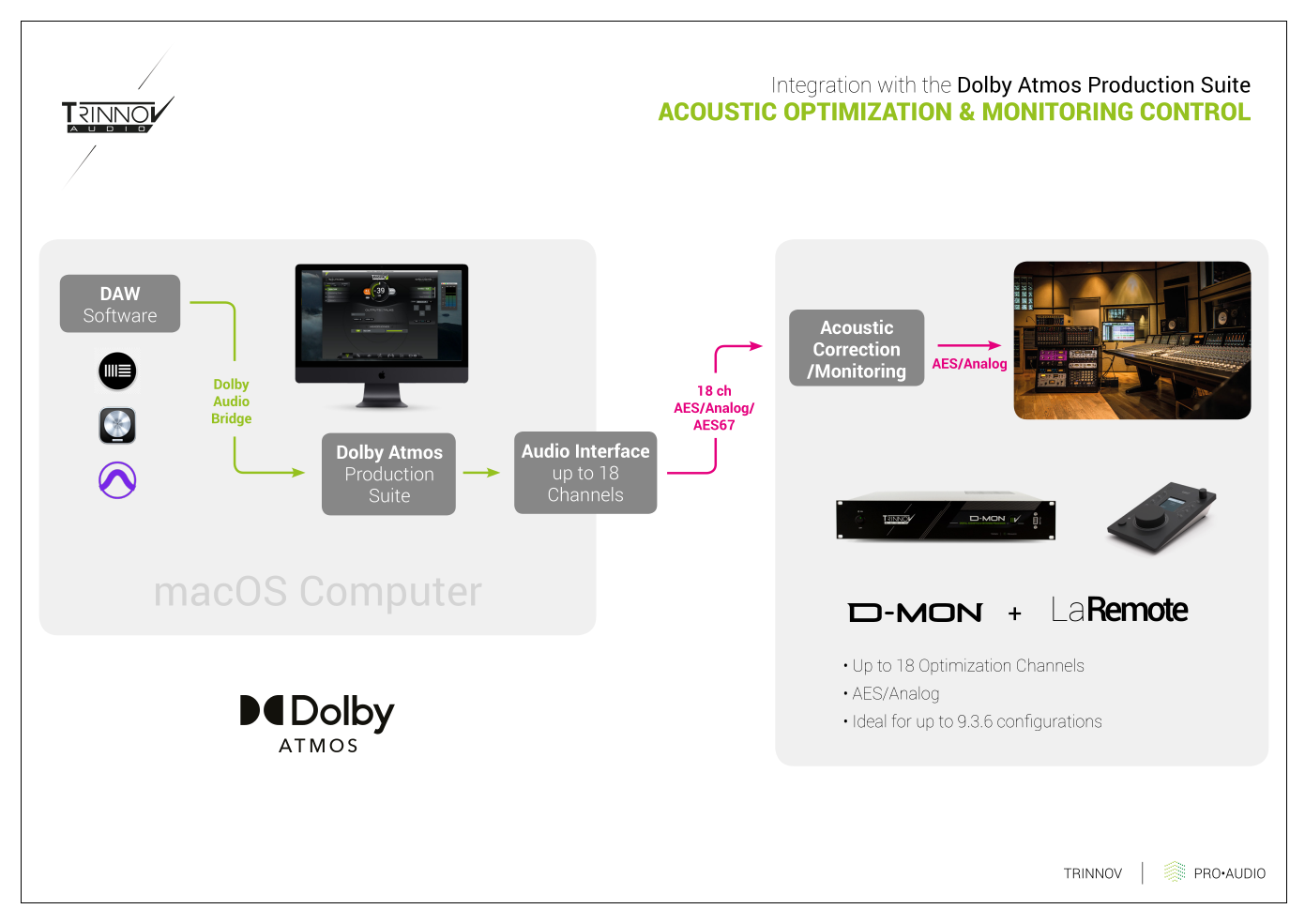 D-MON Integration with the Dolby Atmos Production Suite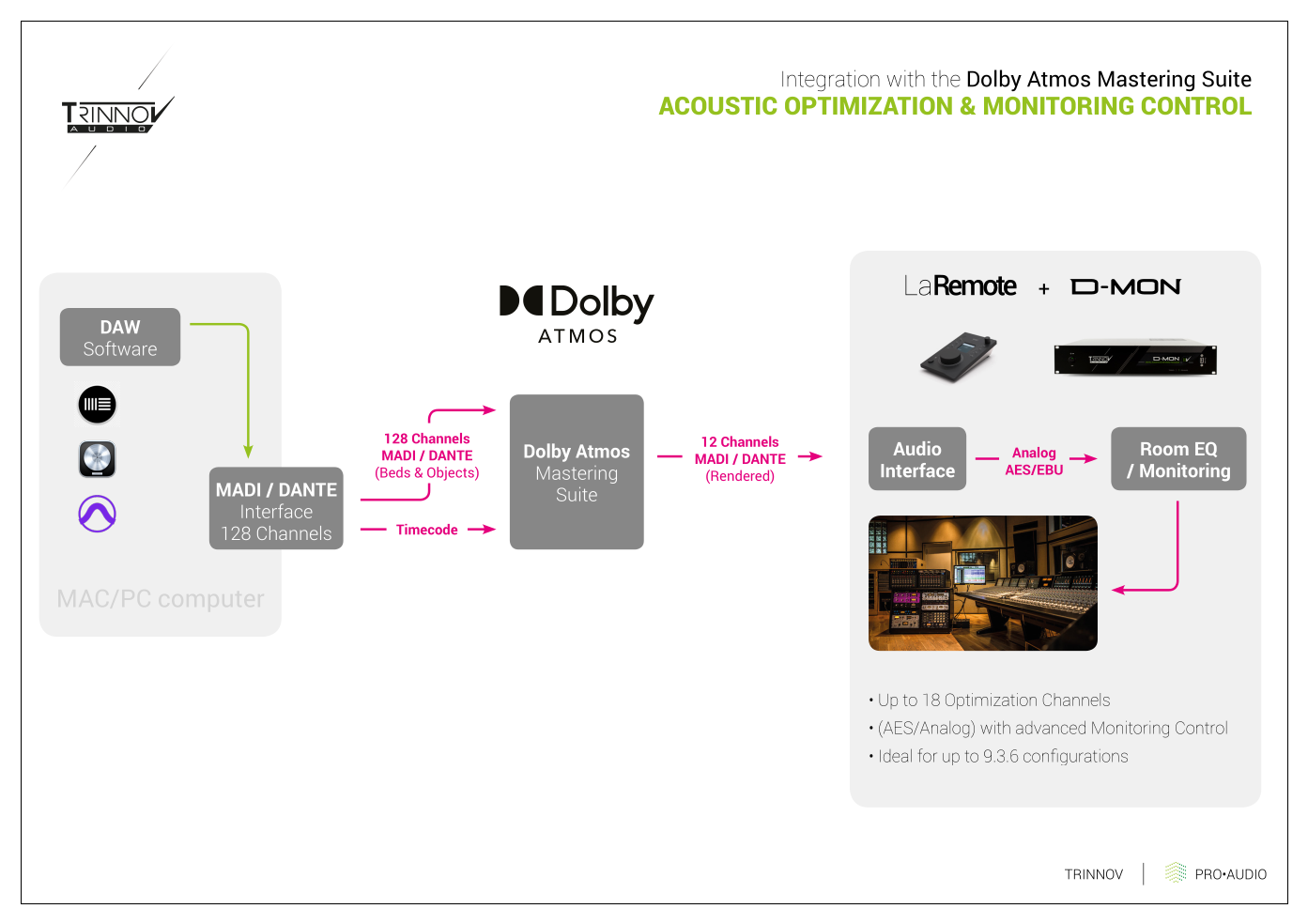 D-MON Integration with the Dolby Atmos Mastering Suite
MC Pro: Acoustic Optimization up to 64 channels

Trinnov MC Processor
The MC Pro supports basic monitoring functions which may be sufficient for most when working with Dolby Atmos.
Practically, it will only provide all the functions you need to control your main monitoring system, and for a single source. Said differently, it's great for volume control, to solo/mute any speaker and to listen to any downmix. However, even though the MC allows you to calibrate multiple subwoofers, it does not support matrix bass management, unlike the Altitude and D-MON.
Otherwise, the D-MON is a better option.
In fact, the MC Pro is best described as a black box, which takes care of aligning your monitoring system. Turn it on and forget it.
Zach Seivers on calibrating his Dolby Atmos Certified room with a Trinnov MC Pro
The MC product range is split in two lines:
The MC Pro covers the needs for most studios, from 5.1 up to 9.1.6. 

The MC-HCC which is suitable for research purposes and theatrical dubbing stages.
In terms of connectivity the MC Pro is available with different hardware configurations to facilitate the integration in your system. You can choose between analog & AES/EBU I/O, Dante, Ravenna/AES67 or MADI.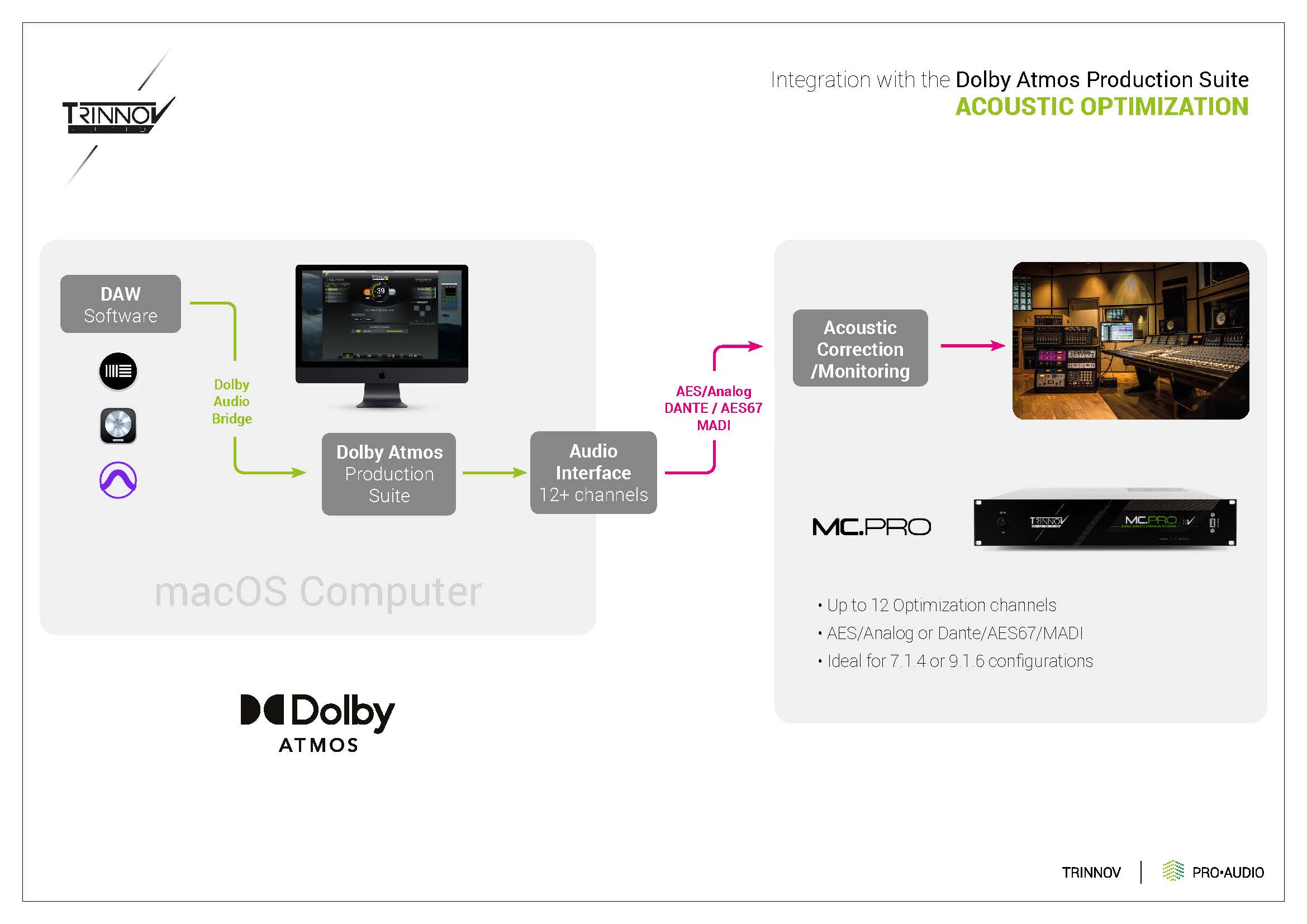 MC Integration with the Dolby Atmos Production Suite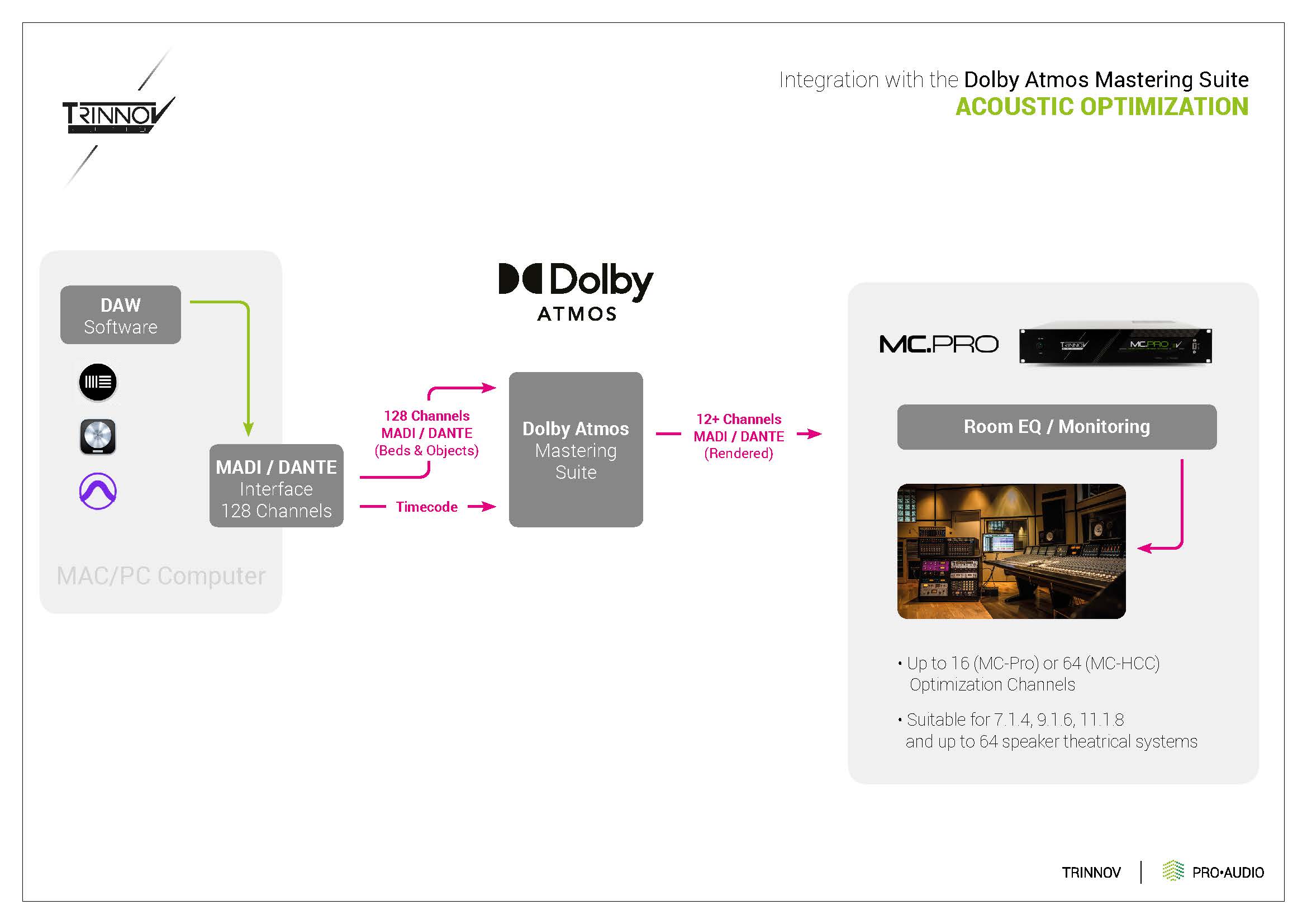 MC Integration with the Dolby Atmos Mastering Suite
Unlike the D-MON, the MC supports active crossovers and is therefore more suitable for custom monitors or screen channels in large mixing rooms.
Altitude32: Quality Control with Dolby Atmos

The Altitude platform is the gold standard in the Home Theater industry. 
Even though not initially designed for pro applications, it regroups features suitable and attractive for mixing and mastering Dolby Atmos: the Trinnov Optimizer technology and the ability to play consumer content via HDMI, which is a great way to perform quality control with Dolby Atmos.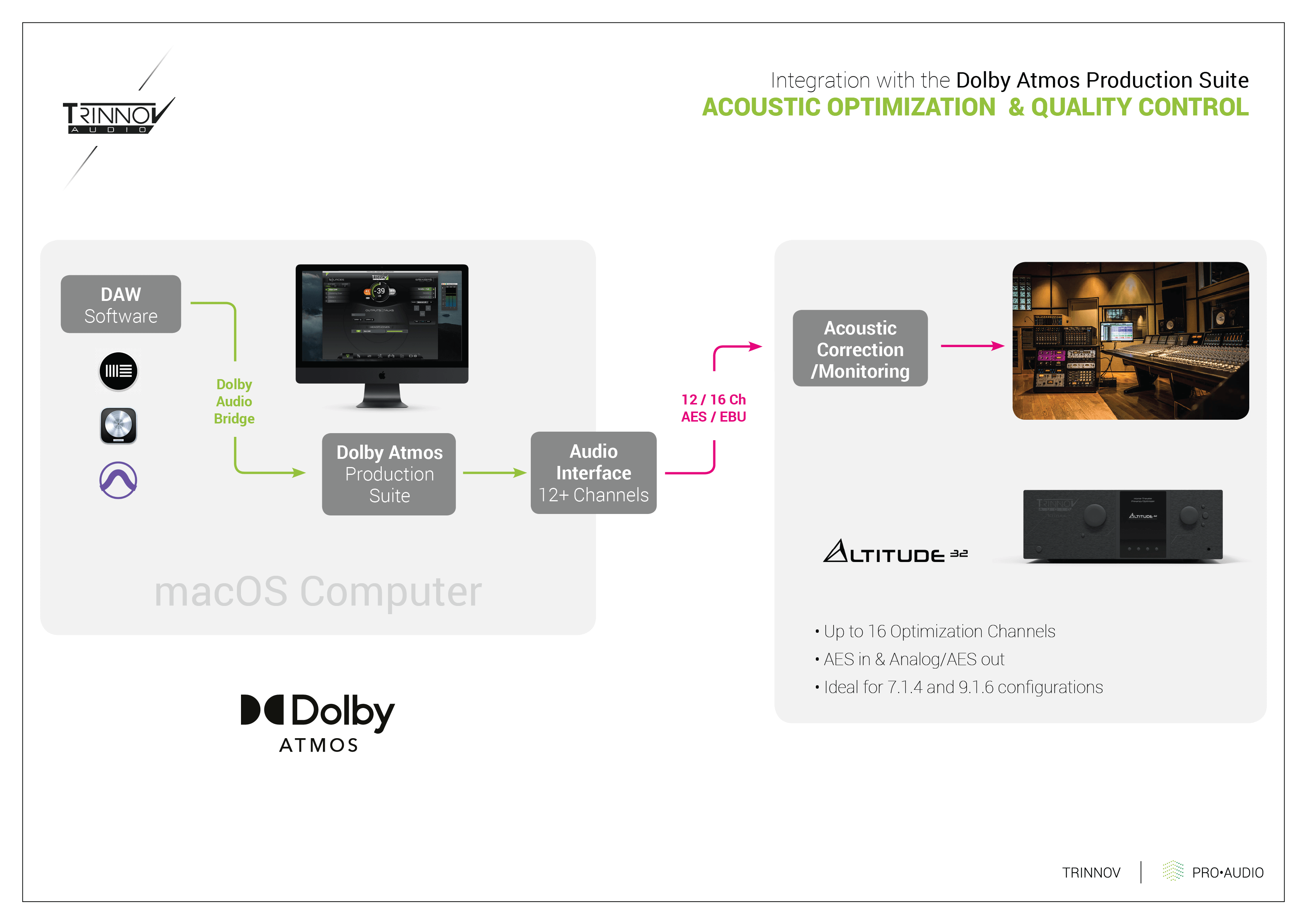 Altitude32 Integration with the Dolby Atmos Production Suite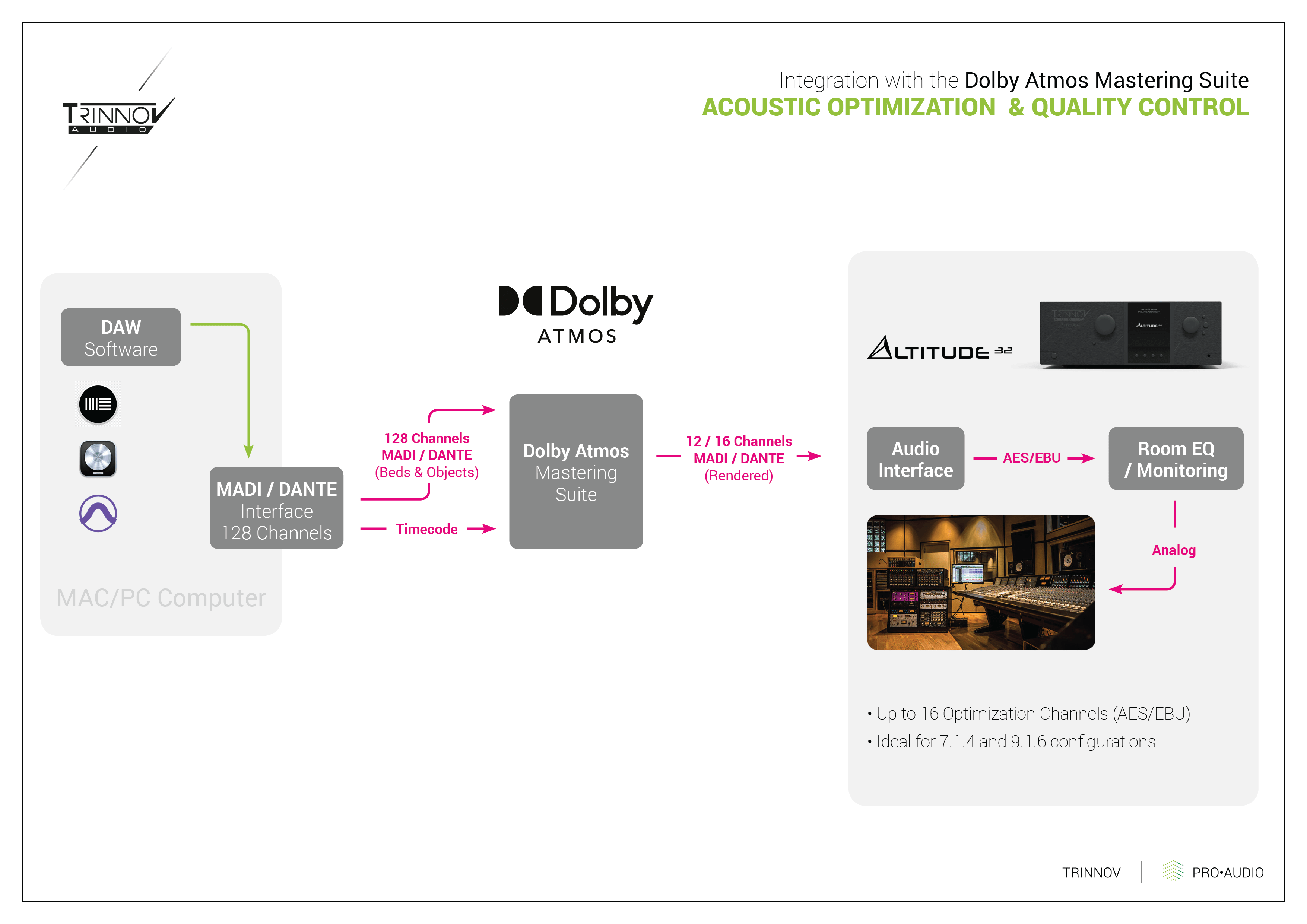 Altitude32 Integration with the Dolby Atmos Mastering Suite
In fact, the Altitude32 equipped the first Dolby Atmos home certified studio in Europe back in 2015 which was mostly used for….music !!
Stefan Bock has always been at the forefront of immersive sound for music and is the owner of MSM Studio in Munich, equipped with an Altitude32. He is also the inventor of the Pure Audio Blu-ray format.
Interestingly, given Trinnov is the only manufacturer who actually implements Dolby Atmos decoding directly into its product, this gave us the opportunity to develop an object visualization module.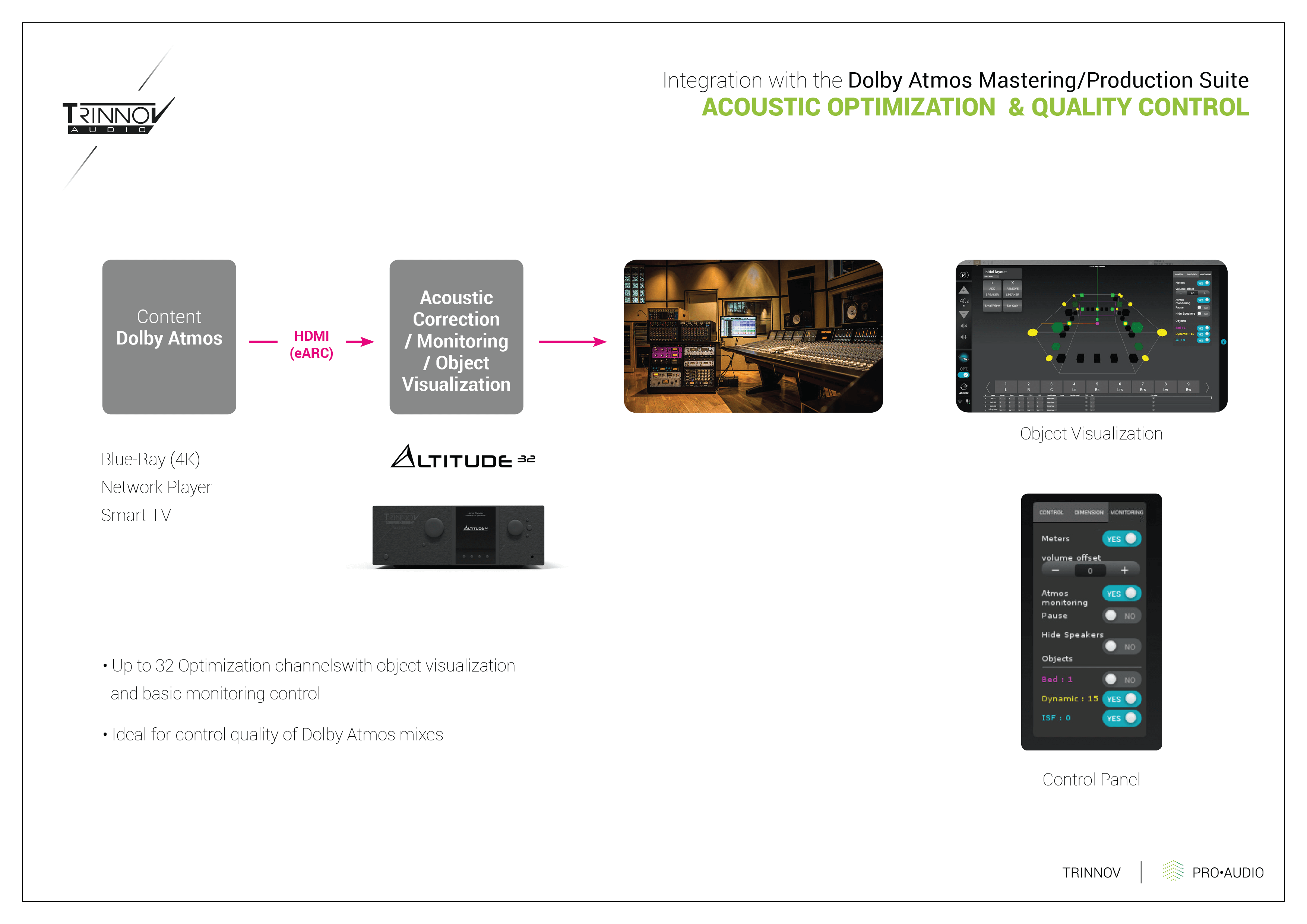 Quality Control with the Altitude32
During production, the Dolby tools will give you the position of the object as you mix them, the Altitude32 will show you how they are being rendered in the home once your mix has been encoded to a Dolby Atmos bitstream and decoded by a consumer end-point.
Historically, music studios and post-production stages were mostly installed with a single subwoofer, or at best dual subwoofer in high-end stereo installations. We support these configurations since the very beginning.
However, Dolby Atmos theatrical saw the apparition of surround subwoofers and the need to have a more flexible bass management where the low frequency content of some surround and top channels can be redirected to specific outputs. 
In Home Theater, multiple subwoofers and advanced bass management are common practice, which is why the Altitude32, besides being a great option for QC, also offers a very flexible bass management, like found on the D-MON.
La Remote: the icing on the cake
No matter which product you chose, La Remote offers a great extension to our processors.
Direct access to the most basic functions like volume control, but also solo/mute of any speaker or group of speakers.
Product Comparison
Here is a full table summarizing the difference between the above products.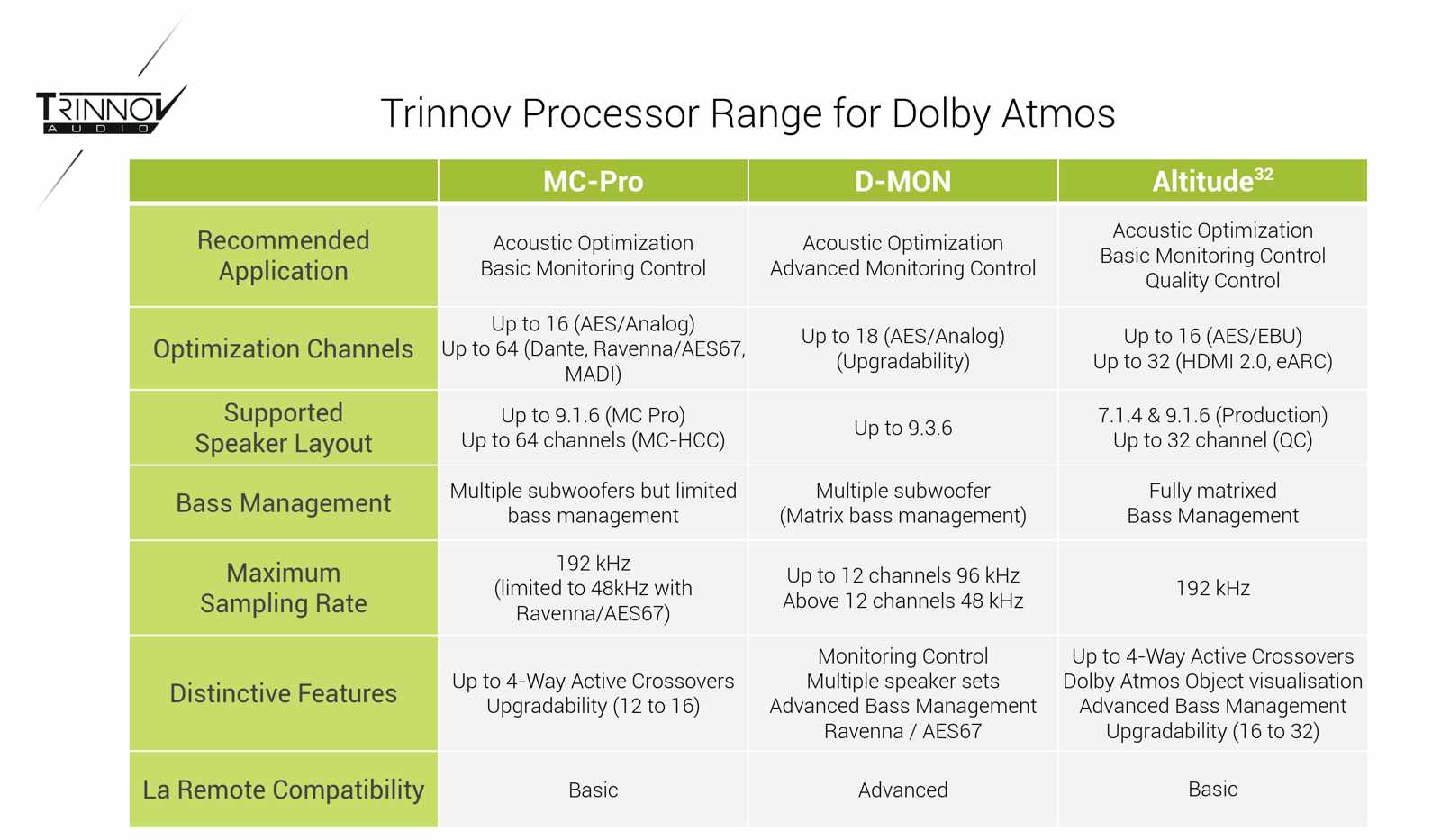 Trinnov Processor Range for Dolby Atmos