In absence of any financial constraints, Cinema Pro broke boundaries to craft a cinematic haven for its client, seamlessly transitioning into a listening room at the touch of a button.
Given the directive to create an opulent cinema within a 38 sq m space, Cinema Pro embarked on a mission to deliver state-of-the-art AV technology, sophisticated lighting and acoustic solutions all backed by their exceptional engineering prowess.
Cinema Pro was entrusted with the complete overhaul of the technical infrastructure, including AV installation, the creation of lighting scenarios, and interior design. Maciej Kucharczyk, co-founder and CTO of Cinema Pro, affirmed, "This was a completely new project;The old DIY set up and interior was demolished. The client trusted us and gave us free reign on this project. His top priority was the highest quality home theatre and we made all the technical decisions."
A highlight feature of the revamped space is the audio configuration, boasting an 11.4.8 setup comprising 19 speakers and 4 subwoofers. This advanced audio system supports immersive sound formats such as Dolby Atmos, DTS:X Pro, and Auro 3D, enveloping viewers in a captivating auditory experience. Cinema Pro complemented this powerful audio setup with a video configuration that offers full compatibility with 8K resolution, as well as HDR and Dolby Vision technologies, ensuring breathtaking visual clarity and vibrancy.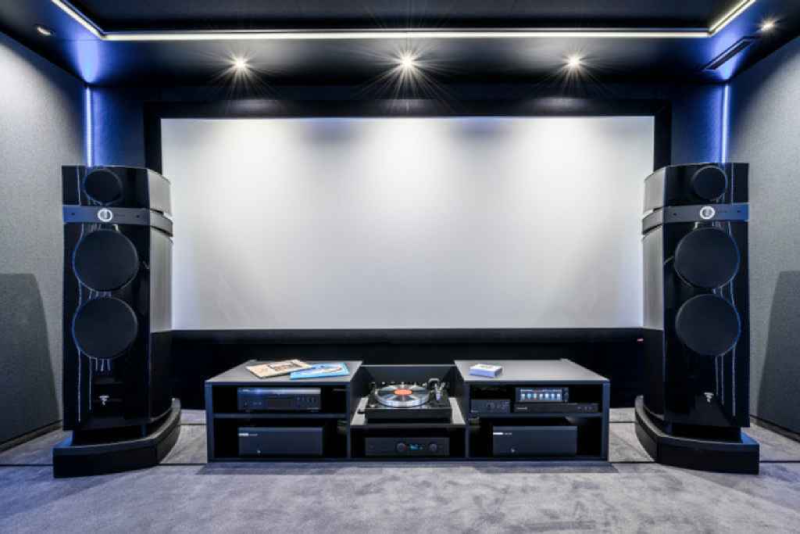 In order to guarantee an unparalleled cinematic experience, Cinema Pro initially focused on achieving acoustic isolation for the cinema within the client's residence. To achieve this, the integrator constructed a unique substructure and implemented a system of vibration-isolating acoustic hangers, designed in the US. Additionally, they utilized specialized sound-insulating materials and sealing elastomers. Combined with acoustic studio doors and an extensive set of silencers incorporated into the ventilation system, this comprehensive approach ensured complete isolation of the cinema from the rest of the house.
Cinema Pro selected Focal 1000 series in-wall and in-ceiling loudspeakers and Wisdom Audio S90i subwoofers controlled by a 32-channel Trinnov Altitude32 processor and two 16-channel Trinnov Amplitude16 power amplifiers. The integrator meticulously calibrated the audio system, programming eight different sound presets tailored to varying audience sizes, listening positions, and content types.
On the video front, the cinema houses a JVC 8K laser projector, supported by an external MadVR Envy Extreme video processor and a dedicated anamorphic lens. The ISF/THX calibrated video system delivers breathtaking visuals with deep blacks, high HDR brightness, and stunning colours. Cinema Pro also provided video presets, tailored to content chosen and user preference.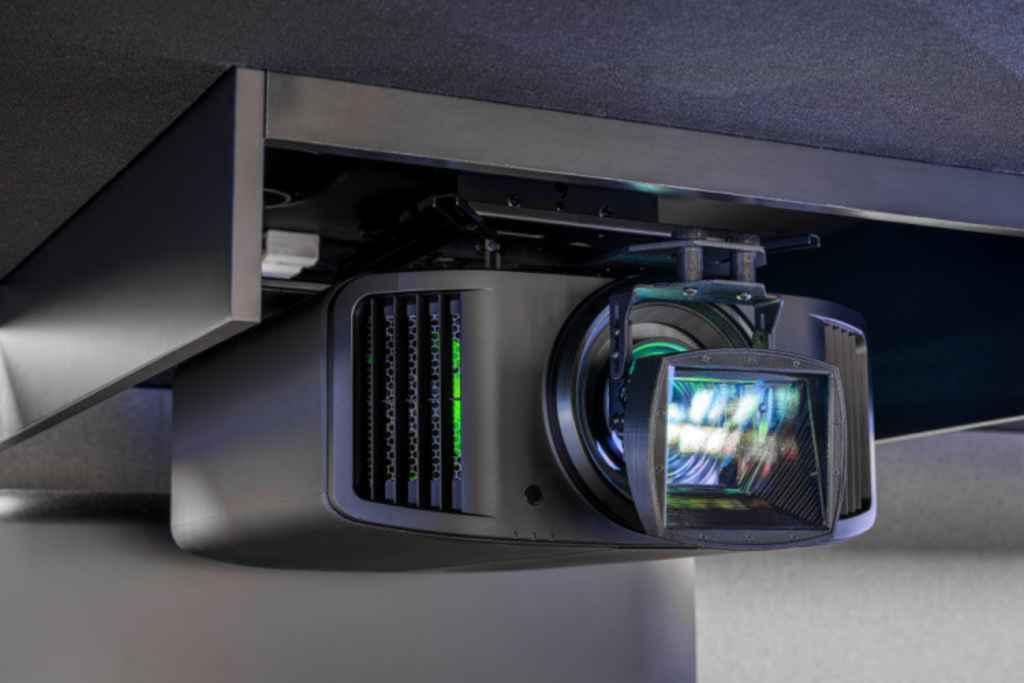 Sources for the cinema system include a Cambridge Audio Bluray player, Apple TV, Zappiti Neo media player and NAS server.
Cinema Pro also provided a stereo system for the space using Focal Utopia Maestro Evo floorstanding loudspeakers controlled by a Trinnov Amethyst preamplifier and Musical Fidelity M8s-500s power amplifiers. A Denon DCD-1600NE CD player, high-end turntable and integrated Roon streamer feeding into the stereo system.
Incorporating the premium stereo system into the cinema posed a challenge for Cinema Pro, as they needed to devise a method for relocating the loudspeakers seamlessly when transitioning between cinema mode and stereo mode. The Trinnov Amethyst preamplifier's Optimizer calibration system promises a substantial enhancement in sound quality, but it demands precise positioning of the speakers. To ensure the best possible listening experience and harness the full capabilities of the Trinnov system, Cinema Pro devised a solution: when the projector is active, the speakers are positioned near the wall, but they swiftly and accurately move to a distinct and highly specific location when the stereo system is engaged.
Cinema Pro successfully addressed this challenge by implementing microprocessor-controlled trolleys affixed beneath each speaker column. These trolleys allow precise movement of the speakers to predefined positions with a remarkable accuracy of 5mm. Collaborating closely with Focal engineers, Cinema Pro designed custom housings for these trolleys, ensuring that they seamlessly matched the factory bases of the speakers, thus preserving the aesthetic integrity of the speaker columns.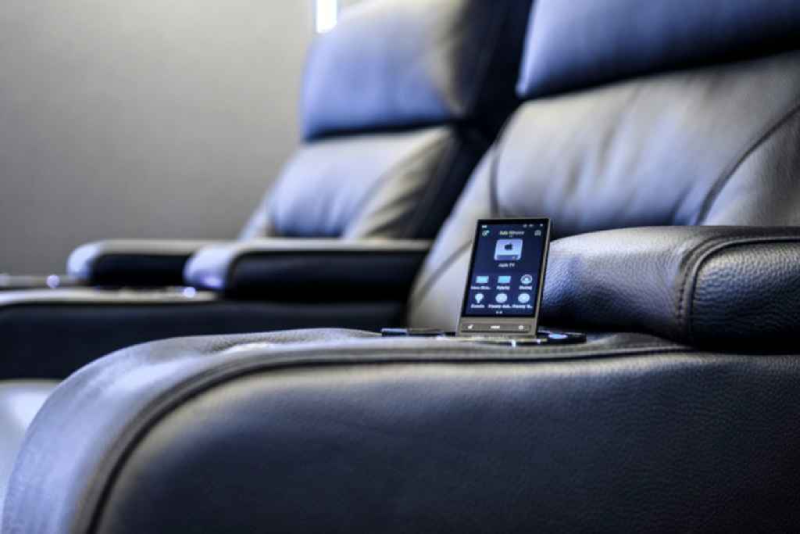 Cinema Pro, serving as the European dealer for Quest Acoustical Interiors, selected products from the American company to address the acoustic treatment needs within the designated space. Once more, one of the primary obstacles lay in creating an acoustically optimized environment suitable for both cinema and stereo listening purposes. Nonetheless, Cinema Pro managed to devise a solution that met the reference acoustic parameters in line with ITU-R/CEDIA industry standards while achieving outstanding sound qualities in terms of timbre, clarity, and spatiality without compromising on aesthetics. The integrator acknowledges that the Trinnov Optimizer calibration system played a significant role in achieving these goals.
Cinema Pro enhanced the already exceptional AV setup by implementing an intuitive control system, opting for the Control4 system. Control is conveniently accessed through a tablet app, enabling homeowners to effortlessly manage lighting, sound, and image control from a single interface. Devices are intelligently grouped for streamlined operation; for instance, selecting a function like "movie" triggers the relevant devices to power on, the lights to dim, and the appropriate room color scheme to be activated.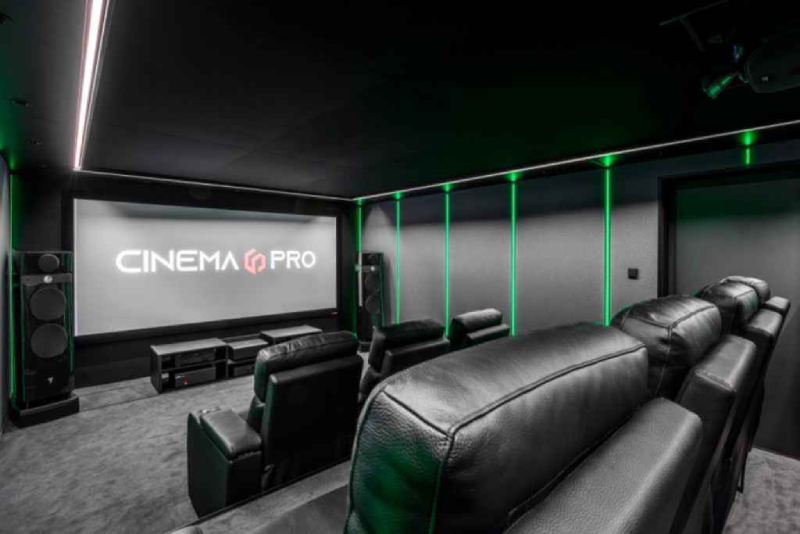 Taking their customization to the next level, Cinema Pro thoughtfully crafted multiple presets designed to cater to various scenarios. These presets are finely tuned for different situations, whether it's a cozy family movie night, solitary viewing, or when friends come over to enjoy the space. Moreover, Cinema Pro has included presets tailored to different content genres, such as movies, concerts, and gaming. This user-friendly system allows homeowners to effortlessly transform the entire room to precisely match their requirements with just a single button press, guaranteeing an unparalleled audio and video experience.
With the cinema room in place, the clients also have additional benefits in other areas of their home. "We installed a Zappiti NAS server from which there are outputs in other rooms of the house, such as the bedroom, providing access to a movie library on other TVs and devices," says Kucharczyk.
Cinema Pro maintains the partnership with the homeowners, providing remote management and support for their Control 4, Trinnov, and MadVR Envy Extreme technologies. Additionally, they have exciting future projects on the horizon, including the integration of technology within a games room and the installation of an advanced audio system in the living room.