All Automatic is a company that believes your space is more than just four walls and a ceiling. It is a shrine where your journey unfolds and evolves. It is the place which accommodates all your moods for every occasion. We help adapt your place to the rhythm of your life. We provide ingeniously designed solutions to enhance every single facet of your life.
Could you tell us about your company's background and history?
'Brain meets Frame', this is the quote people often used to describe us. With a lot of ideas buzzing in our Brains, it was first in 2009, that our very own home-designed audio and video control system got installed and tested by our Founder & Chairman, Dhaval Shah. At the same time, we evolved with Mihir Saraiya (Founder) which came into the picture with a very well Framed thought. The inner passion we shared brought us together and as they say, the rest is history with the creation of All Automatic.
At All Automatic, we passionately work on the latest technologies of modern living and provide those solutions to our clients as per their requisites. We love planning new smart technologies for our clients and also ensure their end satisfaction with the quality of work we deliver. What we promise and deliver: a Smarter Space and a Smarter You! 
Which were the challenges and objectives inherent to this home cinema?
When we started with an empty room, we had the following challenges:
Reverb and Echo 
Adjoining rooms and soundproofing
HVAC layout 
Home bar attached to the cinema room and it has glass doors (both fixed and movable)
The room has got 2 doors opening towards the balcony (they want to have access as well as sealed for sound leakage)
Main entry door adjoining passage and owner's bedroom which was just opposite to entry door and it may have issue of leakage of sound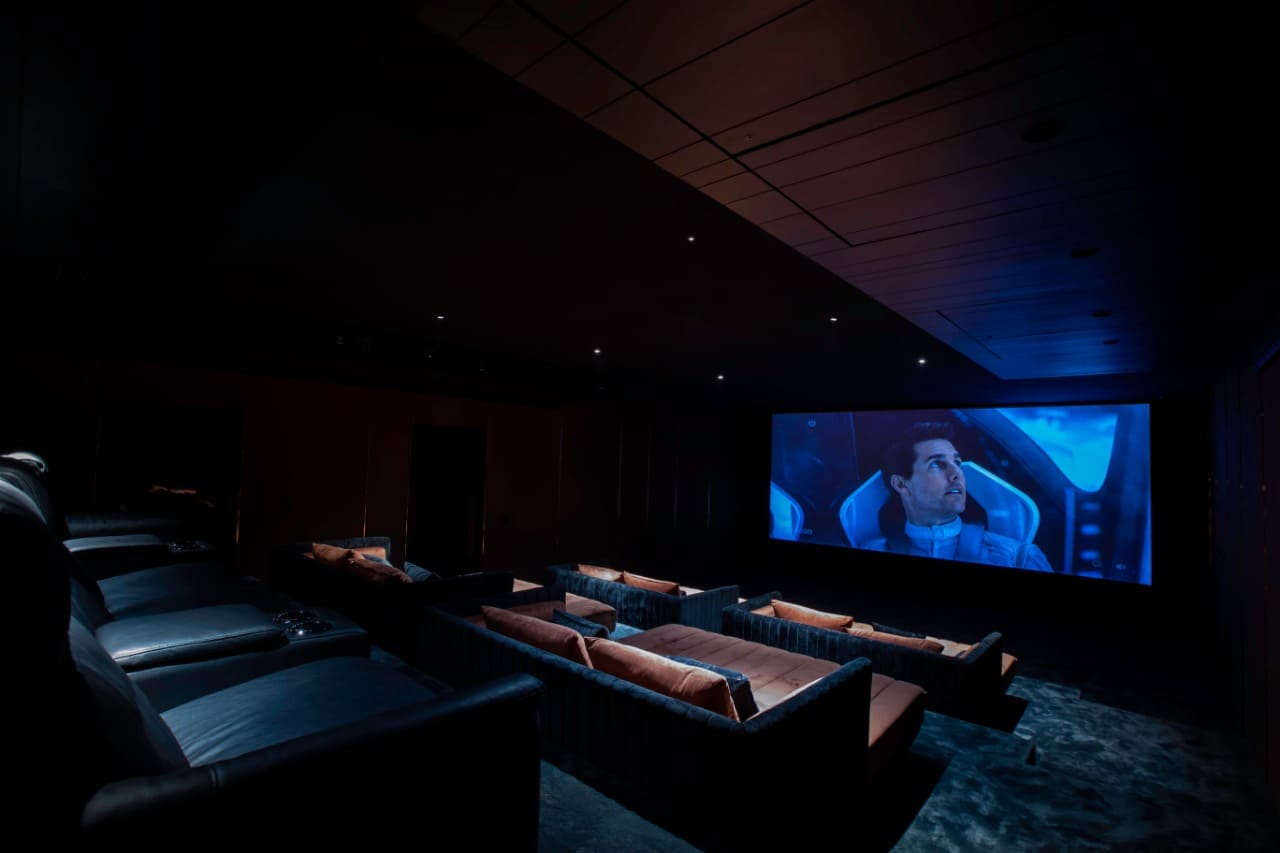 The reason we have kept the name "Orange" is that it symbolizes energy, cheer, excitement and adventure. All kinds of cinematic mood comes within the name itself .
Tell us more about the speaker layout and technical journey/requirements
Considering the above challenges, the room had to be acoustically treated as sound must be cinematic ! 
We wanted to have a processor which takes care of room correction, time alignment, phase, and speaker localization adjustments. That's how Trinnov with its unique 3D calibration microphone came in through the process. We selected the 16-channel Trinnov Altitude16 processor to suffice room requirements !
We want our cinema design to stay neat and clean with aesthetics whilst giving an immersive feeling. We went for the Waterfall SUB600 (in-wall sub), which was the first choice as we wanted to use every inch of the space and fill the room with the required bass around. Waterfall Audio got a cinematic custom in-wall series with very low basal which sound as immersive as it can be !  
Tell us about the subwoofer implementation choice, challenges and results.
As mentioned above, we wanted in-wall and shallow subwoofers. They also need to be as powerful as box woofers. We measured the frequency response of the room and placed 4 subwoofers of the same kind in the front wall to cover the entire room. As a result, we managed to align subwoofers with speakers using Trinnov's bass management. The result is quite astonishing !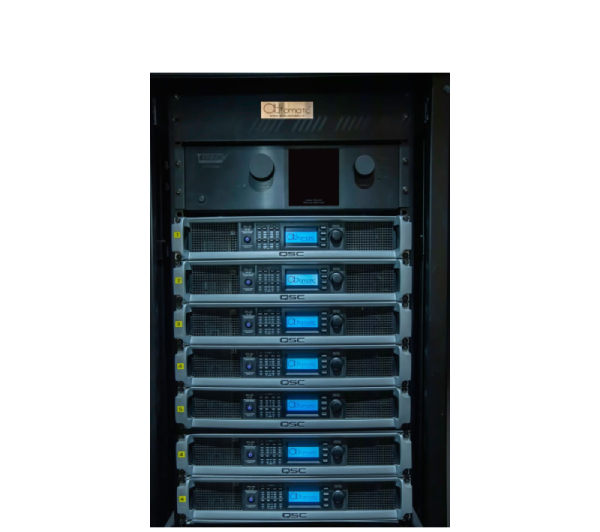 Rack of the Orange Home Cinema Project featuring a Trinnov Altitude16
How did the calibration go? How did Trinnov help on that particular project?
Using the Trinnov 3D microphone, we managed to calibrate the room as desired. We did set some target curves for a few frequency responses. We created presets for cinema mode ATMOS and cinema mode Surround only. Bass management was accurate, with mic calibration, though we did some frequency changes to get more detailed bass response.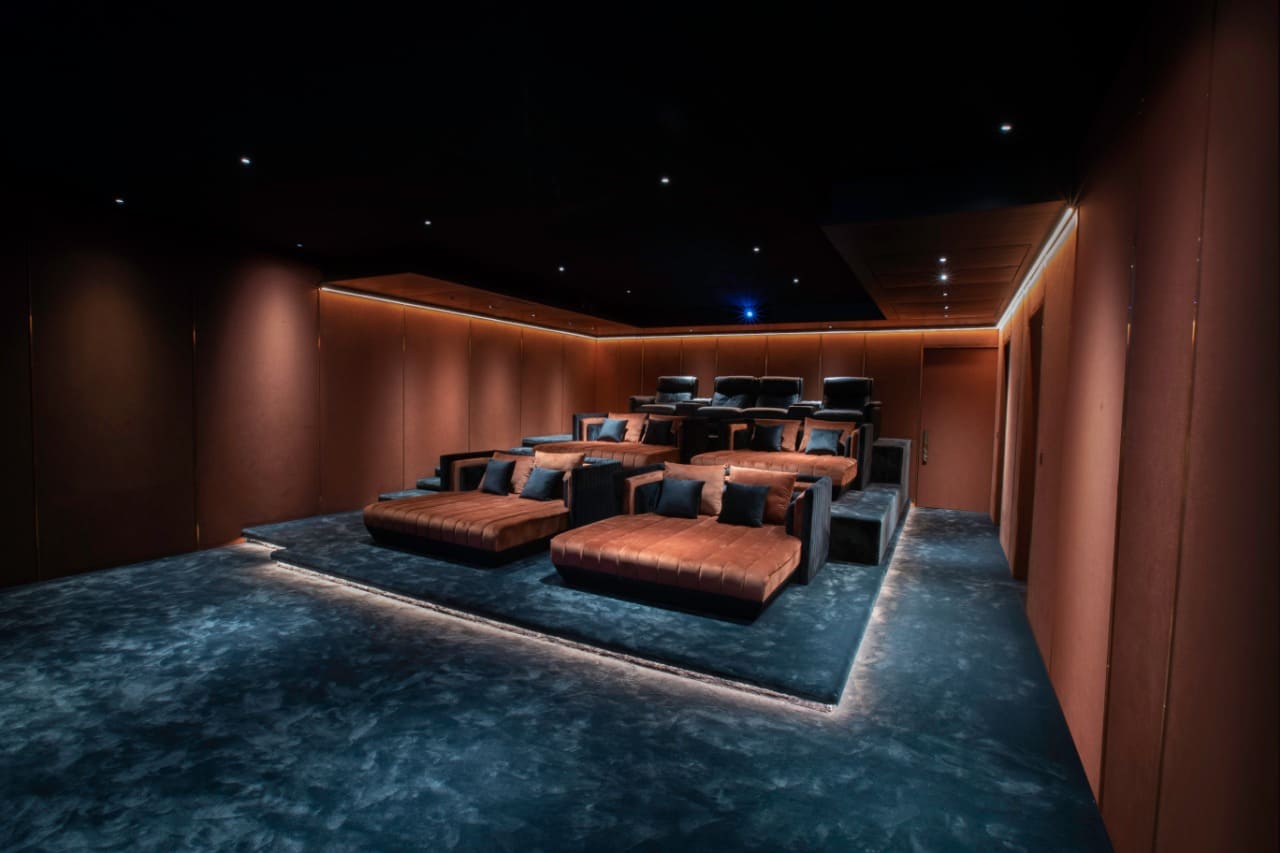 What makes this project truly unique ?
The 250 inches 2.35:1 cinemascope screen with enough Lb ratio and Laser projector. It really complements the entire project !
How has been the response from the client to the sonic of the final project?
When we first demonstrated the entire system to the client's family, they all were very amazed to see such an engineered room with full effects and a totally immersive feel.
A client once said that it was so real with some helicopter scenes that it literally felt like it was flying above my head !
Kit List
Audio system:
Speakers: 

Waterfall Audio LCR300 x3 (Screen channels)
Waterfall Audio SAT150 x2 (Wide channels)
Waterfall Audio SAT150 x4 (Side Surround)
Waterfall Audio SAT150 x2 (Rear Surround)
Sonance VP 86R x6 (Height channels)
Waterfall Audio SUB600 x4 (LFE & Bass Management)

Power amplifiers:

QSC PLD 4.2 x5 (Speakers)
Atohm x4 (Subwoofers)
Video System:
Sony VPL-VW 790Es 
Arête Acoustically Transparent 2.35:1 (250 Inches Diagonal)
Sources
Apple TV 
Sony Bluray player 
Set-top box
NAS 
Control: ELAN