Based in (Sweden) The Rock Hemmabio specializes in High-End home theater custom installation, This past August we went to Lund with the precious help of our local distributor Nicklas Sjöö from NSHT to experience their latest project showcasing our own Altitude 32 Processor.
WHICH WERE THE CHALLENGES AND OBJECTIVES INHERENT TO THIS HIGH-END HOME CINEMA SET-UP?
Since the room has the purpose to be a home-cinema for a client and his family, but also as a showroom for The Rock we wanted to make the room feel clean and relaxed but at the same time show most of the products. We want to be able to show and talk with customers about speaker placement, acoustic, etc. To accomplish this, we used aesthetically looking AD20, and AD40 diffusors from the Swedish manufacturer Svanå combined with black absorbers in nice frames from Akustikmiljö. We also wanted to be able to demonstrate different speaker layouts and the Altitude 32 is perfect for this since we very easily can make different Presets between 5.1 all the way up to 9.2.6 and jump between them fast for easy demonstration.
WHY DID YOU PICK THE ALTITUDE 32 AS THE PROCESSOR FOR THIS LUXURY HOME CINEMA?
The speakers in this room come from Swedish Procella Audio, and the three LCR-speakers are the model P610 with Si10(Sub) + P6(Top) that needs an active crossover. We also wanted to be able to control the three sub woofers integrated into P610 and the two separate P18 in the best possible way. The Altitudes advanced bass management-system is the perfect solution for this task. The speaker-layout consist of nine speakers in the base-layer and six in the ceiling for Atmos/DTS:x. Since the P610 needs two channels each, we were in need of minimum 22 discrete channels making the Altitude 32 the obvious choice for this project. Altitude 32's advanced calibrating-system Optimizer, which is very easy to use, but still very advanced, fine-tunes the already great acoustic response in this room.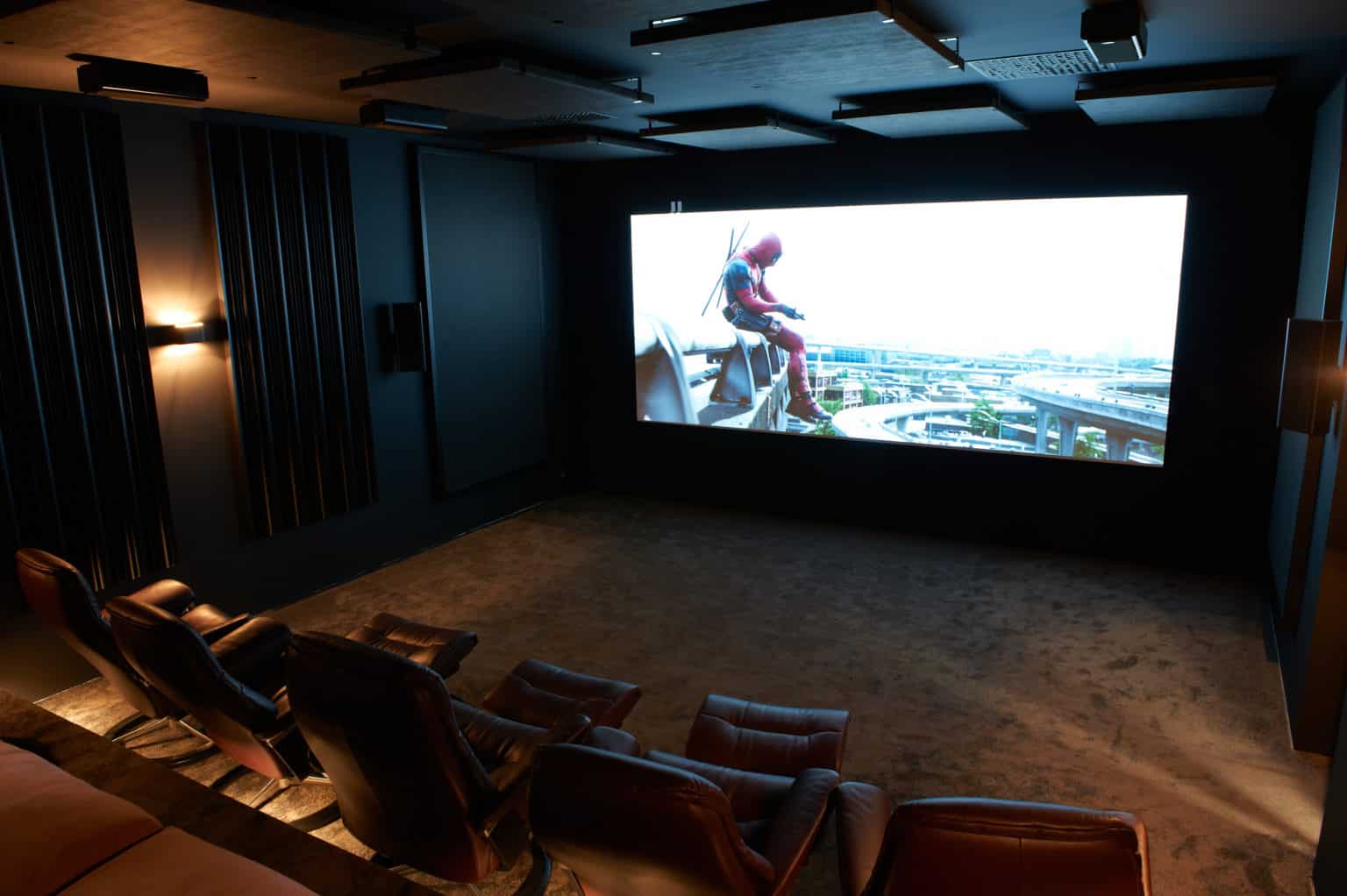 HOW WAS THE RESPONSE FROM THE CLIENT TO THE SONIC OF THE FINAL PROJECT?
They are very satisfied with the sound. The customer is planning to move the cinema to another location shortly. Since they are very happy about the sound quality, we will build the room the same, regarding size and acoustic and of course keep the Altitude, the amplifiers, and the speakers. We are planning to build another bass-trap in the new podium and also increase the picture-size from 4m to 4,5m wide(2.35:1). We are also planning to add two more sub woofers to make use of the 24 channels and connect each sub woofer to the surround/Atmos-speakers closest to them. This is possible thanks to the Altitude 32's advanced bass-management system.
The Rock HemmaBio Website