Introduction
The global Covid-19 pandemic had a dramatic effect on the commercial cinema industry.
As countries around the world imposed lockdowns with partial or full closure of public theaters and subsequent delay of major blockbuster movies led to drastic fall of revenues – according to Statista, annual box office in US and Canada took a nosedive from 11.32 billion dollars to 2.09 billion.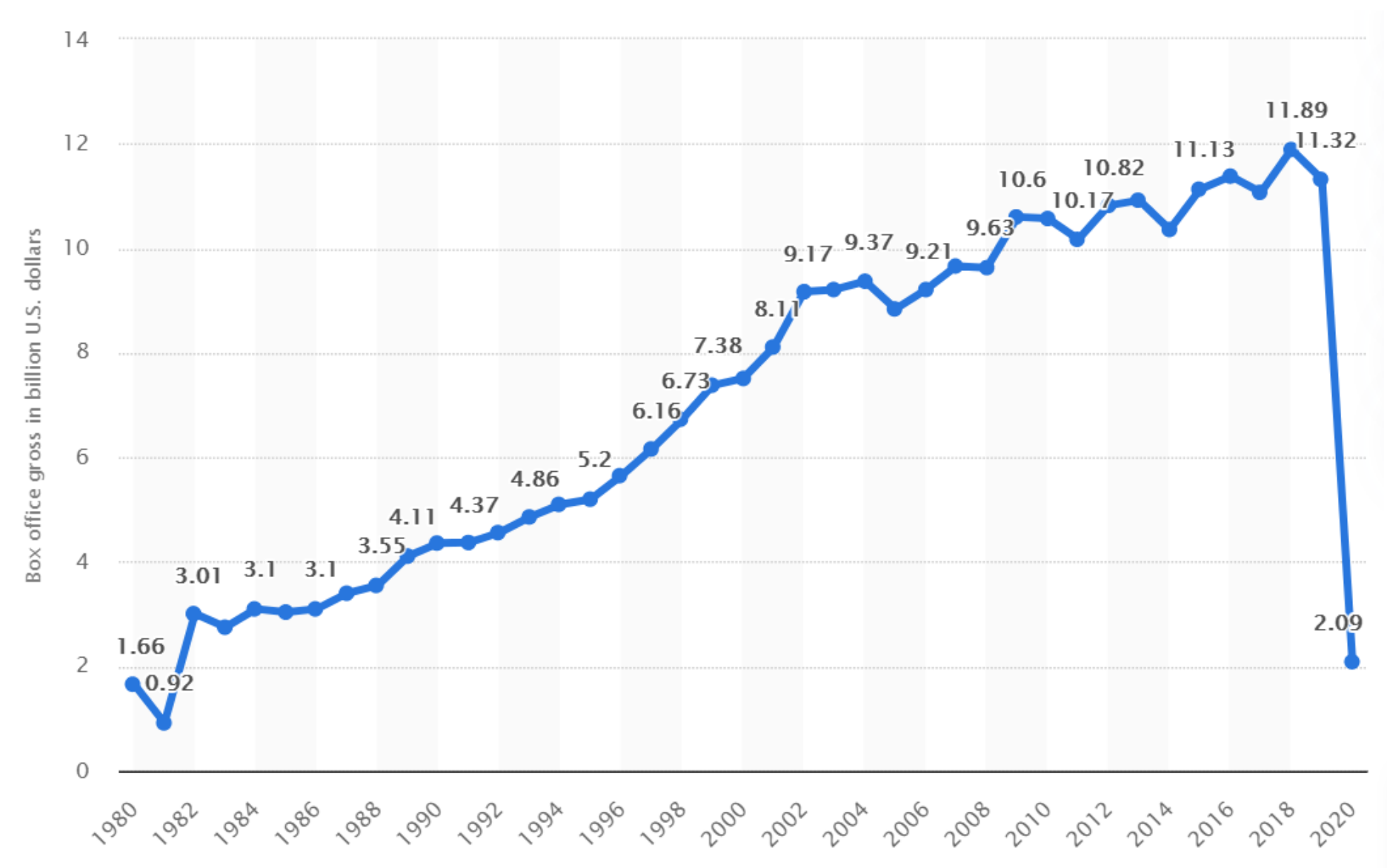 Box office revenue in the United States and Canada from 1980 to 2020. Source : Statista
As people were stuck at home, many decided to improve their own home entertainment systems and with higher quality acoustics and hardware available, people started to question the quality of their local commercial theaters.
Sadly, the overall viewing experience of many commercial theaters is lacking due to lack of investment, old equipment and bad audio and visual calibration. Nevertheless, the price of a ticket keeps going up.
Given these exceptional conditions, streaming platforms did better than ever as their subscribers count jumped up by tens of percent literally overnight...Everyone would agree it is hard to resist the convenience of such platforms. They offer great content, which you can choose and start watching with a push of a button.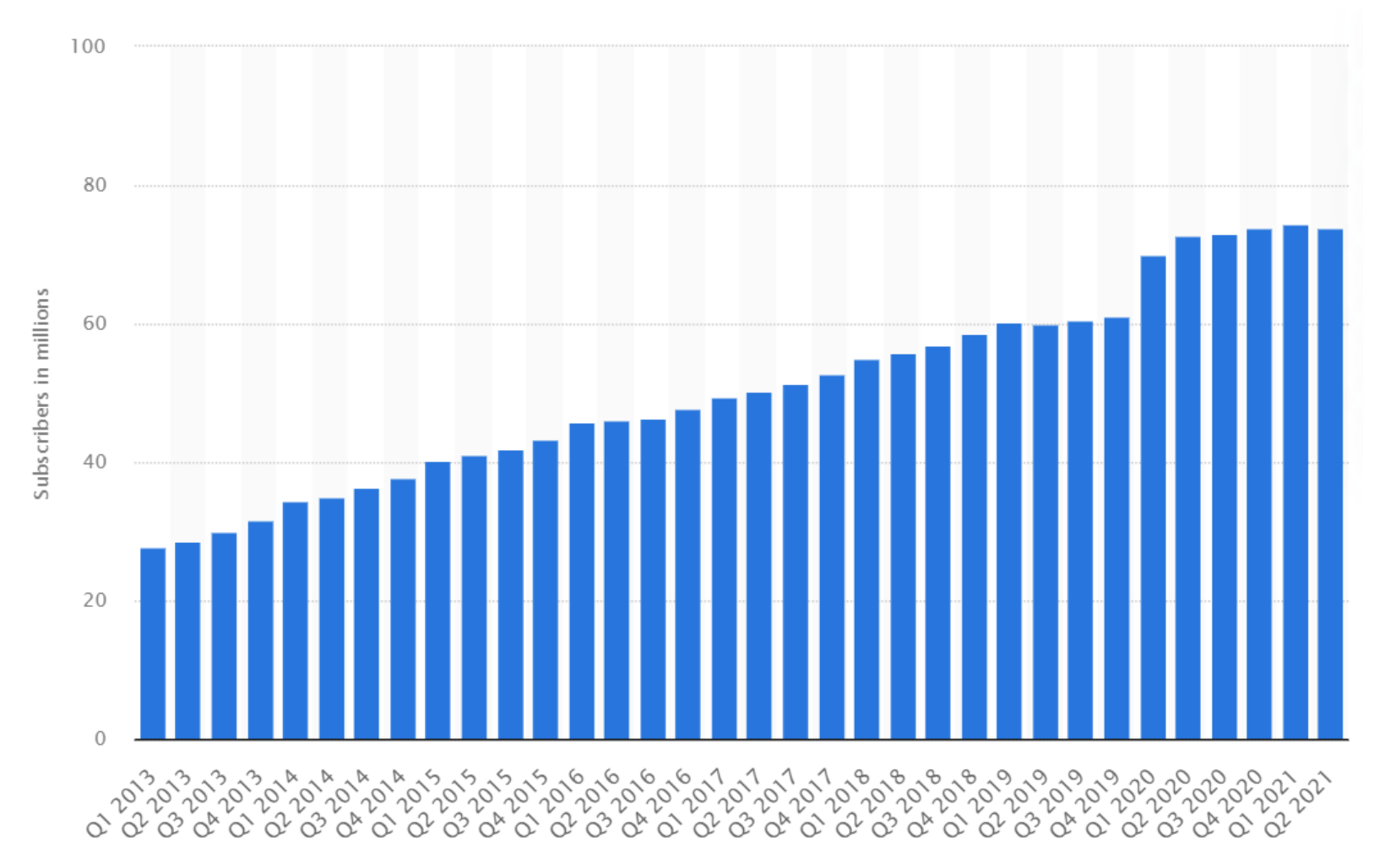 Number of Netflix paid streaming subscribers in the U.S. and Canada Q1 2013- Q2 2021. Source: Statista
In other words, a wide choice of content and immediate accessibility made their way into homes and accelerated an already existing trend : people no longer consume media content as they did before.
Moving forward, the challenge is how to promote the theatrical experience that you can only get in a large room? Unless some effort is being made with the quality of commercial cinema audio and video presentation, it will be a tough one.
Obviously, we should not dismiss one of the most important debate that took place last year about the regular release of new theatrical content and the desire of thestudios to maintain the theatrical window. Still, we strongly believe that quality should be the top ptiotity for cinemas.
Today the idea of ​​creating VIP-cinemas arises - hybrid between luxury private theaters and commercial cinemas where high-quality, intimacy and exclusive content are combined to offer a new breed of entertainment space and experience.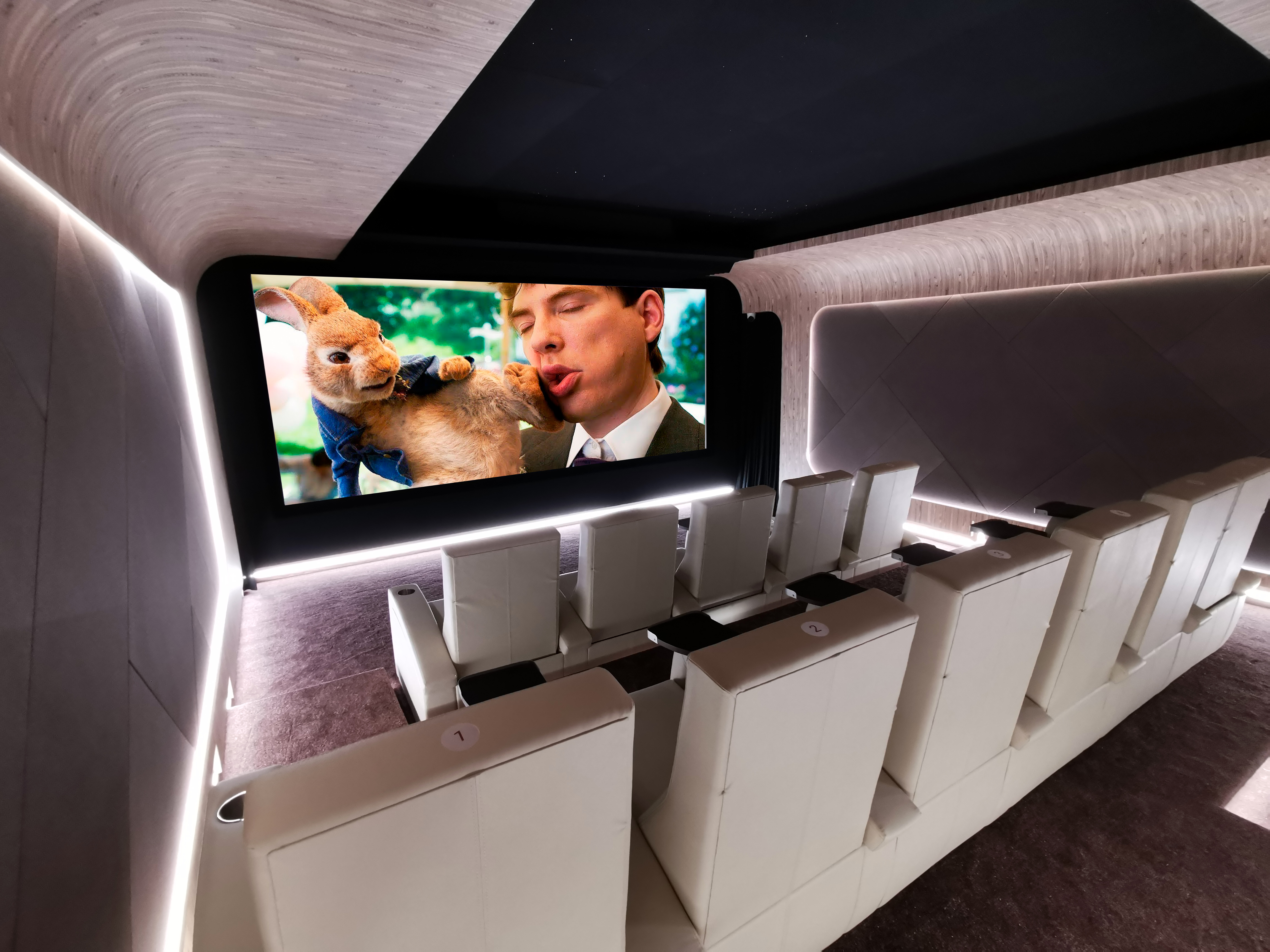 Coperto Cinema, shot from the back of the room
We talked to Anton Zadnepryannyy about such a VIP cinema he recently designed, built and installed.
Blackroom
First, let's talk about the company behind this project: Blackroom founded in 2020 by Anton in Moscow.
Could you tell us a little about your background?
I am first and foremost a true passionate of Home Cinema and a movie lover.
After 7 years successfully building companies (I founded Cinemalounge in 2012 and co-founded Acoustic Solutions in 2013)  with partners from the ground up, I decided to focus my energy, efforts and experience to start a new premium home cinema design and installation brand. That's why I created Blackroom in 2020.
Blackroom is purely dedicated to High-End Home Cinema installations, not only in Russia but worldwide.
With my team of 10+ people and specialized contractors, we handle projects from A to Z, starting from project design, 3D visualization, 3D CAD construction design to specifying, installing and calibrating the equipment.
We have more than 30 projects in our portfolio, many of which won local best Home Theater awards. I was then involved in the jury of these awards.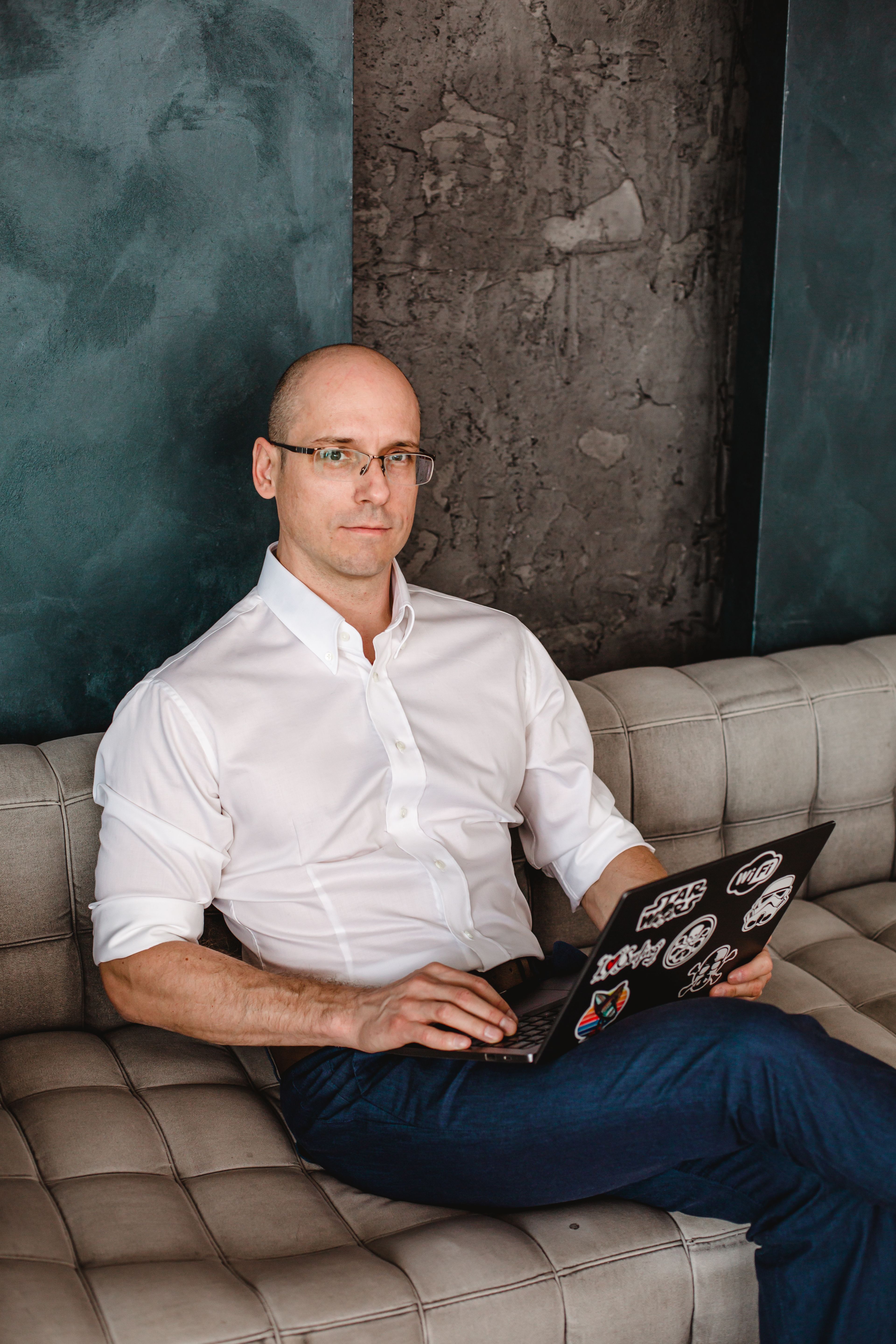 Anton Zadnepryannyy, founder of Blackroom
I also share my passion with my community on one and only Home Theater related YouTube channel in Russia with almost 30k subscribers.
CEDIA member, we recently opened a new showroom, designed as a loft and ideally located near one of the most important transport nodes in Moscow.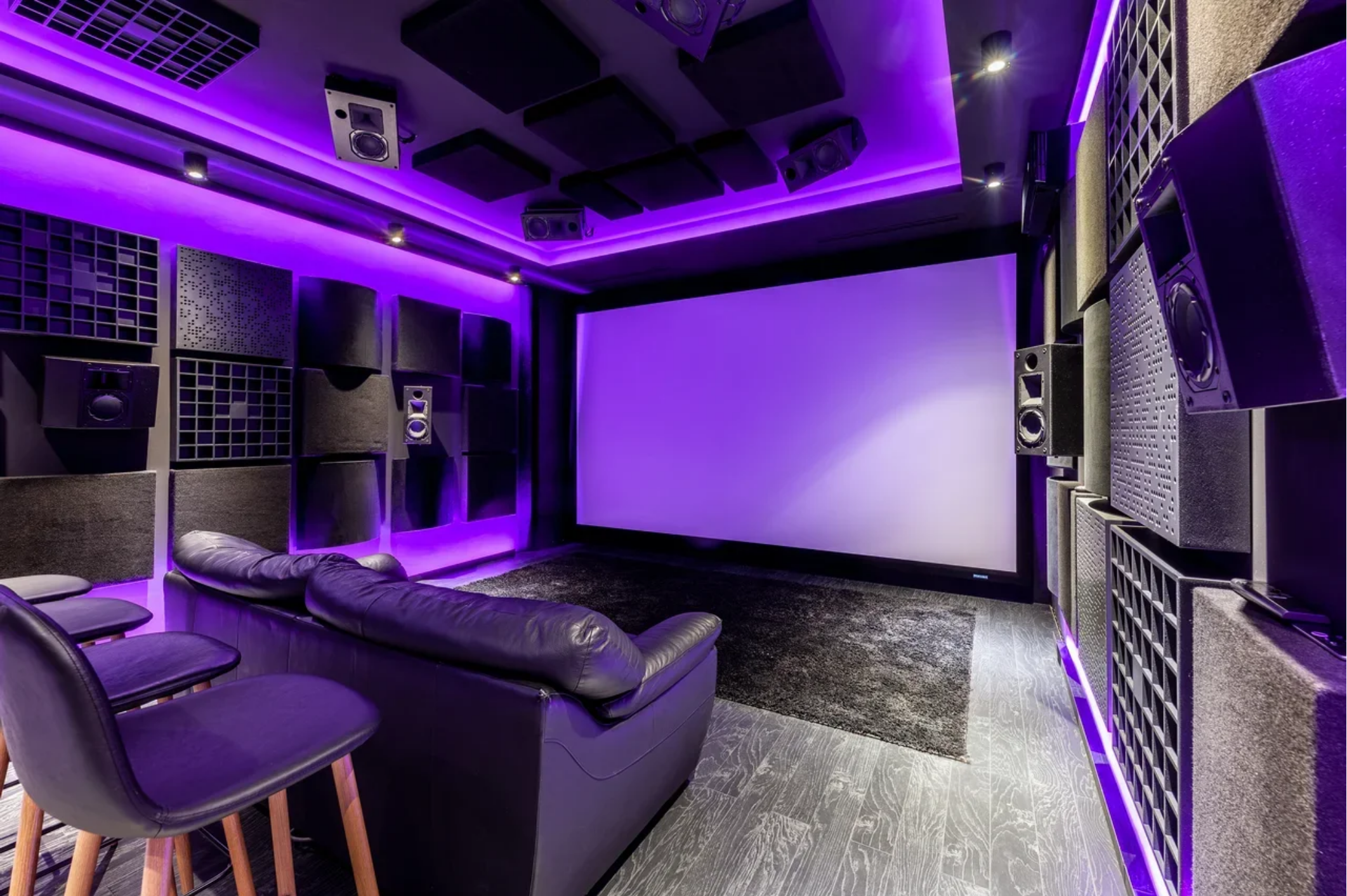 Blackroom 9.4.6 demo system
This showroom features a demo room with a 9.4.6 fully digital system including products from Alcons, Trinnov (Altitude32), Stewart, Crestron, Lutron and JVC.
Last but not least, we also make our own recliner chairs, acoustic panels and soundproofing doors.
Coperto VIP Cinema
Could you tell us about this system, what was the original intent of the client for this project?
The intention was to build a VIP cinema in a vacant hall in a newly opened Italian restaurant, Coperto, and offer a new kind of experience to its customers.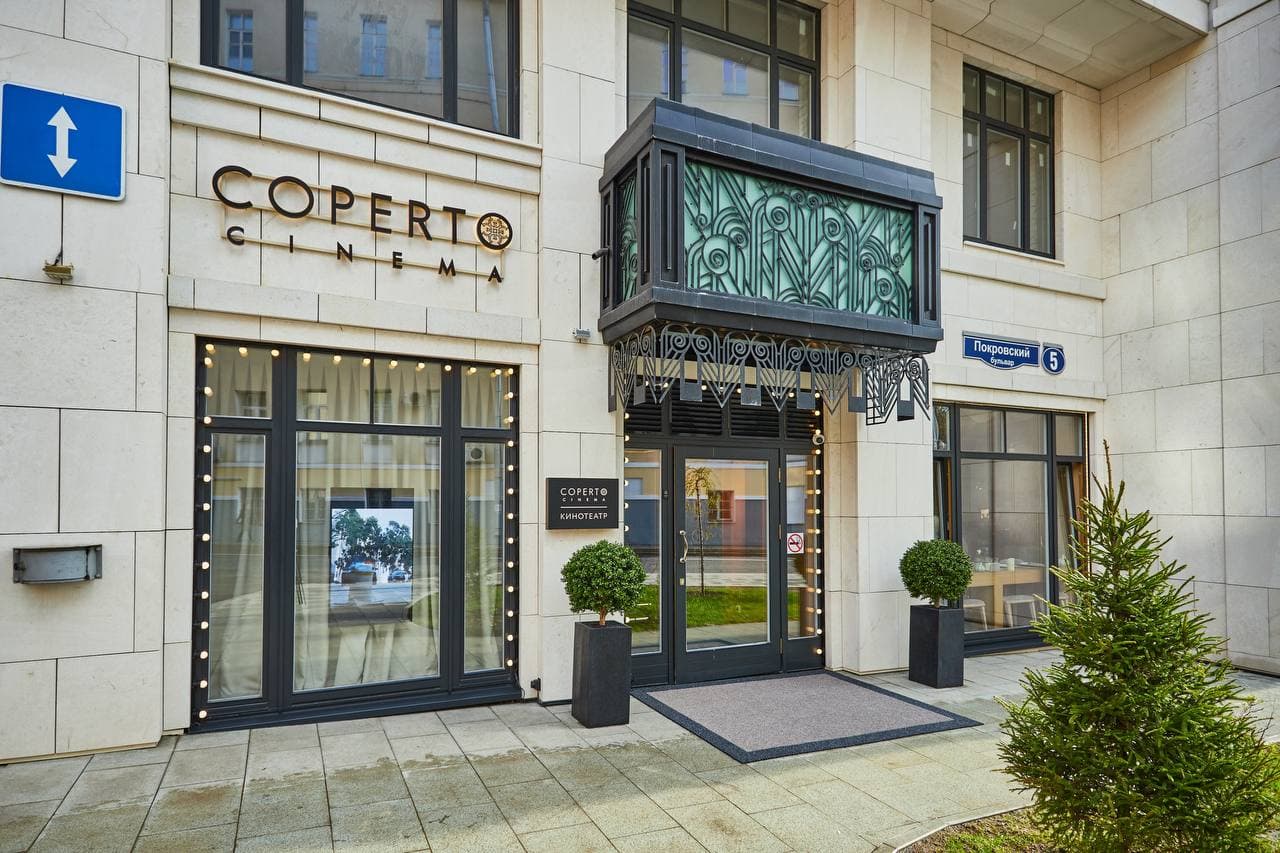 The Cinema is part of a newly opened Italian restaurant Coperto in Moscow
One of the key features to summarize that exclusive experience is that clients of the restaurant can order food and drinks as they watch a movie just by pressing a Service button installed directly on the armrest.
More importantly, this is the first VIP Cinema with DCI presentation in Russia, featuring proper acoustical room resign, sophisticated 9.1 with 8 subs audio system and luxury finishing materials (wood veneers, start ceiling, real home cinema recliners with 3 motors etc…).
Did you face any challenges during this project?
Yes, we faced a number of challenges at each stage of the project.
In terms of construction and design, the room is based in an apartment house and needed serious soundproofing, which made the HVAC system equally challenging to install. 
The room is 40 square meters and the client wanted no less than 11 recliner seats.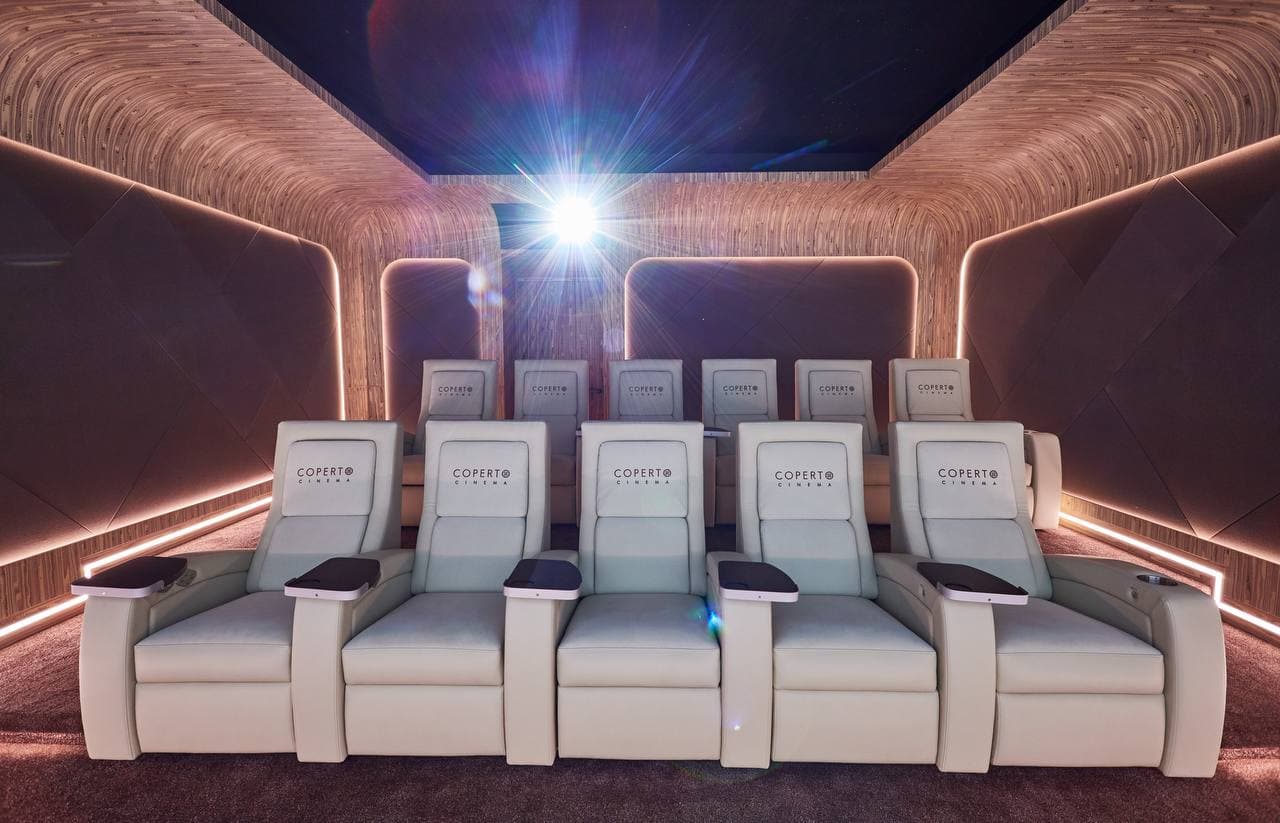 The 11 seats, projector window and curved ceiling of the Coperto Cinema
In terms of video, we also had to place the DCI Barco projector in a metal soundproof box behind a special glass window and had little experience in setting and programming it up. Also, the wood veneer near the screen was of bright colors so we had to implement velvet optical diffusers.
Although we have already installed many Altitude AV Processors in the past, we installed an Ovation2 Processor from Trinnov for this project. This processor has a different logic which we had to learn as well as a DCI audio calibration standard compared to Home Cinema.

Trinnov Ovation2 Cinema Processor
All of these challenges were resolved thanks to our great team of experts, buildiers, contractors and external consultants.
What about the room design and speaker layout of this system?
Like all of our projects, we document everything. In this case, we have 110 pages of 3D visualisations, drawings and schematics describing everything, from the soundproofing, HVAC system to speaker placement and cabling.
Most of the source material would be DCI and not immersive so we designed it as a 7.1 system with arrayed side surrounds.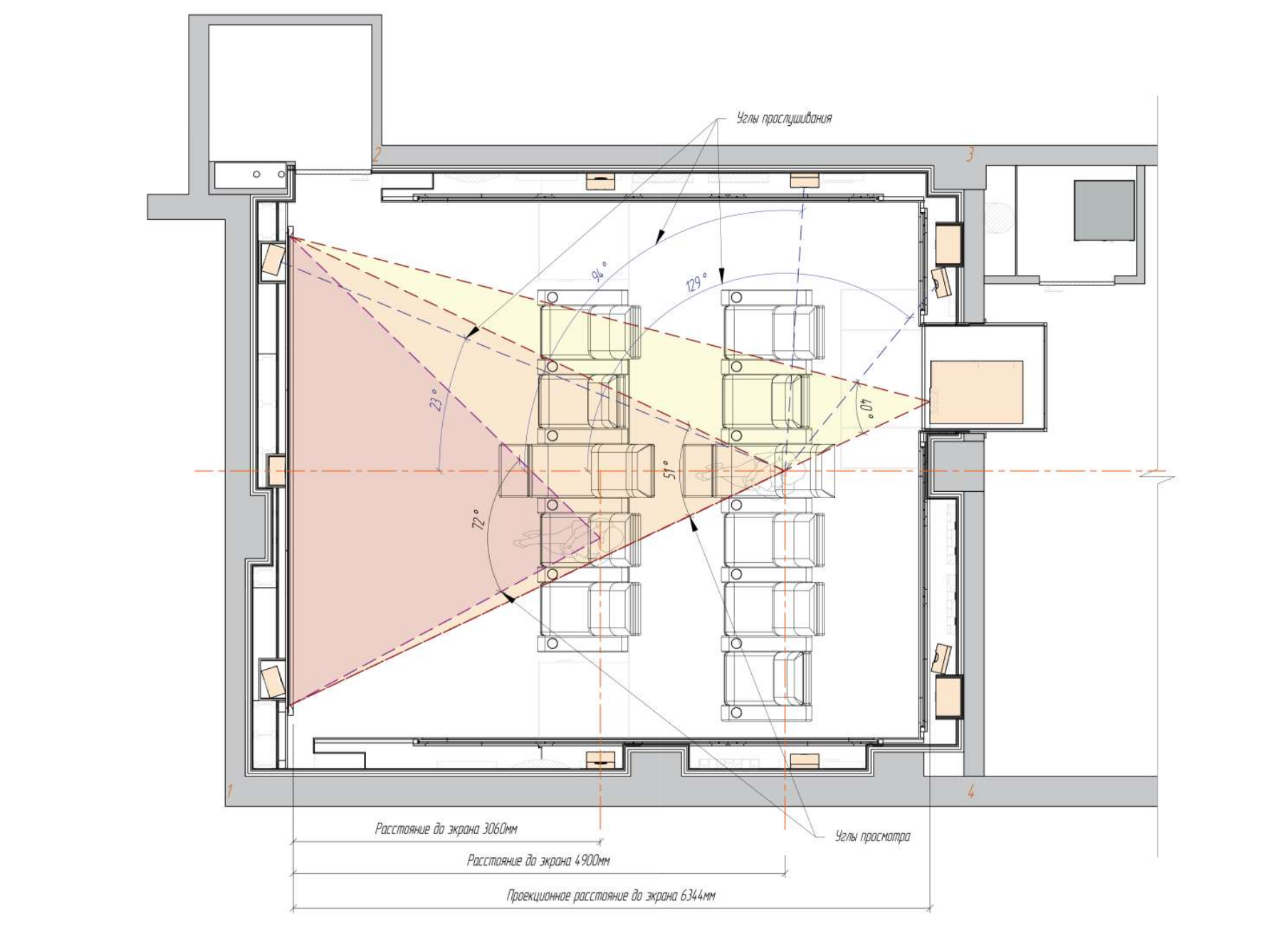 Top View of the system, showing speaker placement
To ensure good viewing angles, we elevated the second row.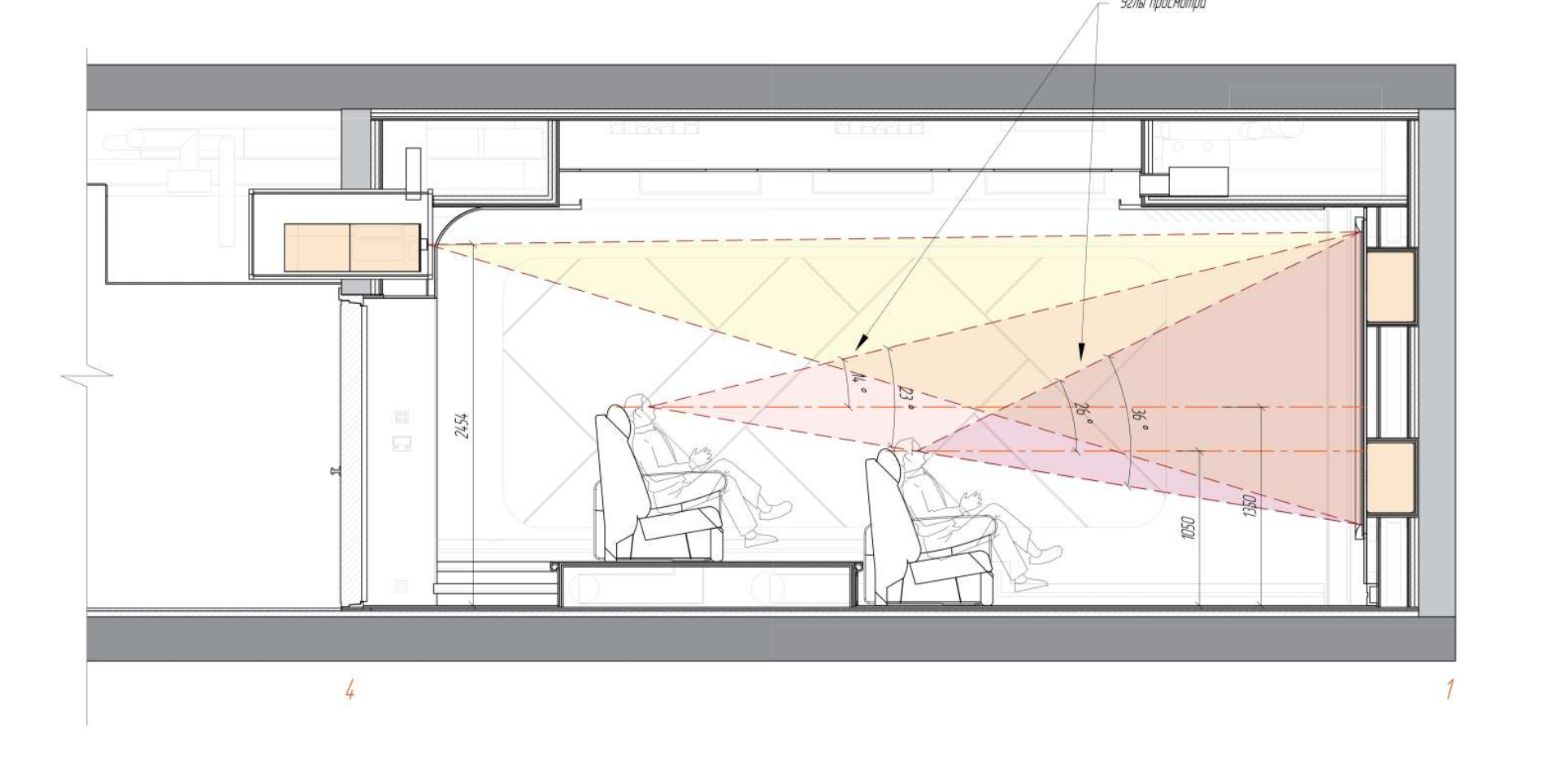 Side view of the room, showing viewing angles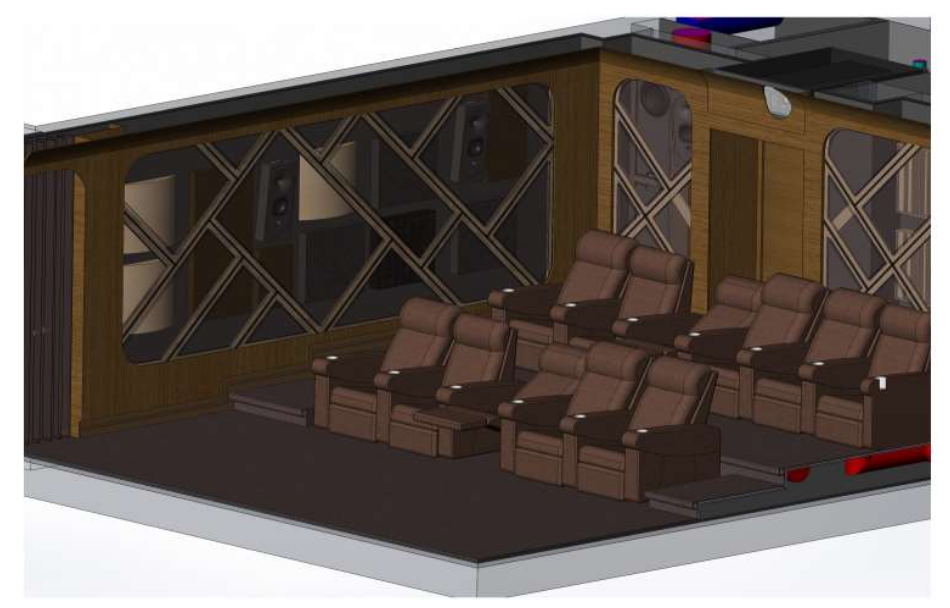 3D Render showing wall construction and speaker enclosure
Being effectively a DCI cinema built in a small room; we had to leverage our experience designing private theaters in smaller rooms to make the best out of both worlds and deliver distorsion free and impactful audio.
Front channels are bi-amped and we installed 8 subwoofers: 4 behind the screen and another 4 in the back of the room as a Double Bass Array.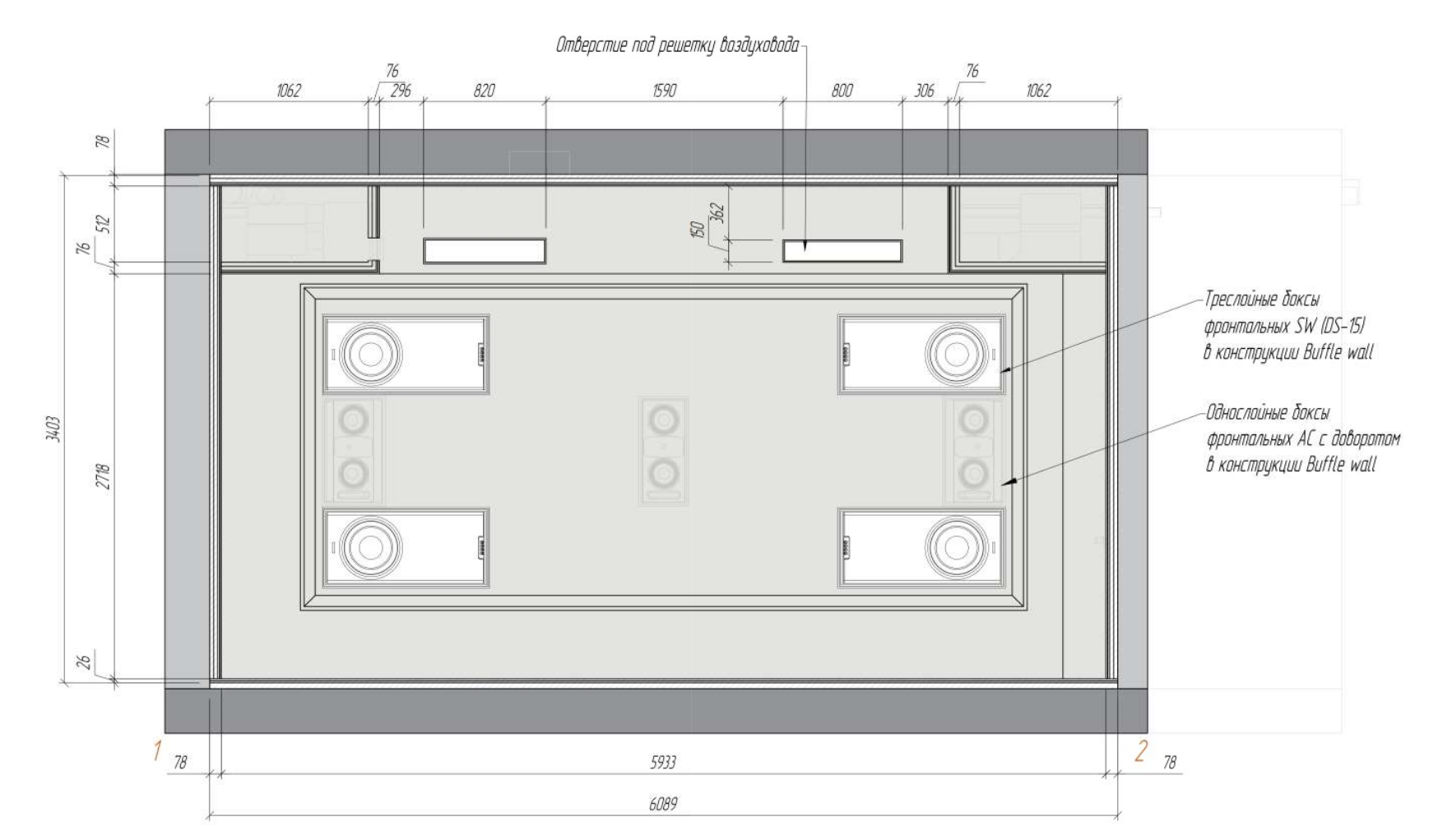 Baffle wall showing screen channels and 4 of the 8 subwoofers
The whole intention was to recreate the performance of serious home cinema with the addition of DCI and premiere movie exhibition.
Working with Trinnov Audio
Why did you choose an Ovation2 as the processor?
We have a great experience with the Altitude16 and Altitude32 from previous residential projects.
We know the Ovation2, although it is not able to decode and render consumer soundtracks, it includes the same technology. We enjoy and are comfortable with Trinnov's Optimizer, we knew it would give us great flexibility and allow us to reach the performance we aim for and create an incredible soundstage.
Quite a no-brainer actually.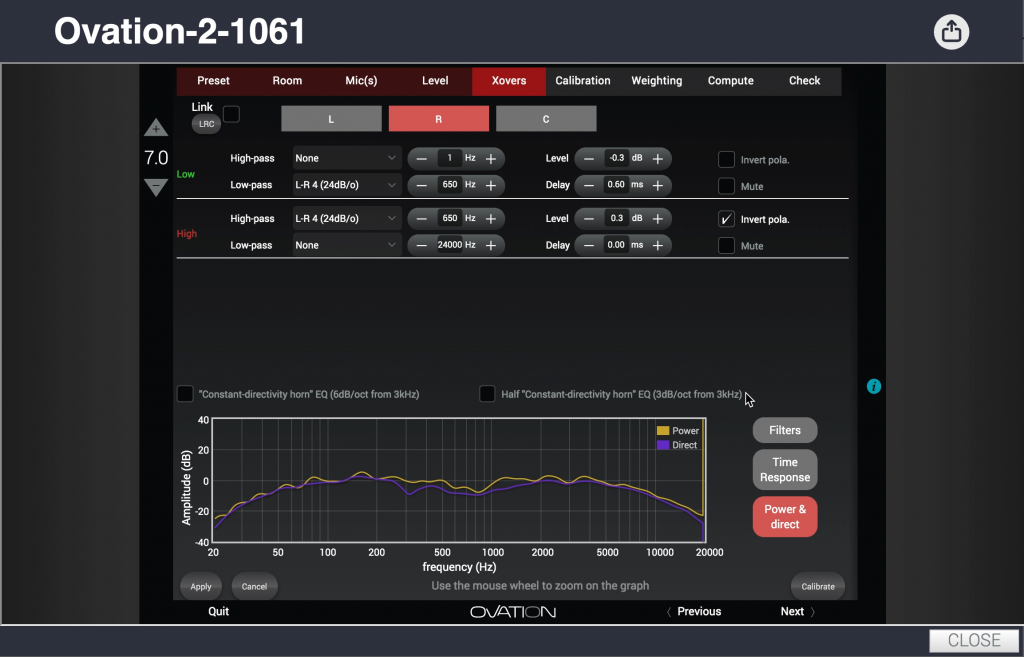 Calibrating active crossover with the Ovation 2
How was it to calibrate an Ovation2?
Actually quite straight-forward even though we did our best to follow the commercial cinema standards more tightly in this room than we normally do in private systems. 
We created both 5.1 and 7.1 presets with the correct arraying for back surround. We had to make sure sound levels were following standards although we know that in such a small room, the client will most likely turn the level down as a room with a considerably smaller volume than the average theatrical cinema is not appropriate for such listening levels. 
But at least, it's aligned with the specifications and up to the client to set the volume to a comfortable level.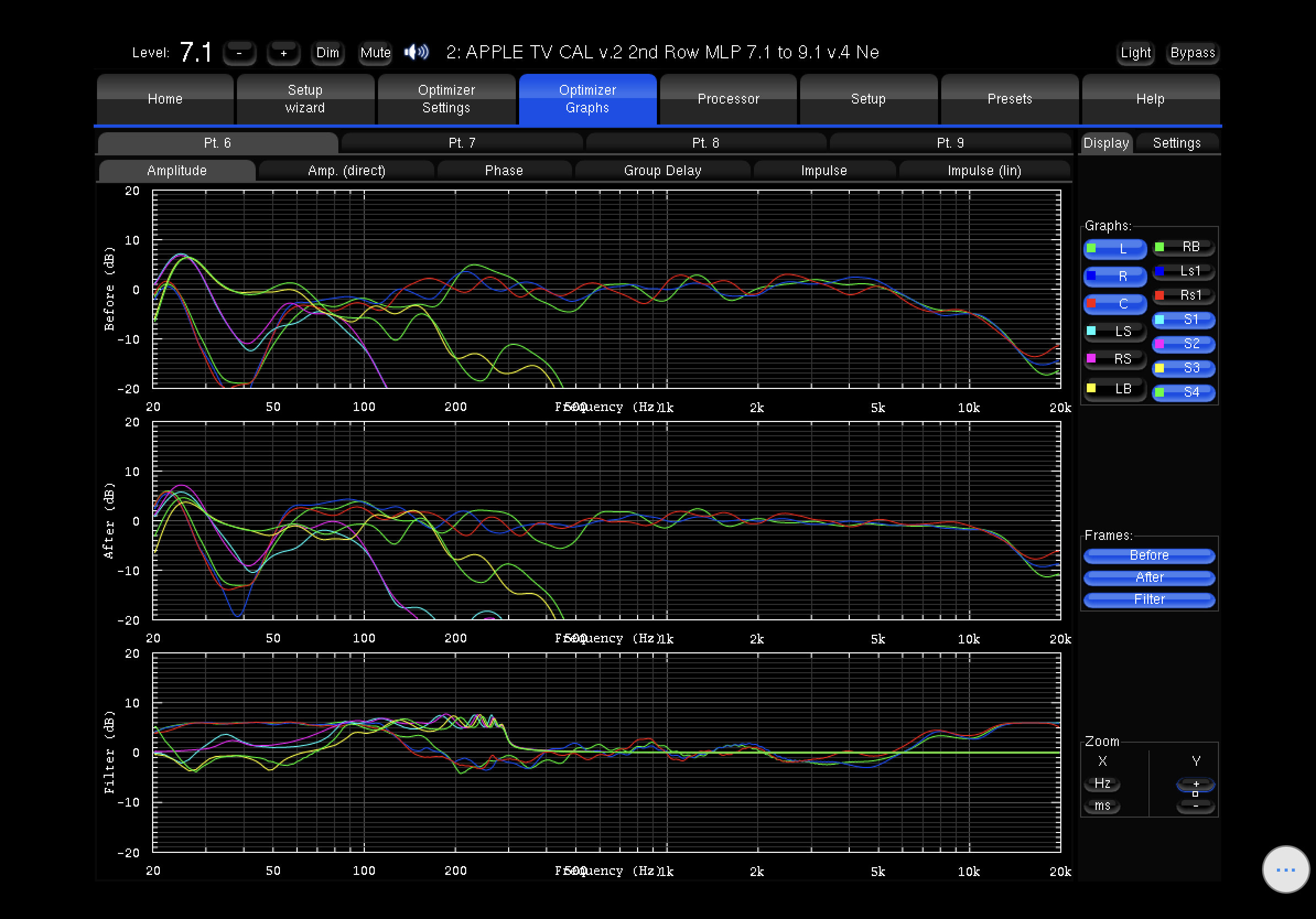 LCR + Subs responses
Even if they like it loud, it still sounds smooth, not aggressive and very low distortion, so we did our job. 
The Matrix bass management of the Ovation2 is also quite different from the Altitude, yet still flexible and powerful enough to allow us to make the best out of our 8 subwoofer implementation.
The result is outstanding, as always with Trinnov Optimizer, in a treated soundproofed room we built by all our standards. Sound is clean, coherent and impactful. The dialogues are clear and open, the bass is well controlled, deep and tight.
The client was very impressed and pleased with it. 
What is your experience working with Trinnov as a company?
I met the co-founder and CEO Arnaud Laborie in 2014 when he first came to Moscow for a dealer conference. Since that time, I meet various people from Trinnov quite regularly, whether in Russia or during international trade shows. All I can say about the Trinnov team is that they are always kind, responsive and very professional when it comes to dealing with your problems and providing support.
I had a remote presentation and training several months before the installation with Mike Babb who was easy to reach, extremely kind, helpful and has a tremendous experience in the commercial cinema. I can't thank him and the whole team enough.