When Pro Audio meets High-End
Cameron Jenkins is the founder of independent record label Stranger Records.
His label, production, songwriting and musician credits includes Lana Del Rey, The Verve, John Cale and The Charlatans. He also runs his own studio space at the legendary Real World Studios.
In this great interview, Cameron explains his journey as a sound engineer and his particular relations and views on studio monitors and HiFi. Which explains why he now runs his very own retail hi-fi shop/service, with carefully selected brands including Trinnov Audio.
When Pro Audio meets High-End!
First, let us know a little about your musical journey?
I started my career as a tape op at Power Plant studios in 1986 under the guidance of Sade producer Robin Millar then went freelance in the early 90s and did quite a lot of work at Livingston Studios, which was owned and run by Jerry Boys. What a remarkable engineer. He was an Abbey Road engineer and worked with The Beatles.
I also worked with Phil Ramone at Livingston who was over to produce an EP by Everything  But The Girl. I engineered for him and turned up on the day to find out that the drummer on the session was Steve Gadd. He was this kind of mythical figure in my mind. What a player. He finished the backing track and jumped straight into a cab to go to the airport and then Phil turned to me and said he wanted me to do a couple of 2" multitrack edits. They were without doubt the most terrifying of my life. 
I then started a long working relationship with Nick Franglen, doing both Lemon Jelly albums and then albums by John Cale and Badly Drawn Boy amongst many others. The John Cale sessions were probably the highlight of my engineering career. John is the most extraordinary person I've ever met. He's just a force of nature. I love him. We were doing the 'Hobosapiens' album at Eden Studios in West London. The sheer breadth of his musical knowledge, his creativity, his genius at capturing a moment. Every day was an absolute joy. 
I'd always wanted to start a little label and the opportunity came soon after that Verve album. I talked to Jazz about it and he and Tim Parry at Big Life helped me enormously. In fact the first release on Stranger Records was a band that they  were managing, Thomas Tantrum. I had to learn a lot in a very short time! The second release was an album by New York artist Penguin Prison who was managed by Ben Mawson, and it was through that release that I got to meet Lana Del Rey and to release her first single 'Video Games'. Since then I've put out records by Pixie Geldof, Charlotte OC, Filthy Boy,  Duke Special, Seye, Uquine, Stornoway and Charlie Jones
Are you still actively working as a sound engineer?
When I started the label it took up all my time and studio work took a bit of a back seat, although I was doing bits and pieces with Nick Franglen. Recently I have been executive producing an album by a new singer songwriter called Nicholson. I released an EP of his a few years under the moniker Uquine. I did some recording and mixing of his songs and now Greg Freeman has taken over and mixed the album in Berlin. It'll be released in the next few months. 
Interestingly since the lockdowns started I have had quite a few calls asking if I want to get involved in various projects and I'm currently doing a bit of writing for a couple of projects that are taking shape but which I won't say too much about at this stage.
But it does mean I've had to get my production chops back up to scratch which I've enjoyed hugely. It's also led to me looking into surround and Dolby Atmos, which I really feel is going to be the future main deliverable format. In fact what I really want to do is start a project with Dolby Atmos very much part of the whole process, from conception to recording to final mixing. I've got some ideas and I've started to look at how to put those ideas into practice.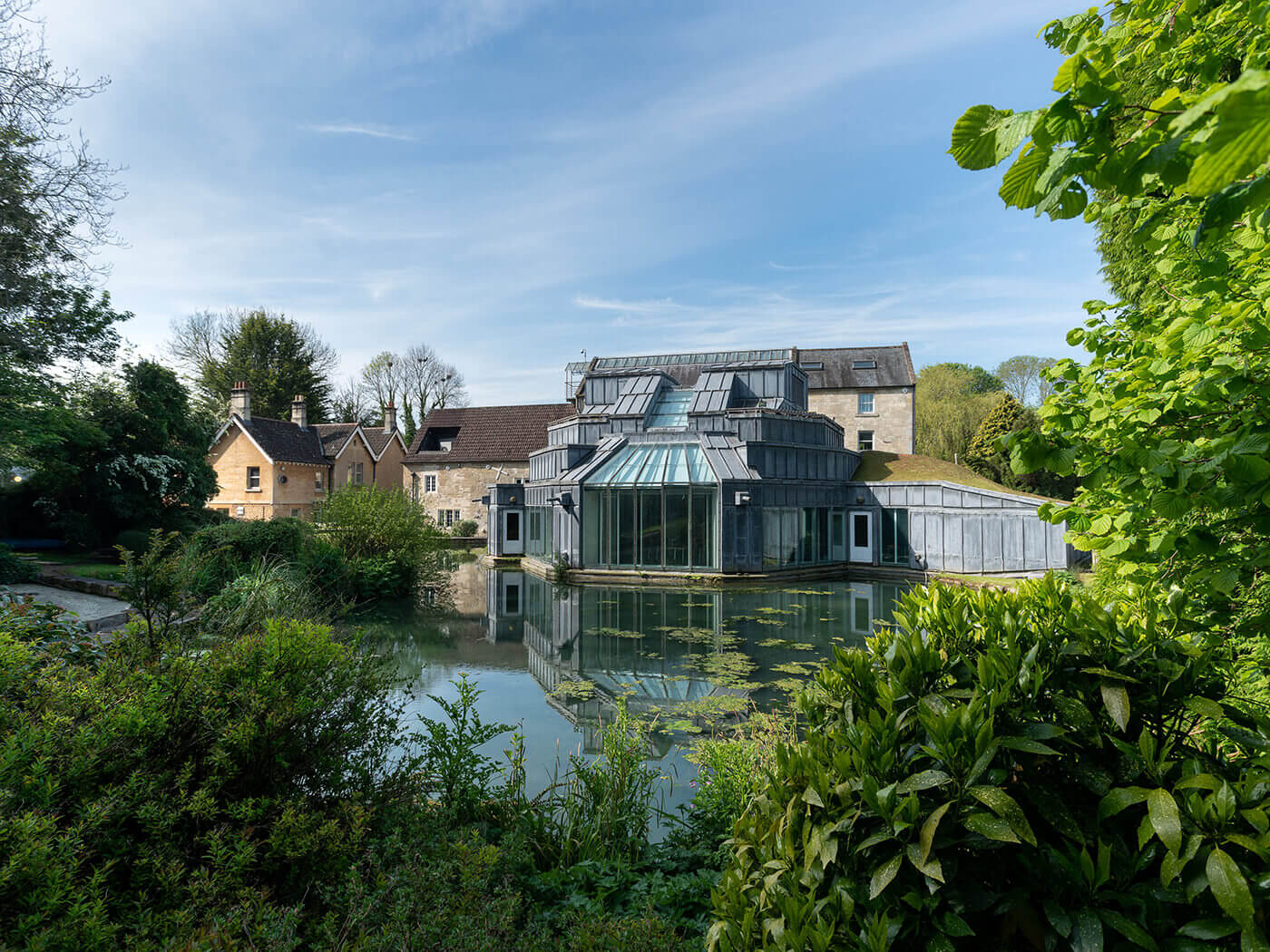 Real World Studios where Cameron has his own space
What is the story behind Stranger High Fidelity?
I started my career by making music, producing and engineering, then started a label which provided a path for new artists. Then a couple of years ago I got to think about the end result - the playback of that music and Stranger High Fidelity is the result. It's a vehicle for me to explore music and sound and how we listen. It fills a gap for me.
Championing the playback of what I love most - music. 
I have a friend, Dave Denyer, who works in the hifi industry, and we have been talking for a long time about how people listen to music, about what hifi actually is and why there seems to be a disconnect between the pro-studio world and the listener at home 
As a sound engineer, how would you compare the mindsets of audio engineers and audiophiles? (Similarities and differences)
Really, it's totally counter-intuitive that there should be a divide between the professional world and the audiophile. But it exists. Why is that? 
On one side is the artist trying to convey their work through the recorded medium and on the other an audiophile trying to replicate that work as best as they possibly can. Totally logical. How can there be a problem?  Maybe it's just misunderstanding on both sides. 
Music mixed on them had this incredible ability to translate pretty much anywhere. A whole generation of engineers grew up using them, and they continued to be used for the next 2 decades.
Over the last 20 years things have changed and now active monitors are pretty much universal, and with the demise of many great recording studios has gone the demise of big soffit mounted speakers. Walk into any recording space and you are likely to see a pair of active ATC or Focal or KRK or Dynaudio.
The net result of all this is that a huge percentage of popular albums made in the last 30-40 years have been recorded and mixed on monitors that cost a tiny fraction of high-end audiophile loudspeakers. 
For some reason hifi has somehow come to be mistrusted because of that very fact and I really don't know why. It might just be envy. Who knows. It is human nature to compare and contrast, I guess. I have a mains cable here that costs nearly $5000.  For that sum, one of my engineering friends could buy the very top of the range Neumann valve U67 microphone. And it doesn't compute for them.
In reality, we are comparing apples and oranges. What seems to get forgotten is that, as the audiophile strives for playback perfection, the professional strives for recording perfection. To that end there is the ongoing pursuit of vintage outboard gear and mixing consoles, for expensive microphones. There are hours spent contrasting different EQ units, or compressors, or mic/line stages. And the subtleties are far more nuanced than the difference between loudspeaker cables.
Have you ever used HiFi components in your music recording and mixing? 
For quite a long time in my career studios were pretty interchangeable. You walked into the control room and there was an SSL and a pair of NS10s powered by Quads and a pair of big ones that you flicked to when the A&R person came down. Looking back I wish I'd had a bit more imagination! 
My space at Real World is now a bit of a hybrid listening room/mix room. I've got Kerr Acoustic speakers by a young English designer called Jes Kerr that I'm using as monitors. They're passive and I'm using Bricasti amplification. But I can switch to another hifi system which at the moment is a full MBL setup with these extraordinary MBL 101 omniphonic loudspeakers.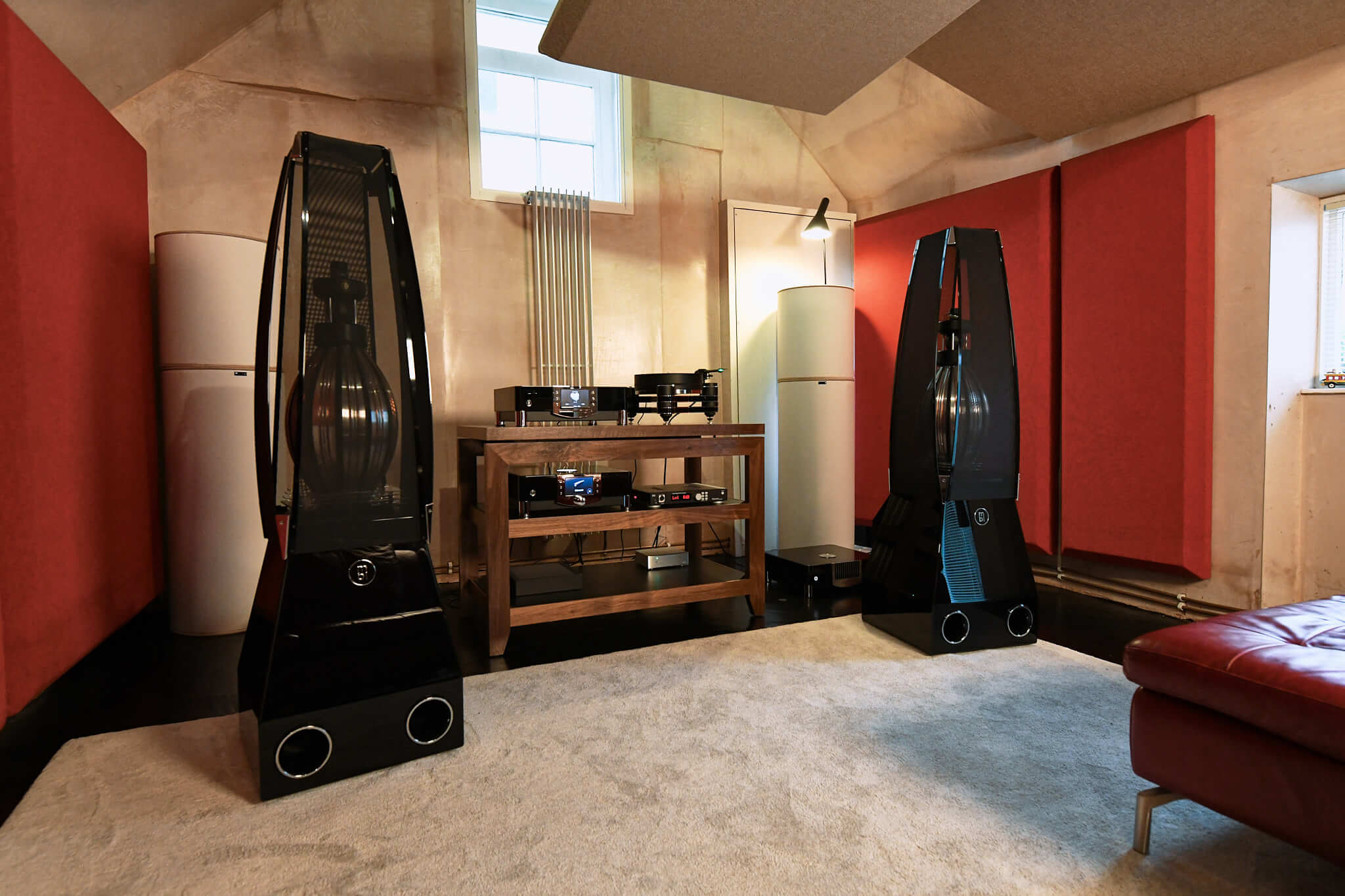 MBL Omniphonic Loudspeakers
What do you believe is the main weakness of any HIFI system?
That's easy. It's the room. 
Room acoustics is fundamental to my philosophy of music playback. The truly great studios have been built by great engineers and acousticians. Bill Putnam, Phil Ramone, Keith Grant, Westlake, Neil Grant. So many others. If you measure a typical room there can be up to 10db of distortion in the frequency response. That's a lot of dbs. A 10db bump at 80Hz is going to seriously affect the tonal balance of your setup.
No matter what component you change that problem isn't going away. It has to be addressed. I fully understand that the majority of systems are in a living environment, not in a dedicated listening room, and that decor and practicality have to be considered. 
However there are some very elegant solutions, and even with some very discrete room treatment the benefits are colossal. £1000 of room treatment will make more of a difference than any interconnect or mains cable I promise you. And of course, this is where Trinnov comes in. DSP room correction is a very fascinating one, and seems to divide the pro world from the audiophile.
In this whole interview I have been referencing classic, great recording studios. I really have been lucky enough to have lived through the halcyon days of the studio.
However those days are sadly gone, or certainly going. Across the globe studios have closed. Big recording spaces are not needed anymore. The range of instrument plug-ins, outboard plug-ins and the capabilities of the modern DAW are truly astonishing. Recording budgets have been brutally slashed and many studios are struggling to hold on. It's pretty much the survival of the fittest now.
Please describe your first experience with the Optimizer?
Although I had worked in and experienced many Trinnov equipped rooms my first experience of using the Optimizer myself was last year.
I had been sharing a space at Real World with Steve Osborne and when he decided to move elsewhere I completely changed the room. I was struggling with the bottom end. There are some great Nick Whitaker panels, but there wasn't any real bass treatment. I put in some bass traps but it still wasn't totally right.
I then found out that Trinnov did the ST2 HiFi version and they sent one down. The process is very straightforward if you take your time and take care. Switch it in and all my problems vanish. 
But it's not only about EQ curves, it's the time and phase alignment that blows me away.  I love it.
How do you think it fits in the current studio situation?
What has happened is that producers have relocated to their spaces where the bulk of recording is done, only going to big studios to record drums or strings and so on. Unless of course they are lucky enough to be working with major artists who can afford an old school recording budget.
The producer's own spaces have not necessarily been designed to such an acoustically high spec and many of my friends and colleagues use Trinnov products to sort out anomalies and provide a perfect working environment.
When I was looking into hifi and room acoustics I found out they do a HIFI version. It works brilliantly in the domestic world too.
Although occasionally, I have to persuade a purist audiophile that DSP has a place! But when you demonstrate it in their systems it becomes a bit of a no-brainer.
Beyond your gear selection, does Stranger High Fidelity have any specific recommendation for HiFi systems? (what's your secret sauce and is Trinnov part of it?)
I have found that getting to know the client is critical, and that recommendations can change. You have to understand their personality. One of my very best friends is Charlie Jones, composer, musician and bass player (Robert Plant, Page and Plant, Goldfrapp). He came over to listen to the MBL system I have here and thought it was the best he had ever heard music, and asked me to put together something for his home.
Although he loved the MBls we finally settled on a (very) large pair of JBL speakers. We are still playing around with Bricasti and MBL amplifiers and DACS but he persuaded me to sell him my 1970s Transcriptors Hydraulic Reference turntable, as seen in A Clockwork Orange. 
Add in a Roon Nucleus for streaming and a Trinnov ST2 and it's the perfect setup for him. And it will look incredibly cool.
So if I do have a secret sauce, it's listening to people. Oh and CAD GC ground controls, Townshend cables and Trinnov. And the beautiful bespoke racks made by Louis at Hokusai Furniture.